Chicago Gift Guide 2016
This Chicago Gift Guide 2016 is your one-stop list for finding cool Chicago presents this holiday season. With all my love of Chicago, I know I'd be tickled to receive a locally-made gift! And it's even better if it's specifically Chicago-themed, tied to either Chicago history or architecture. By the way, you can explore Chicago's holiday season history and traditions on our annual Holiday Tour of Drinks, Daleys and Dead Guys.
So consider this Chicago gift guide as us pointing you in the right direction for gift ideas for those Chicagoans who are interested in the city's history, architecture, and culture.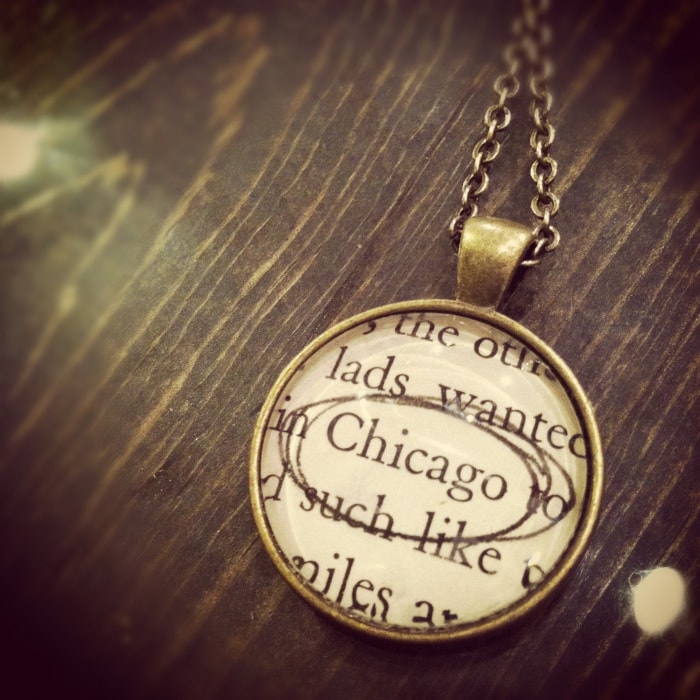 1. Pendants and Necklaces from Paperish Mess
Our first suggestion in the Chicago Gift Guide 2016 is Paperish Mess. Located at Damen and Chicago in Ukrainian Village, this cute little shop has original artwork, handmade goods and wares by independent artists.
We love the pendants, ornaments, and necklaces designed by the proprietors. They hand paint them. They're a far cry from the rote jewelry and decor you might find at bigger retailers and can add an individual flair to your decor. And of course, I particularly like the necklaces that circle the word "Chicago."
2. Chicago Architecture Miniskirts on RedBubble
RedBubble is an online retailer of clothing and art created by a global community of artists and designers. We found a ton of cool stuff on there, but my absolute favorites are the Chicago and University of Chicago miniskirts. They have printed actual photographic images of Chicago architecture, like the Rockefeller Chapel, right on the skirts.
What Chicagoan wouldn't love to have the iconic Art Deco facade of the Board of Trade straddling their waist? Or maybe an outfit that lets potential study buddies know that you like to JSTOR and Chill? Just, uh, make sure you know what that phrase means before making that particular purchase. It's like a new fashion in clothing. We could call it "geek chic."
3. Art for Less Than $500 from Vertical Gallery
Vertical Gallery, which is also located in Ukrainian Village, is an art gallery founded in 2013 and "committed to exhibiting and promoting urban, contemporary and street art." They have a special "Holiday Show" opening on Saturday, December 12th.
They have dozens of works of art listed at $500 and lower. The options include works by Chicago-based artists, many of whom have contributed murals and other forms of street art to our cityscape. Street art is huge right now, but there's a history to it, too! If your recipient is new to the art scene, then just grab a copy of the Chicago Street Art Book.
If you want to experience street art for yourself, keep your eyes peeled for our Pilsen Tour in 2017 (or we get a little bit of it on our Chicago Neighborhoods Tour for private groups, which is available now).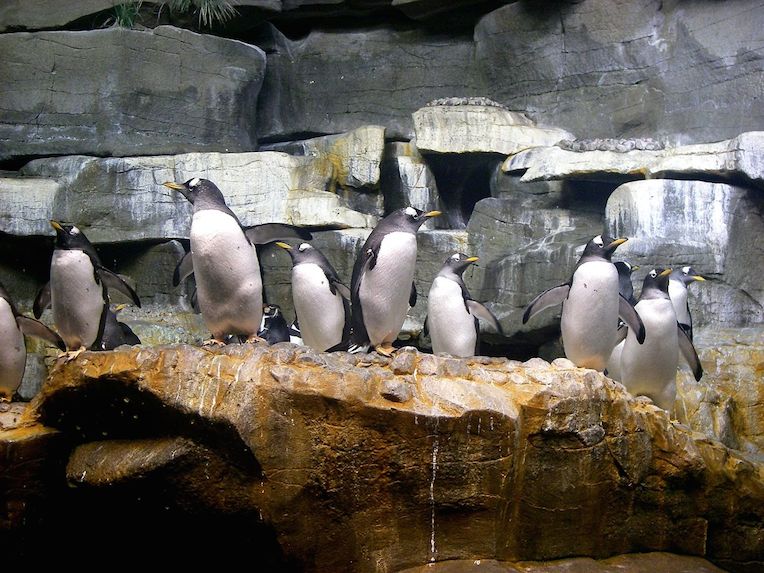 4. Adopt an Animal at the Shedd Aquarium
If you're reading this blog, then the Shedd Aquarium should need no introduction. Everyone knows this Chicago museum is awesome. Its fabulous architecture and enrapturing exhibits are always worth a visit.
What you might not know of is their Adopt-an-Animal Program. You can donate $25, $50, or $75 to support one of the Shedd's penguins, dolphins, otters, sharks, or Beluga whales. Your gift recipient will get a plush animal, a photo of the living critter being supported, and a certificate. The donation is partially tax deductible, too.
5. Graham Foundation Bookshop
Got a Chicago architecture nut on your gift list, but you know they've read all the major works? Swing by the Graham Foundation's bookshop is the perfect gift stop for some unique writing and perspectives on architecture.
The bookshop is located in the foundation's HQ in the Gold Coast. It exclusively features works written by the foundation's grantees, who create more creative and intellectually charged projects in architecture. And a visit there means you get to step into the elegant architecture of a Prairie-Style Gold Coast mansion.
The foundation has worked for over 50 years "to foster the development and exchange of diverse and challenging ideas about architecture and its role in the arts, culture, and society." Knowing that, it seems like a safe bet that they'll have a book that will scratch the Chicago architectural itch.
6. Wrightwood Furniture Industrial Collection
Wrightwood Furniture is a father-and-son shop specializing in colorful, unique furniture that is ecofriendly. The owners pride themselves on importing quality furniture from around the world without relying on middlemen.
I'm particularly fond of their Industrial Furnishings collection. The minimalist aesthetic of these pieces recalls the stripped-down efficiency of the Chicago factories or the "less is more" high Modernist structures of Mies van der Rohe. And they even have a bunch of Chicago flag swag.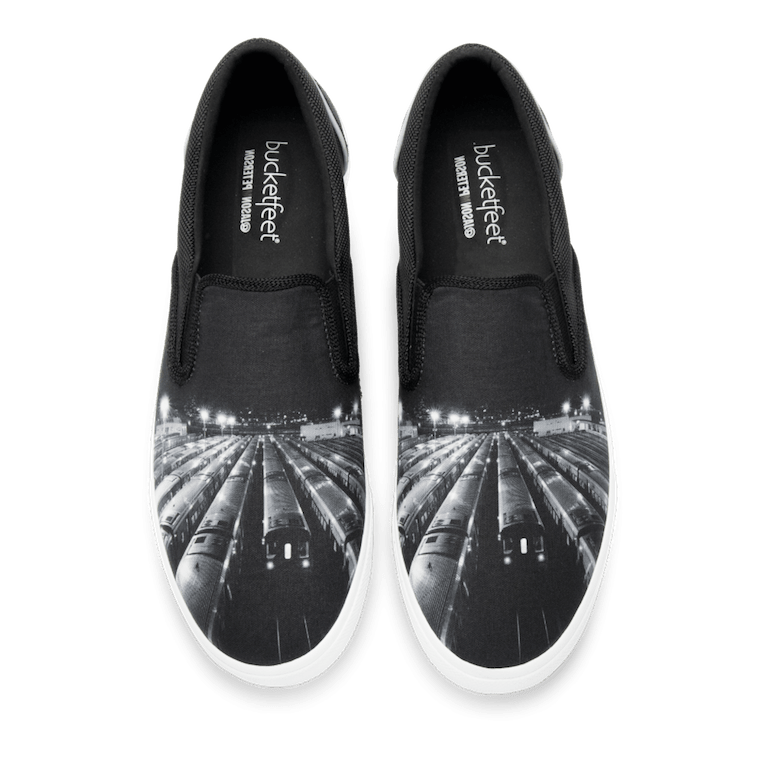 7. Artistic Shoes from Bucketfeet
I'll admit that the idea of "artistic shoes" threw me for a loop when I first heard about. It was my normcore showing. But the footwear that Bucketfeet produces are wonderfully unique and eye-catching.
The company, which has studios in Block 37 and Bucktown, relies on a global network of artists to create shoes that make a statement. Jason Peterson's has designed a shoe that shows the movement of Chicago's 'L' trains with a black and white photo. Personally, I will rarely even wear red, but designs like the Polarized Lace Up are dazzling.
8. Chicago Cubs History Tree Print
Did the Cubs megafan in your fam already deck themselves out in World Series Champions gear? If so, the delightful Chicago Cubs History Tree print may be exactly what you're looking for.
Sold online, this unframed 32″ X 24″ print gives a chronological representation of the Cubbies' history. Big moments, like World Series wins or Hall of Fame players, are bigger than the "lovable losers" foliage. Just be sure your recipient doesn't burn down the tree in celebration of the Curse of the Billy Goat's demise.
9. iPhone Cases from the Chicago Park District
We all know someone who heads to the beach or the park and then doesn't peel away from their phones while under the summertime sun. The Chicago Park District has cooked up the perfect gift for them! They are offfering iPhone cases using imagery from iconic parks posters and signs.
The newer ones, like the "Curb Your Dog" case, will be familiar to anyone who has taken a stroll in Chicago. For my money, though, I like the retro art deco posters for park attractions like Buckingham Fountain. I'd buy one for myself, but I'm a Samsung user!
10. Chicago Detours Gift Card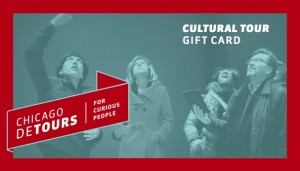 A little self-promotion never hurt anyone! The last entry in the Chicago Gift Guide 2016 is a Chicago Detours gift card. You can give your loved ones an exploratory experience of Chicago's history, architecture, and culture.
Gift cards can be purchased in increments of $25, $35, $50, $75, $100, and $200. They can be used towards any of our regularly-scheduled public walking tours. Outings like the Historic Chicago Walking Bar Tour or Loop Interior Architecture Tour stay mostly indoors, so they can use the gift card year-round.
No matter what you Chicago gift you may choose, I hope that the suggestions in our Chicago Gift Guide 2016 will help you knock a few names off your list. And as a small business, we thank you for shopping small and local!
– Alex Bean, Content Manager and Tour Guide