The title is just a joke. I had the rare opportunity to go on a private tour visit of the plaster-filled factory of Decorators Supply, a manufacturer of classical architectural details and significant figure in Chicago architectural history. They craft columns, pilasters, capitals, and a seemingly infinite list of ornaments out of plaster, wood, and a mold-able material called composite.
Significance of Decorators Supply
The architectural significance of this company is two-fold:
1. It is one of the city's oldest continuously running businesses – over a century old.
2. They are one of few artisan makers that continues in the labor-intensive process of working composite.
First some background. Located in Chicago's oldest neighborhood in fact, Decorators Supply began as a family-owned business in 1883. Really the business took off with the 1893 World's Columbian Exposition at which point it grew to fill an entire city block. For the World's Fair they built decoration for theaters and store display cases. If you've ever seen the detail in the South Shore Cultural Center, once the Southshore Country Club, that is the work of Decorators Supply. (Pink Ballroom pictured here).
Other decorative makers existed at the time, but Decorators Supply differentiated itself with an innovation in making composite. Composite, or "compo" as they call it, was a mix of organic materials that could be molded rather than the more costly carving. This 350-year old technique originated in Italy, and Decorators Supply found their own special mix. Over the years it has included such ingredients as hemp fiber, glycerin, fish oil, animal glue, talc, and molasses. Originally it took three guys an entire three days to mix it, but now a machine helps.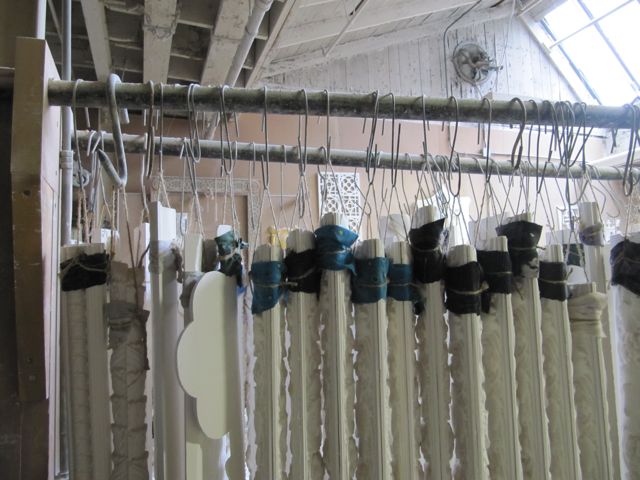 Where Do They Work?
The artisan company makes decorations for both interiors and exteriors, and composite only works inside buildings. Decorators Supply can re-make anything they ever made as they have all the molds. This means you could look up a lavish mansion that no longer exists and request to have the ornamentation that once was. With more than a century under their belt, Decorators Supply has a catalog with 25,000 different products. I figure it's a good thing that turnover is low so they don't have to retrain people often: the average employee stays 22 years.
In addition to the historic remnants of the molds, the factory shows all kinds of beautiful traces of its history. Workers punch in on a massive 70-year-old machine; a cast of the seal that they made for the Presidential Seal in the Oval Office hangs on one wall; and an almost thirty-year-old mayoral election sticker from Michael Bilandic looks like some have tried scraping it off. My favorite of this exclusive tour was a White Sox shrine, not due to any team loyalty on my part but rather because of its creativity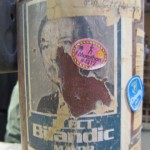 and seeming holiness glowing with the light of the window. During the special tour we had of the factory, I went wild with my camera. The interior spaces brim with natural light, and the various materials and craftsmanship made it easy to capture beauty.
And do you know of any interesting historic businesses that Chicago Detours should feature? Let us know!
— Amanda Scotese, Executive Director