It's time to start planning ye 'ole company holiday party! Did that job fall on you this year? No pressure, but everyone is counting on you to make this year truly special. At Chicago Detours we want to help you plan your event–why not book a private group tour for your holiday party? Here are four great reasons to book a tour with Chicago Detours along with our best tours for holiday party groups.
While you're here, check out our Badass Women Journal and Virtual Holiday Stories Happy Hour. The former is perfect for gift-giving and the latter is a wonderful way to spend time with family and friends this holiday season.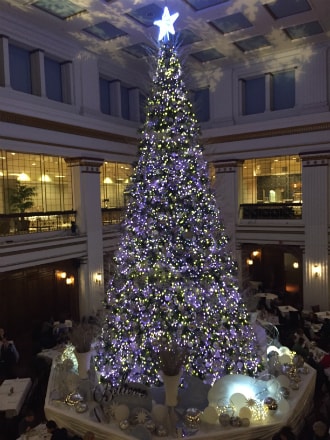 Reason #1: No shop-talk for your holiday party
Office parties can feel like an impromptu staff meeting. Folks often do not know what to connect over outside of work. Let us make an exceptional experience to give your group something fun to talk about. On a Chicago tour like our Holiday Tour of Drinks, Daleys and Dead Guys, which is particularly perfect for teams of 16 or less, the group starts with creative ice breakers. Right off the bat, we show your group that this holiday party won't include chats about office gossip or profit margins. 
Reason #2: Visit Chicago historic bars without anyone getting too wild
Daryl from accounting waits all year to cut loose. Get him as far away from the lampshade as possible this year on one of our tours. Since our tours have a set amount of drinks, the fun stays fun and no one cuts too lose. Our Big Shoulders Historic Bar and Food Bus Tour includes three servings of beer or wine and a tight itinerary. This means your "Daryl" won't get over-served and will still have a great time.
Reason #3: Learn together – it's great company team-building
Your team will learn together on our tours. Our tours will take you on fascinating routes to see the inside of buildings you may have often past. And we like to say that we bring people to explore stories and places locals don't know. We dig through old books, newspapers, magazine, archives, and other primary sources to give your team a new perspective on the city they love.
Secondly, our highly trained guides create an interactive tour dynamic. No weird vibes here. By asking guests questions, tour guides connect with guests and enhance the educational dynamic. Your team connect with the surrounding urban space, visual media on shared iPads or screens on the bus, and also each other. Your team members will have a social and active exploration of the city with our private tours.  
On our Jazz, Blues and Beyond Tour by Bus guests are treated to a harmonica lesson and private performance by a blues musician. Learning a new skill together is incredibly fun and memorable!
Reason #4: Celebrate that you live and work in Chicago
Your company has a lot of great reasons for operating in Chicago. The rich history and architecture is one of them that might not get its fair dues. Discover the fantastic stories and buildings that surround you on a downtown tour like our Historic Chicago Walking Bar Tour, which gives guests a new perspective on the Magnificent Mile. Or go explore Chicago neighborhoods new to the team, like on our Neighborhoods and Cultural Diversity Bus Tour.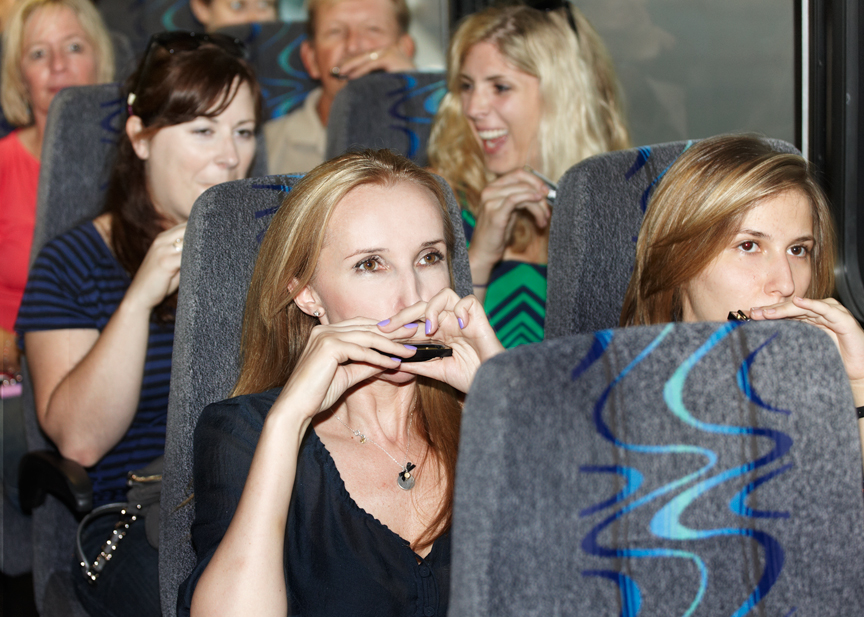 I'm sure your company holiday party will be a blast no matter what you choose. After all, holiday party staples like bar parties or Secret Santas are popular for their ease in planning. Yet, as we've written before, it's worth trying fun new ways to get out of the office. And booking a private tour with us is even easier than selecting bar and catering packages.
Give me a ring at 312.350.1131 if you'd like to discuss your private tour options for your company holiday party. I love throwing out a few ideas. We'll hope to see you and your team on a tour this Yule!
– Morgan Lott, Private Tour Coordinator and Tour Guide