Recently, the Chicago Detours squad got together for a room escape experience in downtown. Every couple of months we get together on one of those rare afternoons and evenings which don't have a tour. Sometimes we just hang out or we'll try out something fun like a Segway tour. In a blog post from a year ago about corporate team-building ideas, I'd mentioned things like room escape. So, we decided to run with that with Room X Escape for our night out. We had so much fun that I came up with a list for why everyone should give room escape adventures a try.
#1. Room Escape Provides a Unique Team Challenge
Any sort of room escape game is based around two definite challenges: you'll have a limited amount of time and a limited amount of space. The specifics can vary between companies and between challenges, but those are the base parameters. In our case, the Detours team had to solve "The Treasure" mission. Think pirates and buried treasure and you're in the right mood. Having played the pirate treasure-themed video game Uncharted 4 last fall, I was quite into the concept.
I don't want to spoil the details, of course, so I'll stick to the overall challenge. Our group of six had to solve 28 clues relating to the location of a long-lost pirate treasure within one hour. Our host at Room X Escape said that only about 1/3rd of participants finish the challenge within that hour. Elizabeth, plucky as always, vowed that we'd finish in 15 minutes. We, er, didn't do quite that well.
The clues were often hidden in plain sight and built on one another in an ingenious fashion. We didn't have a set strategy to solve these clues, but generally wound up working in smaller squads of two or three people working together. Room X Escape is also forgiving enough to give out a limited number of hints. In the end, we did finish the clues before time ran out. High fives were distributed all around, of course.
#2. Room Escape Is a Ton of Fun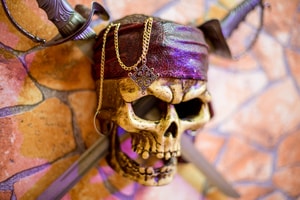 It's hard to understate how much fun we had at Room X Escape. The Detours team is, of course, plenty experienced with group dynamics and the livewire excitement of personal interaction from our time leading tours. Even so, I was genuinely surprised at how inventive and exciting our room escape experience was. The clues, many of which were hidden in plain sight, were often deviously clever. Of course, that only made the pleasure from solving them all the greater. Th environment itself is also exciting. I didn't know how I'd react, but I loved the feeling of being sealed into a room and knowing that I'd have to think my way out. Guess I'm not claustrophobic.
It was hard not to feel like our outing with Room X Escape was like a live-action video game. The actual treasure we were seeking was as meaningless as the myriad "trophies" on my PlayStation account. But the challenges between us and that ephemeral goal were varied and intriguing. The pressure of a ticking clock meant that the excitement and thrills reached a fever pitch as we uncovered new clues and discovered new challenges.
#3. Chicago has a Ton of Room Escape Challenges
Room escape companies, aka escape rooms, have been popping up all over the place in the last few years. I walk past Room Escape Adventures, and its iconic "Trapped in a Room with a Zombie" setup all the time while leading our 1893 World's Fair Tour with Bars. A quick Yelp search revealed 30 different companies around the city and suburbs offering some type of room escape challenge. I can't speak for the quality beyond our outing at Room X Escape, but it's exciting to know how many options and challenges are waiting out there.
Room escape adventures are popular for corporate events, like our private tours. These are wildly different experiences, but each makes sense for team outings. Our tours are fun, we have no doubt, but they're also curated and educational. Game nights, whether it's trivia or an escape room, is an inherently social and competitive event. They both work for corporate team-building or birthday parties. Just different experiences.
In many ways, an event like room escape provides an interesting contrast to our curated, guided tours. Both are active and engaging, but they create different emotional reactions. I imagine many folks would enjoy alternating between tours and adventures.
– Alex Bean, Content Manager and Tour Guide