We want to highlight the best free rooftop views of Chicago. After all, paying for cover and drinks at the swanky rooftop bars isn't exactly cheap.
You can still get that sweet skyline view on the cheap, though! Heading into famous and overlooked buildings and finding a hidden vista is one of the great downtown Chicago pastimes. Now, I will admit that not all of these get you to a literal rooftop. Still, as long as you can look down upon a rooftop then I'd argue that the terminology is technically correct.
We research Chicago history and architecture like this while developing our live virtual events and custom corporate events. Join us for our public virtual events or book an exclusive team-building event for your private group. We can also create custom tours and original content creation about this Chicago topic and countless others.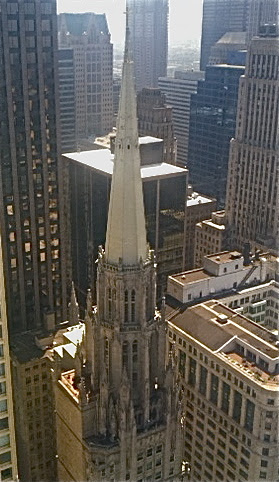 The Best Free Rooftop View: The Daley Center
The Richard J. Daley Center, like all local government facilities in the Loop, is open to the public during normal business hours. Please note, we're not advising you to go bursting right into the Circuit Court of Cook County. That'll turn into a one-way trip to a meeting with some Sheriff's deputies. However, if you're willing to go through the security check, then you're welcome to ride the elevator upstairs. I recommend going up to something like the 25th floor. Up there you'll find a commanding view of the Loop skyline and lakefront from the very heart of the city. This perspective offers perhaps the most surprising of the free rooftop views of Chicago, since so few people think they have access to it.
#2. The Fine Arts Building
The Fine Arts Building, on South Michigan next to the Auditorium Building, is one of the great hidden gems in downtown Chicago. It was built as a manufacturing and sales facility by the Studebakers way back in the 1880's. A man named Charles Curtis converted it into an artists' colony in the 1890's and it still serves that function today. This historic building also has a spectacular free rooftop view of Chicago and Grant Park from Curtis Hall on the 10th floor.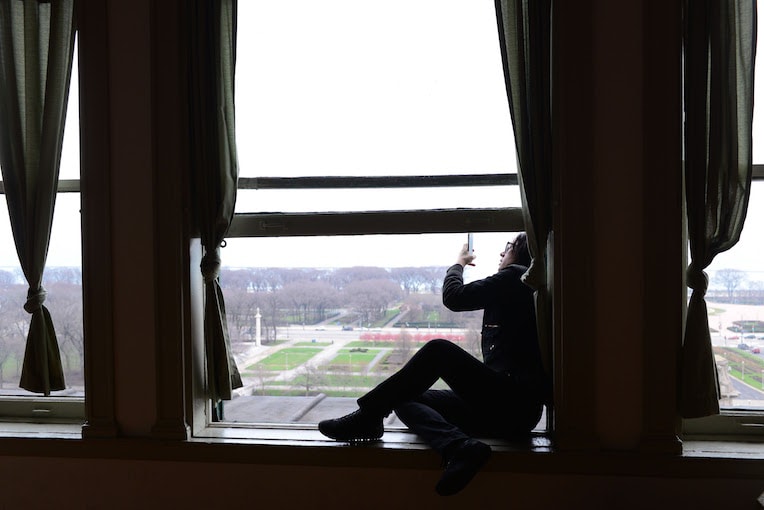 You can get there by just sauntering in and asking the elevator operator to take you up to 10. Also, you get to tell an elevator operator to take you up to 10! I advise wearing your best ascot and growing thunderous mutton chops to complete the experience.
Curtis Hall is on your left as you disembark, though be sure to check that you're not interrupting a rehearsal or performance. The sweeping view takes in Buckingham Fountain, Navy Pier, the Museum Campus and more. 
#3. The Chapel in the Sky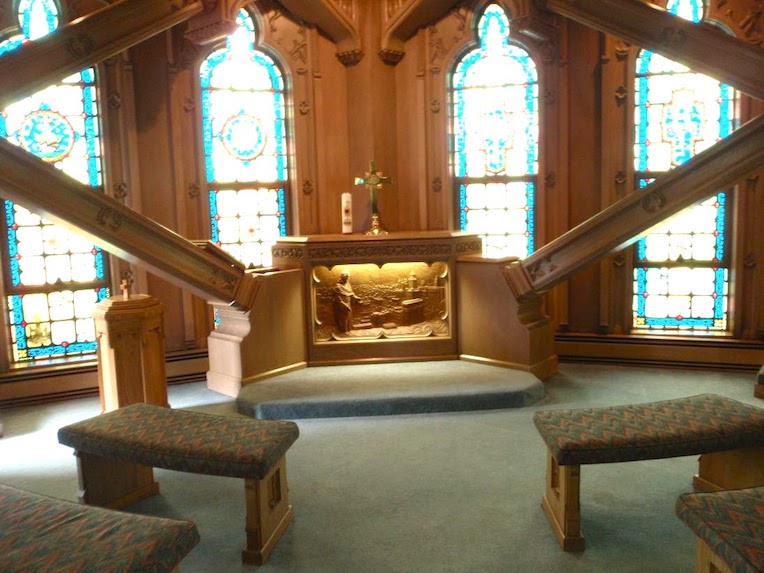 One of the highlights of our old Loop Interior Architecture Walking Tour was stopping in at the Chicago Temple Building. I always called this stunning skyscraper the very definition of a hidden highlight. We explored the ground floor sanctuary on the tour, but a real treat can be found 500 feet above that. A tiny worship space was built within the neo-Gothic spire back in the mid-20th century. This Chapel in the Sky holds smaller and private services, and the First United Methodist Church of Chicago used to offer tours. I cannot recommend it highly enough, if you ever get the chance. After all, the view is endorsed by Jesus himself.
#4. Marshall Field's Department Store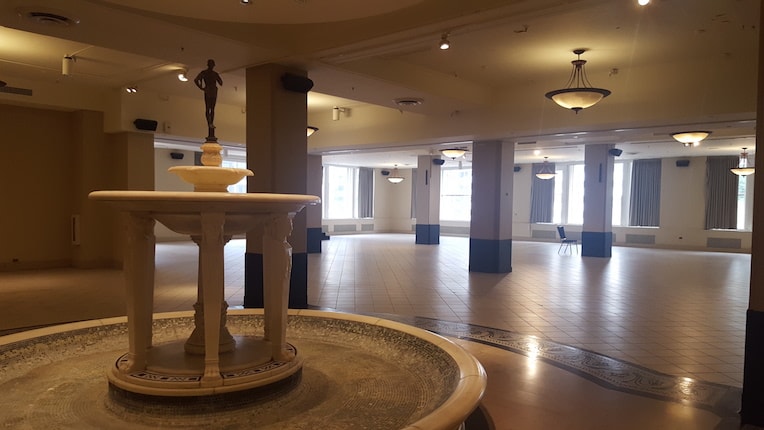 Another favorite location from our Loop Tour! The old Marshall Field's building is dripping with history on every floor and has had an inestimable impact on the city's social life. Yet I'd bet that not too many shoppers ever wander over to the windows. I am especially fond of the semi-hidden views from up on the 7th floor. You can peek down on State Street, that great street, when you grab lunch at the Walnut Room or Seven on State. You'll get a really thrilling peek at the rooftops of neighboring towers like Block 37 and the Joffrey Tower, where you can frequently watch the ballet dancers rehearsing.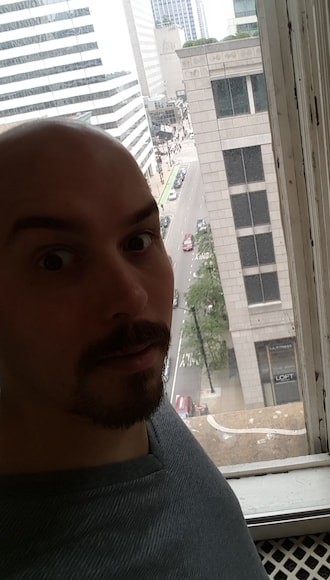 Even cooler is the view from the Narcissus Room, at the northeast corner of the 7th floor. This big space has a beautiful fountain and a mishmash of differing architectural styles. You can tell it has been worked on bit by bit over the course of several decades. Huge windows look down onto the Wabash 'L' tracks and the facade-ectomy that fronts Heritage at Millennium Park. Plus, it really honestly feels like you're an explorer every time you wander in.
Other Free Rooftop Views of Chicago?
Our list is hardly comprehensive, of course. In fact, all of these are spots that we discovered while researching or hosting our custom tours and virtual events. We love tracking down interesting material like this and would be glad to turn it into custom Chicago content for your events and meetings, as well.
– Alex Bean, Content Manager and Tour Guide
ABOUT CHICAGO DETOURS
In business since 2010, Chicago Detours is a passionate team of educators, historians and storytellers. We applied a decade of experience as one of Chicago's top-rated tour companies to become a virtual event company in 2020. We bring curious people to explore, learn and interact about Chicago's history, architecture and culture through custom tours, content production, and virtual events.