We are currently in the market for Chicago downtown office space because we must leave Chicago Detours' home for the past 5 years. We've been in the historic Bennett Brothers Building at Adams and Wabash. I've always like this cool retro ceiling in the lobby.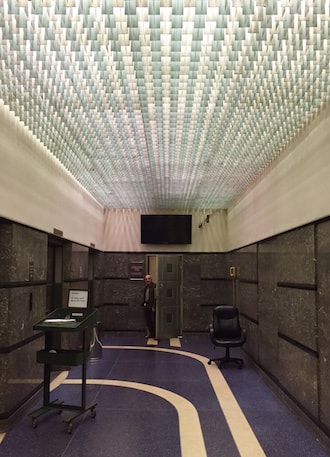 Time for a New Space
We have to move because of the changing real estate market in downtown Chicago. The Bennett family has sold their building – one of the last family-owned high-rises in the Loop – to a developer called CEDARst Companies. They plan to convert the 12-story building into luxury apartments for millennials, particularly college students. Now that people are willing to live in downtown Chicago again, apartment buildings are the great new way for developers to profit from downtown space.
It's sad to go, but there are greener pastures! I've been shopping around for a new downtown office space to rent, since a small business like ours cannot lease or buy, and have found it fascinating. The work environment worlds differ so much between the the skyscrapers of the Loop that I've stepped into.
Touring Interesting Old Buildings
It's been fun to enter some interesting buildings I hadn't gone into before! Have you ever noticed the Singer Building at 120 S. State Street? We walk past it on the 1893 World's Fair Tour, but I'd rarely given it much notice. Designed by Mundie and Jensen in the 1920's, this skinny little skyscraper was built for the headquarters of Singer Corporation, the makers of sewing machines. Today it is full of lawyers clustered in cubicles. The office has lovely high ceilings and exposed brick walls, but it looks out on a dark alley. That might be tough after getting to look down at the 'L' for five years.
The bonus is that the lawyer who showed me around had a super gruff voice and a "horseshoe mustache," aka the '80s biker 'stache. (This isn't a picture of him here, but I shared it so you know what I'm talking about.) There's a giant book about Harleys on his desk. I suspect he's got a lawyer-in-a-suit-by-day and motorcycle-dude-by-night lifestyle! Lawyers never really surprise me, though. The lawyer that shares our office rollerblades from Pilsen to downtown just about everyday. Rain, snow, you name it, he sticks to his rollerblading commute. I'm not making this up!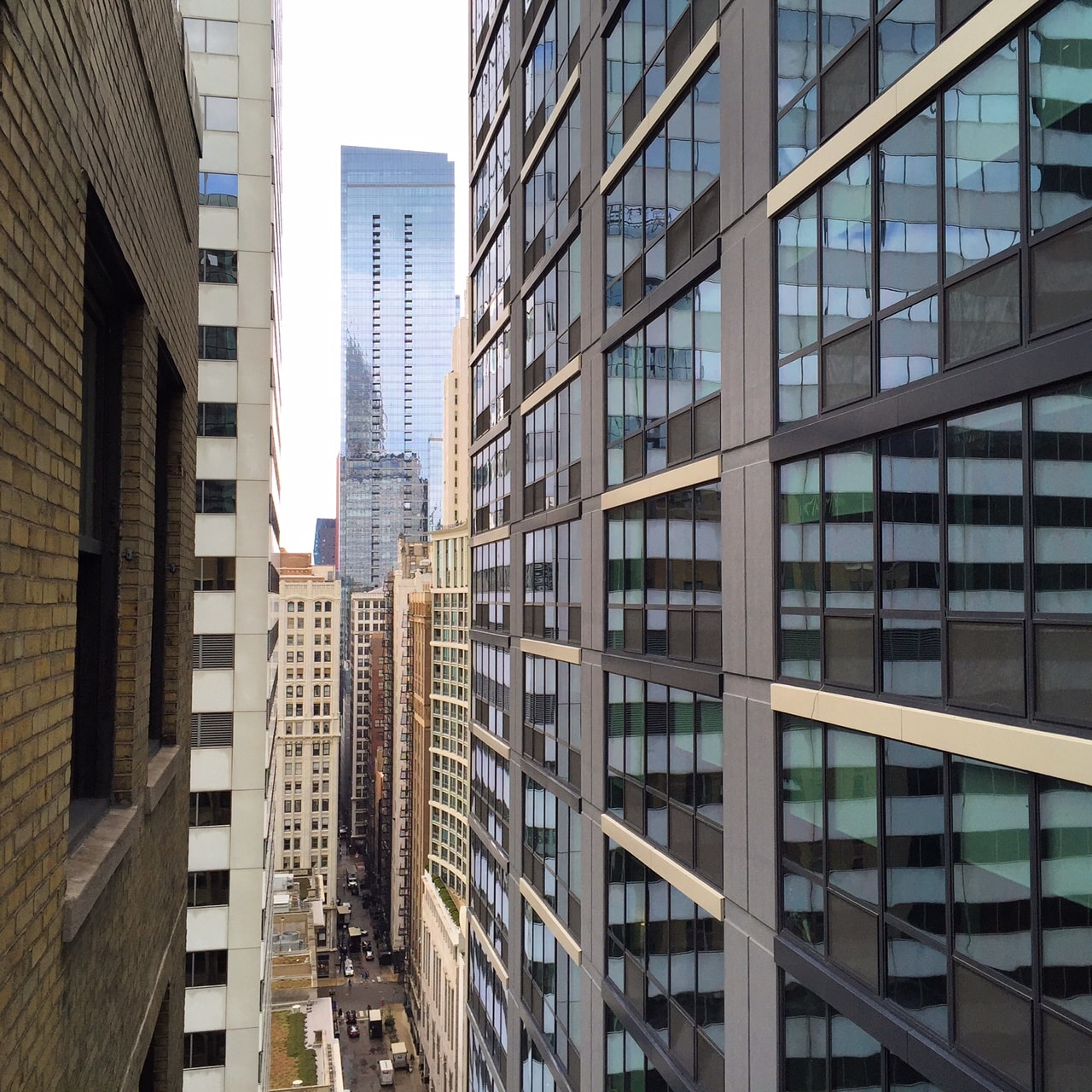 Discovering Who Works Where
I looked at a quiet floor on skyscraper mostly used by psychotherapists. It's right on Michigan Avenue, close to where most of our public architecture tours start. Unfortunately the office had those drop ceilings that were all the rage for, well, decades. I'd rather have the ducts exposed with more space to breathe. At that building, I snuck out on a fire escape to take this shot.
I went into the CNA Building for another downtown office space. Signature Offices has smaller spaces divided, and they have killer views over Grant Park and Lake Michigan. We are a small business though, and can't really splurge on such a luxury. But wow, could you imagine how serene the world would be looking out at that everyday?
On the more historic side of downtown office space, the Mallers Building on S. Wabash has a lovely patina to its interiors. You may know it for its "Jeweler's Center" sign. I was happy to hear that it is a family-owned building. Constructed in 1912, the 21-story building houses the largest collection of jewelry in the Midwest. You can peak in on jewelers within the natural habitat of their workshops while walking down the glass-paneled hallways. Some of these small businesses have been here for generations, others are new immigrants from India, Africa or China. The office spaces range from sparkly bright and new, and others are time-capsule-style, with awesome mid-century furniture or cherry wood walls of the '80s. The office I looked at even has the set-up for working with chemicals and metals.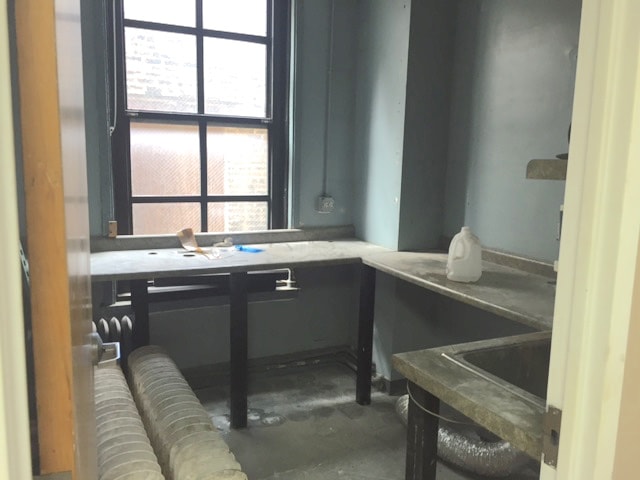 The Remnants of Little Cheyenne
Last and certainly not least is a building that I really hope still exists two years from now. (I say this because it will likely be torn down.) Hidden behind the Board of Trade, this 2-story dinosaur has bypassed downtown development, especially since it's next door to the Federal Prison. The owner of the old-school Boni Vino's, making pasta and pizza since '67, owns the building. I walked into to a stairwell of wood paneling a la '70s, and the faint, stale smell of cigars. I could only imagine some of the few guys left here from the days of the trading floors might be stashing a flask in their desks.
This office is really one of the most livable I've seen. The high ceilings and big windows on a corner are great. Check out the bars over the windows though! It's on the second floor and it's got this kind of security. It's like the rough downtown Chicago of the '80s. Well, and it is next door to the Federal Prison, let's not forget. This corner here is one of my favorites. Preservation Chicago has put this block, aka "Little Cheyenne," on its "Endangered List" of historic architecture that needs to be preserved.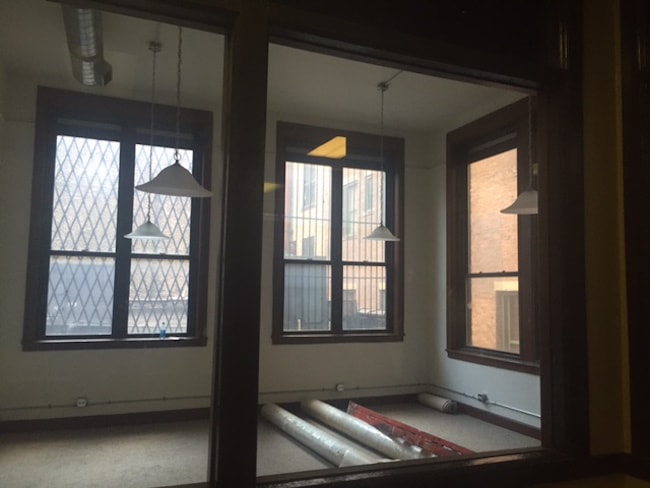 Do you know of any office space downtown? We are a creative business. We are up for shared spaces, too! Please let us know at info@chicagodetours.com. We have to make a decision by May 31 at the very latest.
Chicago is a city that works! And its downtown office space, both the spectacular and less spectacular, shares a fascinating dimension of the Chicago's people, industries and architecture.
— Amanda Scotese, Executive Director