Starting today, we plan to share a weekly list of what we think are the best, most intriguing historic and architectural events of the week in Chicago. If a lecture, film screening, panel discussion, or art opening focuses on the city, its history, architecture, culture and planning, and it sounds cool, then we will feature it. Our list of weekly Chicago events will favor the more "Detours" style, meaning they will be creative, smart, and progressive, and share the lesser-told stories of Chicago.
This week's events highlight architect Frank Lloyd Wright, writer Studs Terkel, and book discussion about travel in Illinois.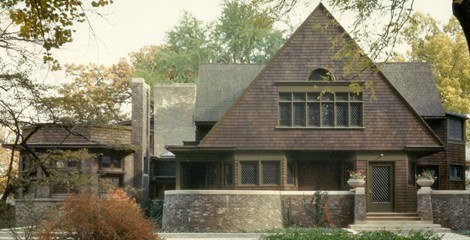 1. Frank Lloyd Wright's Chicago Years, Frank Lloyd Wright Trust
COCKTAILS & PANEL DISCUSSION – Thursday, January 23rd – 5:30pm – $25
Arts Club of Chicago, 201 E. Ontario St (Salon Room, 2nd Floor)
For the 125th anniversary of the Frank Lloyd Wright Home and Studio and the 40th anniversary of the Frank Lloyd Wright Trust, this cocktail buffet (buffet of cocktails?!) with discussion of Wright's architectural masterpiece of his home and studio in Oak Park. These panelists know their stuff: David Bagnall, Trust Curator; Filmmaker Tim Sakamoto; and Northwestern Art History Professor David van Zanten. Discussion will be moderated by Celeste Adams, Frank Lloyd Wright Trust President. With all those cocktails, we bet the Q&A will get interesting!
2. What We Do All Day, Chicago Film Archive
FILM SCREENING – Friday, January 24 – 7:00pm – Free
Nightingale Cinema, 1084 N. Milwaukee
Billed as a "Studs Terkel-ific program," the screening at this Noble Square cinema house will pair contemporary video and 16 mm shorts with excerpts from Terkel's text to see what meaning we can find in between the now and then. Forty years after Studs Terkel's WORKING, this event will ask questions: How have our ideas of labor, purpose and prosperity changed under a fully globalized economy, the growing shift away from physical labor, and expanding economic disparity? The films are about work, but you won't be working and so it won't feel like work at all – we're sure of it. And who doesn't love Studs Terkel?!
This is event was put together by Christy LeMaster and Mairead Case, co-sponsored by Video Data Bank and Chicago Film Archives, and presented by the University of Chicago in preparation for the Studs Terkel Festival this May.
3. Stan Banash, author of Roadside History of Illinois, Chicago Public Library
DISCUSSION – Saturday, January 25th – 11:00am – Free
Roden Branch Chicago Public Library, 6083 N Northwest Hwy
Join Chicagoan Stan Banash, a.k.a. "Tex," as he discusses his third book, Roadside History of Illinois (Mountain Press, 2013) and provides lots of "did you know…" answers to impress others at cocktail parties (or cocktail buffets, see above). Ride along old Route 66 or explore Chicago neighborhoods with Banash's insight into the history of the Prairie State. He will likely wear his signature cowboy digs for the event.
—Chicago Detours staff