Every week we give you three architectural and historical art openings, screenings, lectures or other great activities. This week's Chicago architecture and history events include a discussion on the rise of the skyscraper, a performance of music by Frank Lloyd Wright's father, and art work celebrating the culture of Bronzeville.
1. Augustus Higginson speaks on "Chicago and The Skyscraper: from 1880 to 1934" – Out of Line Art Gallery, 2812 W. Chicago Ave.
TALK – Wednesday, February 26th – 7:30pm-9:00pm
FREE – reservations required
Artist, architectural historian, and teacher, Augustus Higginson, will address the rise of the skyscraper from the late 19th century to the Great Depression, discussing styles from the Victorian through the Art Deco periods. Higginson's mixed media artwork is currently on display at the gallery as part of the current group art show, "Chicago City on the Make," which runs until March 8th.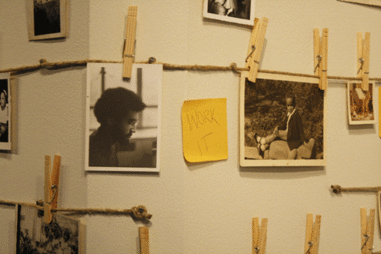 2. Samantha Hill: Topographical Depictions of the Bronzeville Renaissance – Blanc Gallery, 4445 S. King Dr.
ART OPENING – Thursday, February 28th, 6:00pm-9:00pm
FREE
In conjunction with the her interactive art exhibit at the Hyde Park Art Center, Samantha Hill explores the essence of portraiture by developing a Photographer's Studio within Blanc Gallery to hold Tintype photography sessions of Bronzeville residents, community organizers and cultural producers to commemorate this moment for history. The Tintype portraits will be on display with Tintypes and Photo Booth portraits from the Kinship Project Archive to connect the various styles of self-documentation within historic moments. As an artist-in-residence for the overreaching exhibit at Hyde Park Art Center, Hill will also hold "office hours" in the gallery there from 11am-3pm every Saturday until May 17th.
3. David Patterson: The Music of William Carey Wright – Unity Temple, 875 Lake St., Oak Park, IL
MUSIC PERFORMANCE – Thursday, February 28, 2013 – 7:30 pm-9pm
$15-$18 – call (708) 383-8873 for tickets
The happiest moments in Frank Lloyd Wright's Autobiography are his stories of a very musical childhood, revolving around his father, William Carey Wright, a musician and composer. Premiering his successful Kickstarter project, music historian David Patterson paints a portrait of Frank Lloyd Wright's father in words and music, giving us a fresh perspective not only on the architect's upbringing, but on the father whose musical mind was so essential to Frank's architecture.