In this week's list of our top architectural and historic Chicago events, we bring you a tour of a church in a skyscraper, a forward-looking meeting with the Chicago Loop Alliance, and a unique tour and art show of the Logan Square landscape.
1.  Chicago Chapel in the Sky Guided Tours – Chicago Temple, 77 W. Washington St.
TOUR – Monday thru Sunday at 2pm; also Sunday 12:15pm
FREE
Tours of the chapel's history and architecture start at the First United Methodist Church offices, located on the second floor. They take you to the top of the main building where your guide shares history about the church and its architecture. You'll see beautiful stained glass windows with a view of the city, carved wooden beams (with steel inside), and a wood relief of Jesus looking over a 1960s Chicago cityscape. The whole thing takes about 25 minutes and it's for donation only.
2. Chicago Loop Alliance Annual Meeting – Renaissance Blackstone Hotel, 636 S Michigan Ave
NETWORKING EVENT – Friday, February 14th – 8:00am-9:15am 
$35-$50 – reservations required
The event will bring together nearly 300 business, cultural and civic leaders who have a stake in the health and prosperity of Chicago's downtown as a place to live, work and study. We're most looking forward to announcements about the CLA's awesome place-making initiatives, such as their transformation of vacant storefronts, medians, alleys and other spaces in the Loop into pop-up urban experiences. Breakfast is included!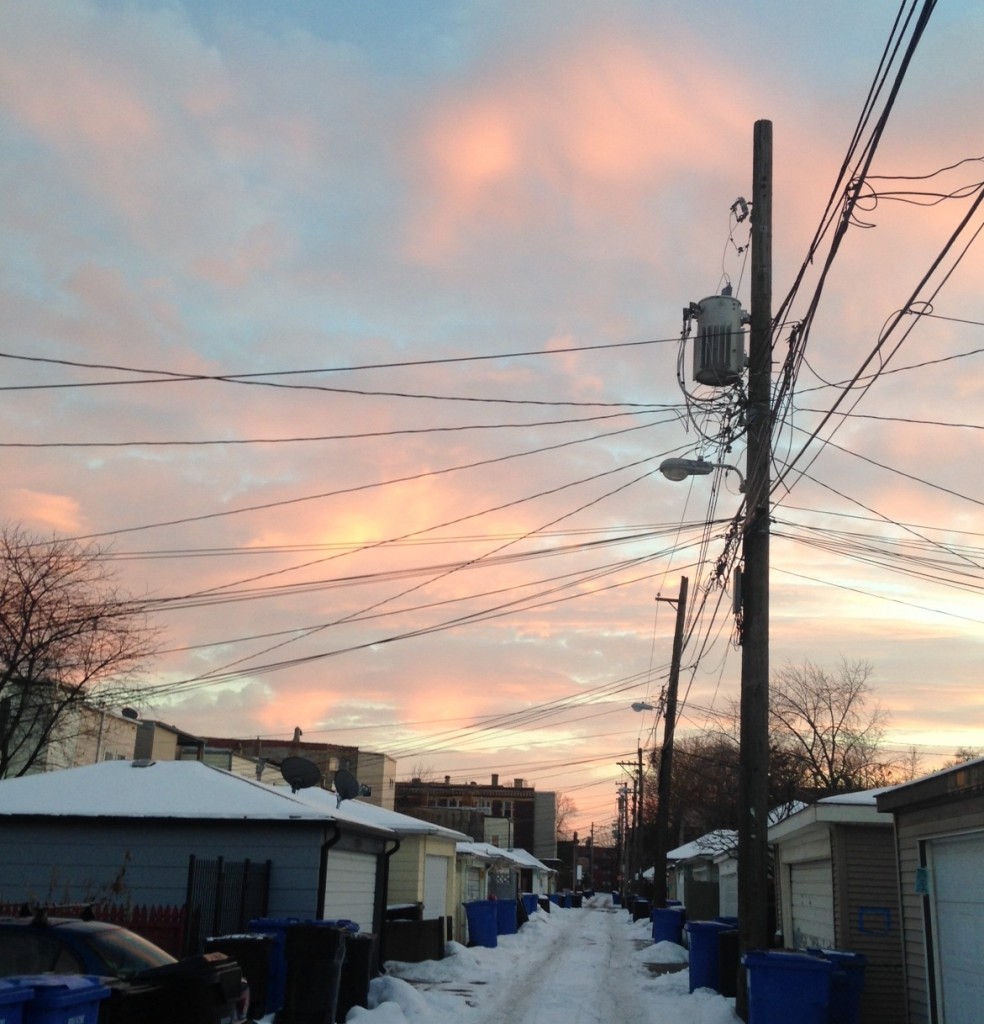 3. Saturated Landscape Logan Square Tour and Art Show – Azimuth Projects, 2704 N. Whipple St.
ART SHOW AND  TOUR – Saturday, February 15th from 2pm to 5pm
$12 – Reservations required
This one-off event integrates an exhibition of landscape-inspired works at Azimuth Projects apartment gallery in Logan Square with a walking tour of the neighborhood landscape led by our founder and Executive Director, Amanda. Both the tour and exhibition address the metamorphosis of landscapes and the emotional and social ideas we attach to nature and the built environment. The curated exhibit will feature works by artists' Peter Cardone and Madeleine Bailey and the tour will explore the ways we overlook or interpret the unseen processes and messages of our everyday Logan Square landscape and its vernacular architecture.
Two limited groups of 18 can experience the walk at either 2:15pm-3:15pm or 4pm-5pm which start at Azimuth Projects. The $12 ticket includes Katherine Anne Confections hot chocolate for the walk, hand warmers, and gifts.