If you're reading this, then you know that team-building virtual events are essential for remote teams. With the explosion in virtual tour options out there, it is now even a bigger challenge to choose a team-building activity that will help employees collaborate, cooperate, learn and have fun together. 
We want to help you! We've hosted more than 27,000 remote guests on virtual tours. And we've done a ton of market research on what people are looking for in team-building virtual events. Follow these guidelines here for a successful team-building experience! 
WHY DO TEAM-BUILDING VIRTUAL events AT ALL?
Coordinating team-building virtual events for either fully remote or partially remote teams involve unique challenges, particularly the challenge of physical distance. When you choose a great team-building virtual event, then everyone gets a chance to have some fun while boosting engagement, promoting teamwork, improving communication, and inspiring creativity. 
Corporate team-building virtual events, like our virtual tours, promote improved communication between colleagues, ultimately boosting productivity. For managers, these events give invaluable insights into their team's strengths and weaknesses. Perhaps most importantly, these events express to your employees that you value them.
The main challenge, of course, comes in picking virtual events that the whole team will love. We have spent thousands of hours on product development, game testing, and event hosting. Safe to say we know a thing or two about finding an activity that accomplishes all of these things. So how do you pick a team-building virtual event from the multitude of options? 
PICK A VIRTUAL TOUR WITH GAMES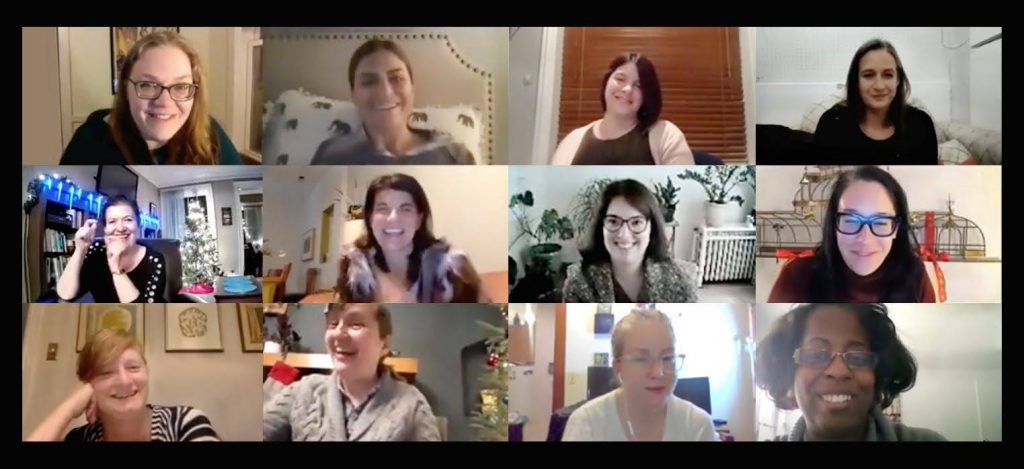 Nothing gives folks a break from their workaday life like some game time. It's become increasingly common for companies to set aside time for games (and other fun). These breaks let employees relax and enjoy one another's company. The bond shared between colleagues is often an essential element in employee retention. Creating a culture where people are working with friendly faces and want to keep on doing that is essential,. That's especially true with continuous changes to what the workplace looks like.  These games help promote a fun company culture and retain top talent.
There's a lot of virtual iterations of popular in-person games. Something like Online Pictionary works well in virtual events because it can be played simultaneously by many people on different devices, while still allowing for creativity and personality.
We adapted several popular game formats for our virtual tours with Chicago Detours. Standbys like trivia are a fun way to get the team involved in friendly competition.  We slotted a quick trivia game right into the start of our Badass Women of Chicago History virtual tour. Scavenger hunts are another popular standby for teams that want to have fun together as a group. For our scavenger hunts, like we have on our Innovations at the 1893 World's Fair virtual tour, teams decode clues before they can correctly hunt for the object.
Promote Innovation and critical thinking
The best team-building events prompt colleagues to work together to solve a problem or stretch their imaginations to do a creative activity together. These group activities promote positive working relationships, and sometimes simulate real-life on the job problem-solving. Critical thinking exercises and  creative challenges also build connections and allow colleagues to potentially see new sides of one another. "Did you know that Bob from accounting is incredible at riddles??" "Who knew that Karen could solve a puzzle so quickly?" 
One of the classic examples of how collaboration can lead to critical thinking in virtual events is the GeoGuessr game. A hit right from when it debuted, the game drops you into random world locations on Google Street View and tasks participants with working out where they are. The closer your guess is, the more points your team is awarded. Teams can work together, conversing over the visual clues and debating where to place their guesses. It's a game that shows off both geographic knowledge (which, uh…may or may not be useful in your workplace?) and a critical capacity to weigh options and probabilities (definitely useful in your workplace). 
Activities that promote creative thinking is one aspect of virtual tour hosting that we really excel at. On our Deep Slice of Chicago Food History virtual tour, for example,  our guests team up together to create a new signature Chicago dish facilitated by our live event hosts. They have to mix and match ingredients to create a speculative meal that can win the rest of their colleagues' approval. 
Cementing Bonds Despite the Distance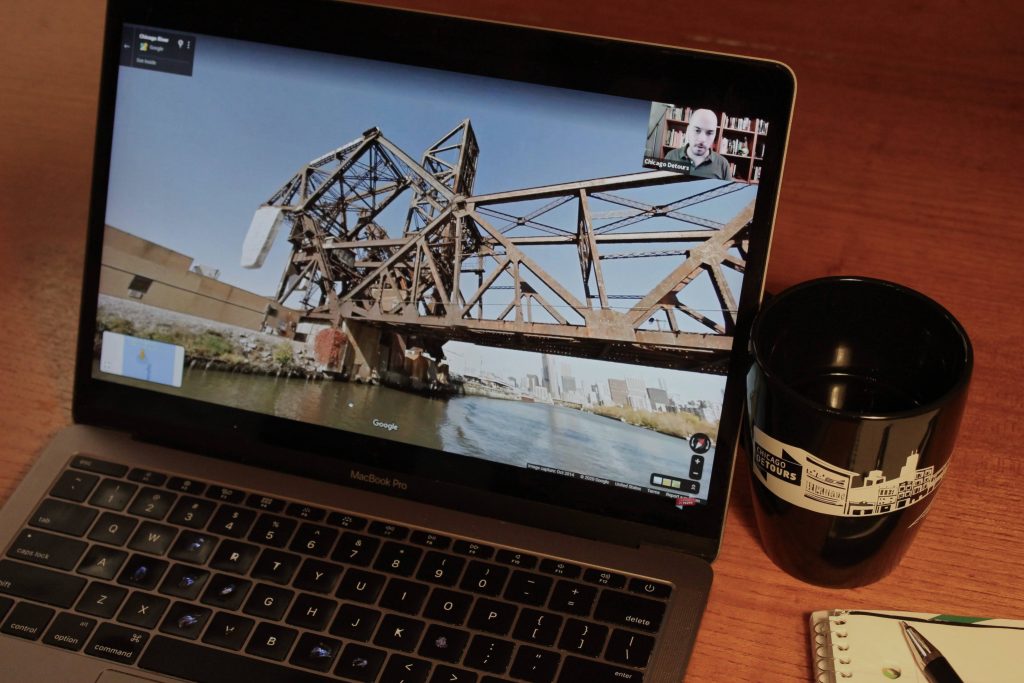 One of the biggest challenges of remote working is the lack of connection to your teammates. IMs and emails are insufficient replacements for the natural bonds that form with the physical comradery one finds in the office; however, remote socializing is important to combat loneliness for remote teams. An entertaining and educational virtual event breaks folks out of their Zoom fatigue through socializing around a shared experience. 
They carry a corny reputation, but well-executed icebreakers are great at establishing a shared experience. The folks at Miro have created a nice list of 15 icebreakers that can be useful for team-building. Something as simple as a Rock, Paper, Scissors Tournament  can be hugely effective. Icebreakers don't have to be high-concept. Something  simple, like sharing the results of a personality quiz, are fun and effective.
How Team-Building Virtual Events Promote Bonding
A good team-building virtual event makes it feel as though your team is together (while not physically being together). We've recreated the experience of a traditional in-person city tour on some of our virtual events, such as the Cruise from your Couch Virtual Boat Tour. Using 360-degrees images from Google, we're able to virtually traverse the famous skyscrapers along the Chicago River. The fact that the event is virtual actually adds even more possibilities – guests love being able to pop off the boat to see inside views from the top of the Sears Tower or the opulent interior of the Civic Opera House.
Similarly, we love hosting groups that can use their time with us to have a good laugh. The commentary of our event hosts often elicits lots of chuckling. Guests frequently shake with laughter when a colleague pretends to be a little German child in early 20th Century Chicago during our Holiday Stories virtual tour. That shared mirth is priceless. These activities include the added benefit of showcasing personalities, furthering efforts to get to know colleagues and form camaraderie. 
SWAG FOR TEAM-BUILDING VIRTUAL EVENTS
Obviously, the primary goal of a virtual team-building event is to give everyone a chance to socialize and bond. That alone has a tangible long-term effect, providing more energy and connection across the board.
That said, there's lots of ways to take that good feeling and make it tangible –with gifts! We can help arrange shipping for various swag options or food or beverage kits that align with each virtual event. You can send a Badass Women Journal to all of your attendees on a Badass Women of Chicago History virtual event. The images on the Deep Slice of Chicago Food History virtual tour often make folks hungry–so it pairs perfectly with frozen deep dish pizzas shipped to everyone's home!
Even if you don't select a swag option shipped to each attendee, the virtual tour can still have positive ripples in your community. We donate proceeds from the Badass Women Journal To the South Side Giving Fund; for the Cruise From Your Couch Virtual Boat Tour, you have the option of sponsoring local wildlife and supporting the mission of the Friends of the Chicago River. Your contribution includes one printed certificate and fact sheet about your animal.
DEBRIEFING ON YOUR TEAM-BUILDING EVENT
We've found, and HR professionals agree, that having a reflection can help that morale boost last. Prompting participants to think about what they learned, saw, or did helps them identify and articulate the personal and professional value that they will take with them from the experience. 
Debriefing is a powerful tool. A successful team-building event should be so engaging that workers are only present in the moment. Taking that moment to reflect cements the experience. It can get employees to understand the relevance of the exercises to the everyday tasks of their job and collaborating with their fellow workers.  
Team-Building Virtual Events Can be a Real Boon
Overall, we hope our guide has helped you think about how to choose an awesome virtual event for your remote team. A break from work to socialize and interact fosters good relationships and a happy team makes for a happy business.
– Ellen Bushong, Sales Manager and Event Host