Our "Badass Women of History" virtual event has been getting a lot of attention, with features on NBC Chicago, WBEZ, WGN Radio and more. We're so excited to share this event with our guests. Let me give you a peek into the hundreds of hours that went into its creation. In fact, the road to creating the Badass Women virtual event began over three years ago!
A Women's History Storytelling Event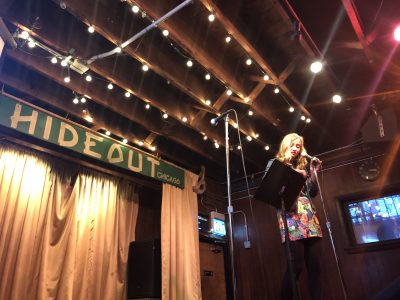 In 2018 we were looking to expand our storytelling beyond our normal walking and bus tours. We wanted to celebrate women's history and connect with our local community, so we created a live storytelling event, "Badass Women of Chicago History." Guest storytellers from the city spoke and used historic photos to tell the audience about awesome women that aren't household names but probably should be. We got such positive feedback that we decided to make it into an annual event. And 2019 sold out, too!
In early 2020 we were geared up for another sellout crowd, with an incredible lineup of presenters, but….it was scheduled for late March. Needless to say that live event did not happen. I was heartbroken to see the work I put into that event fall to pieces. But like so many of our plans for 2020, we had no choice but to shake it off, pick ourselves up and just move on.
Telling Women's Stories in New Ways
As we pivoted in spring 2020 to the virtual space, I drew on my background in women's history to develop some of my early virtual tours. I had always wanted to do a "Women's History Tour" for Chicago Detours, but the locations made it logistically impossible. They were too far apart to create a walking tour, and even a bus tour of these sites would take a few hours in traffic. So a virtual tour of women's history was actually an unexpected opportunity! Through Google Street View I could take guests to the Museum of Science and Industry to talk about the White Rabbits, and then up to Lincoln Park to view the former Chicago Women's Liberation Union headquarters, all within seconds!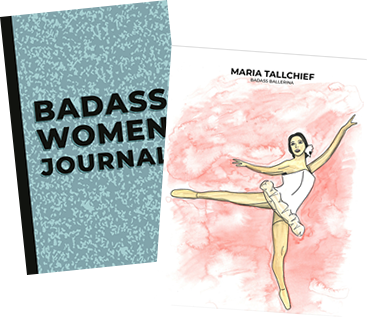 In 2020 we also designed the "Badass Women of History" journal, wanting to carry on the legacy of our events from the past years. We picked eight women to be included in the journal, with custom illustrations and short biographies, plus inspirational quotes from more badass women. Some of the women were featured in the "Women's History Virtual Tour," and others were ones whose stories I had been looking for a way to share. 
The "Badass Women" Virtual Event Takes Shape
Within a few months of doing virtual tours, we had become experts in the booming world of virtual events. Amanda was being invited to industry talks to help others pivot to virtual. We choose to turn the women's history event into a core product for our business. Naturally the name "Badass Women of History" was aptly descriptive itself, and so we decided to stick with it!
We knew we needed to design a compelling narrative, choose striking visuals, and develop meaningful interactive elements.
I made a list of every woman I'd ever featured in a virtual event, written about on our blog, or found in research for our 20+ walking and bus tours. This ended up being around 80 women! From there, I narrowed the list down by trying to represent a wide range of accomplishments, from science to culture to community leadership. We wanted to cover a sweep of history from the 19th century to the late 20th century, and we sought to include women from diverse backgrounds.
This led to some really hard decisions! For example, while I loved the story of both Maria Tallchief and Katherine Dunham, and though their stories are very different, we did not want to have two dancers on the list. I also really wanted to include an athlete, and had an amazing example in the story of Tillie Anderson the champion cyclist. However, her story was similar in time period and ethnic background to Enid Yandell, and in the end we chose Enid.
Making the Stories Exciting!
We didn't want the Badass Women virtual event to just feel like a series of biographies one after the other. Instead, we identified a "superpower" that made each woman such an inspiration, like Iva Toguri's integrity or Naomi Weisstein's positivity. By identifying these character qualities, we felt we could really create an event that used the stories of the past to inspire people for the future.
We found awesome photos, in some cases with the help of archives like the Filson Historical Society and the Chicago Public Library. We had a graphic designer make it look really eye-catching. We wanted to do justice to these women's stories, and the visuals make that possible.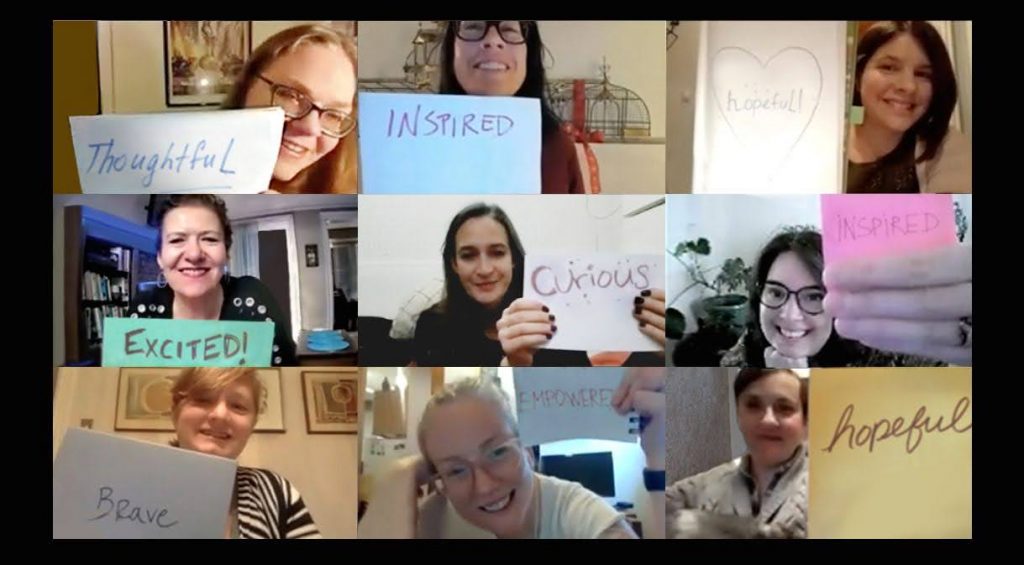 Finally we tested out interactive elements that would make the Badass Women virtual event fun, memorable and thought-provoking. A quick trivia icebreaker at the beginning sets the right tone to help us get into the mindset of why these stories matter, and a reflection activity at the end allows us to think about our own place in history. A more collaborative activity in the middle required more experimentation to make it just right for different audiences. For team-building events, small groups compete to write a haiku inspired by one of the badass women. In larger groups or on the public events, the whole audience works together to compose the haiku in real time! Either way, it's a fun "brain break" that gets the creative juices flowing and helps us connect with the stories on a deeper level.
We are extremely excited to share this virtual experience. In the events we've done so far, it has been a total thrill to hear my guests reflect on what they learned and tell me which stories resonated with them the most. We are proud of this virtual event! While Women's History Month is coming to a close soon, this virtual team building event can be booked for any time of year.
– Marie Rowley, Marketing Manager and Event Host