The James Beard Awards are in Chicago for the second year in a row. Considered the "Oscars of Food," these awards will go to the best American restaurants, chefs, and bakers. Since I don't regularly dine at Alinea, a very high-class Chicago institution, it seemed more appropriate to write up some of the working class dishes that make up so much of famous Chicago food history.
We research stories from Chicago history, architecture and culture like this while developing our live virtual tours, in-person private tours, and custom content for corporate events. You can join us to experience Chicago's stories in-person or online. We can also create custom tours and original content about this Chicago topic and countless others.
Maxwell Street Polish
The Maxwell Street Polish is a beef and pork Polish sausage topped with grilled onions and yellow mustard. This bit of famous Chicago food history is grilled or fried, setting it apart from the traditional Chicago Hot Dog. It originated at Jim's Original, a food stand located at Halsted and Maxwell (duh), in the heart of the old Maxwell Street Market. We often cruise through there on our custom neighborhood tours.
Curiously, the original Jim who invented the Maxwell Street Polish was Macedonian. Perhaps that explains why Pawel, our resident Polish staffer, has never loved the Maxwell Street Polish. He says it's good eating, but not authentically Polish. I guess I'll have to take his word on that, since I am Scottish, Irish, Dutch, and German.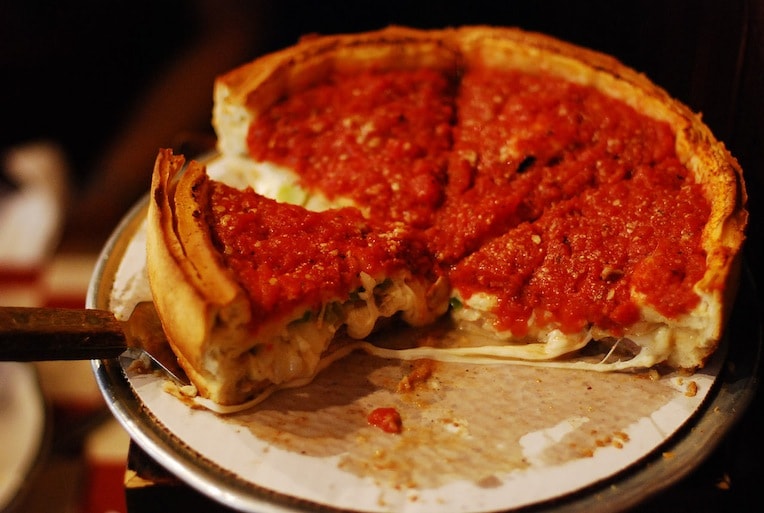 Chicago Deep-Dish Pizza
I'd bet anyone a Coke that deep-dish pizza is the single most famous Chicago food. Beloved by many, hated by fools, the Chicago-style deep-dish pizza is a deliciously monstrous creation. The size and scope of these pizzas are what set them apart from standard fare. Deep-dish pizza crusts rise 2 to 3 inches above the plate. A bevy of toppings along with a small mountain of cheese and tomato sauce fill the crust.
Tim Samuelson, Chicago's official cultural historian, could find no consensus about who actually invented the deep-dish pizza. It was almost certainly first created at what's now Pizzeria Uno. The thick crust likely originates from Sicilian-style pizza. The actual genius who first made this particular pie? A bevy of contenders claim the title. But Samuelson says none can conclusively prove their case.
The Chicago Hot Dog in Famous Chicago Food History
The Chicago hot dog is such a huge part of famous Chicago food history that we could write a whole article about it. Oh, wait, we have done exactly that.
Breaded Steak Sandwich
Never heard of this one? Its fame is just starting to spread outside of Chicago's South Side. As you can guess, the key component here is a juicy and tender breaded and fried steak. Sweet tomato sauce, gooey melted mozzarella, and a heap of spicy giardiniera top it off. Supposedly a hero bun keep this whole thing together, but I have my doubts.
Last year, USA Today named the breaded steak sandwich at Ricobene's in Bridgeport the single best sandwich in the world. Some locals disagree, but the hype is enough that Anthony Bourdain visited Ricobene's to taste it for an upcoming episode of his CNN series Parts Unknown. That press hype will surely rocket it into every diner and independent fast food joint in Chicagoland. We've yet to visit Ribocene's on a tour, but we love swinging through Bridgeport on our private tours of Chicago neighborhoods.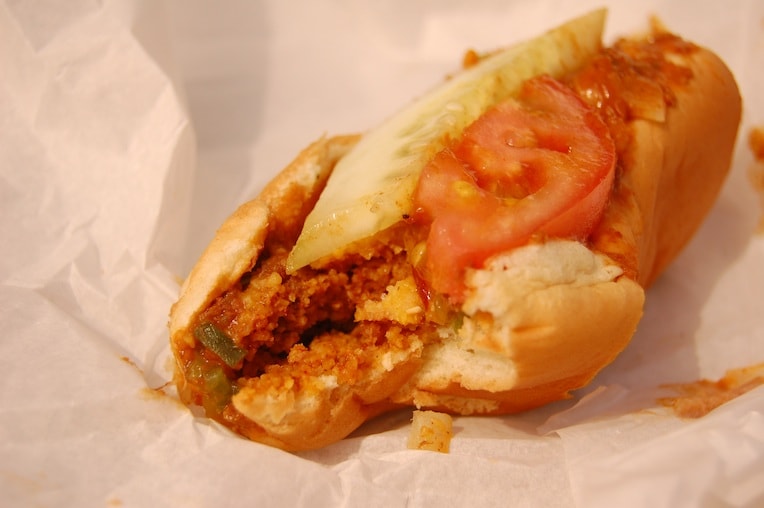 Mother-In-Law Sandwich
The mother-in-law sandwich, much like the breaded steak, is a meal that hovers right on the edge of famous Chicago food history. Imagine a chili dog with a ground beef tamale subbing in for the sausage. I got to eat one on a custom private tour, which is normally just offered for private groups. My mother-in-law sandwich from Johnny O's was also topped with the tomato, pickle, and onions one would expect from a Chicago dog. As you can imagine, that's a heavy-duty sandwich. In fact, it made me feel about ten pounds heavier, in a most enjoyable way.  The name comes from that sinking feeling in your gut often associated with a visit by your mother-in-law.
The mother-in-law sandwich is a South Side speciality that's been crawling into the limelight. A Smithsonian article writes about its rarity and Bourdain, again, sought it out for his TV show. He called it "the evil stepbrother of the hot dog," and "disturbing in design, yet strangely compelling." Sounds like an endorsement to me!
It's unlikely that any of these dishes will be up for James Beard Awards anytime soon, but they exemplify what makes Chicago such a famous foodie hotspot.
– Amanda Scotese, Executive Director and Alex Bean, Office Manager and Tour Guide
ABOUT CHICAGO DETOURS
Chicago Detours is a boutique tour company passionate about connecting people to places and each other through the power of storytelling. We bring curious people to explore, learn and interact with Chicago's history, architecture and culture through in-person private group tours, content production, and virtual tours.