This past Saturday, Elizabeth and I took two busses full of guests to Bridgeport as a public preview our newest private group food and beer tour of Chicago, the Big Shoulders Historic Bar and Food Bus Tour. We originally planned to just offer this special experience to one 40-passenger bus. A second tour had to be added after we sold out in early November.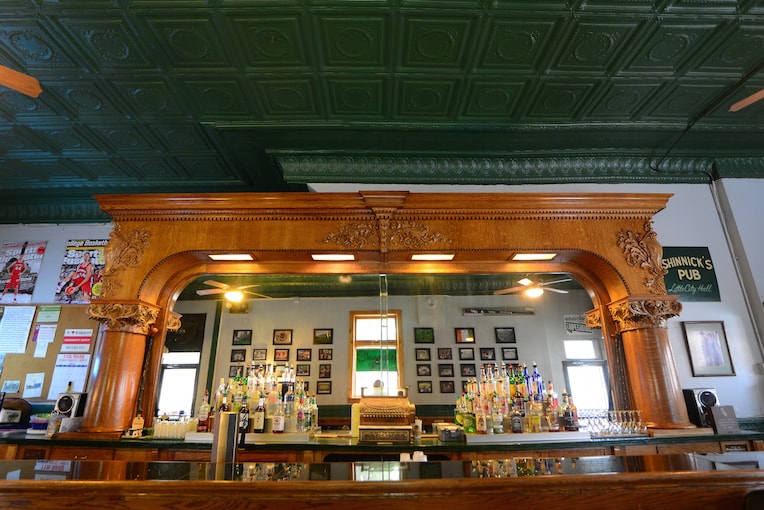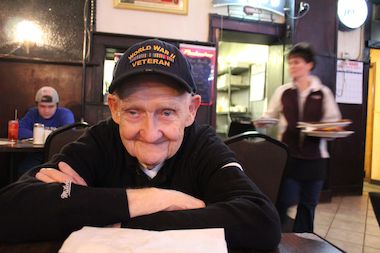 What We Saw in Bridgeport
Guests ranged from our Chicago Detours community of past tour guests to those who read about it in the Daily Herald. We also hosted hotel partners from the Peninsula, Hotel Lincoln, Loews Hotel, and the Gwen, among others.
The tour focused on the area's history in the late 19th and early 20th centuries. We talked about the saloon and its role as the living room for the working class. After touring through the old Union Stock Yards area, we drove by the crumbling ruins of the Central Manufacturing District. Many Bridgeport residents did back-breaking labor in one of these two massive industrial areas.
A Last Stop at Shaller's Pump
Our second drink stop was at Schaller's Pump. This cozy establishment was once part of the long-gone Ambrosia Brewery. I was happy to see that the owner, 91-year-old Jack Schaller was there. His family has been in the business for three generations, and Jack can always be spotted wearing his veteran's cap and a smile. UPDATE AS OF 5/8/17: JACK SCHALLER PASSED AWAY IN 2016 AND THE FAMILY JUST PERMANENTLY CLOSED THE BAR.
The way to do it at Schaller's Pump is pitchers of beer. For private group tours, we have an even more filling option of food for the tour, which has an entire entree of corned beef and cabbage here.
On Lituanica Street, we looked at regular Bridgeport homes that were once Lithuanian taverns that lined this now-residential area. I hopped off the bus to grab a loaf of Lithuanian rye from Bruno's Bakery, which you can get at the local Whole Foods Markets.
Old-Fashioned Fast Food at Johnny O's
Our third stop, and the highlight of the food and drink tour portion of our evening, is Johnny O's. I don't want to ruin the surprise of the secret bar, but I will tell you that this was where we had hot dogs, mother-in-law sandwiches, fried veggies, French fries, local beers, and even got to hear a song from Johnny's stint as a 60's lounge singer with the name "Johnny Powers."
A trip down Morgan Street showed us remnants of even more taverns, as well as the neighborhood's turn from working class to hipster class, with art galleries and Maria's Community Bar. Then I hopped off the bus to grab delicious chocolate lace oatmeal cookies from Pleasant House Bakery.
We rode down Archer Ave., once the commercial hub of the neighborhood and now a weird mix of buildings from the late 1800s, the '50s, and more recent. We also get Polish cookies from Bridgeport Bakery, another Bridgeport institution. Then a drive by the new and old parks along Halsted Street leads us to the conclusion of the tour.
Thanks for joining us!
At the end of any Chicago Detours event or tour we ask guests to reflect on the experience and share something with the group – be it a place we went to, something we saw, or an idea or story from history. With full busloads it isn't so efficient to have everyone verbally share, so instead we asked people to write them down. You can tell they were written on a moving bus!


It looks like people enjoyed the  the history of the stockyards and the drinking history, as well as the stops we went to. The food is appreciated, from the mother-in-law sandwiches (a South Side specialty) to the cookies. Whoever wrote "history of Bridgewater" indeed shows that the beer was flowing!
In the spirit of the holiday season, we are donating 100% of the guide gratuities to Benton House, which has a food pantry in the Bridgeport neighborhood. We got about $175!
Please keep in touch to hear about our next one-off event to the public. We have another historic bar tour in the works!
–Amanda Scotese, Chicago Detours Executive Director