As summer winds to a close this Labor Day weekend, we can still take advantage of the many boat tours of Chicago. Chicago is bursting with boat tour options, all that can be a fun way to experience Chicago architecture. To help you out as you plan a boat tour with family and friends, I decided to sort through the many boat tours in Chicago.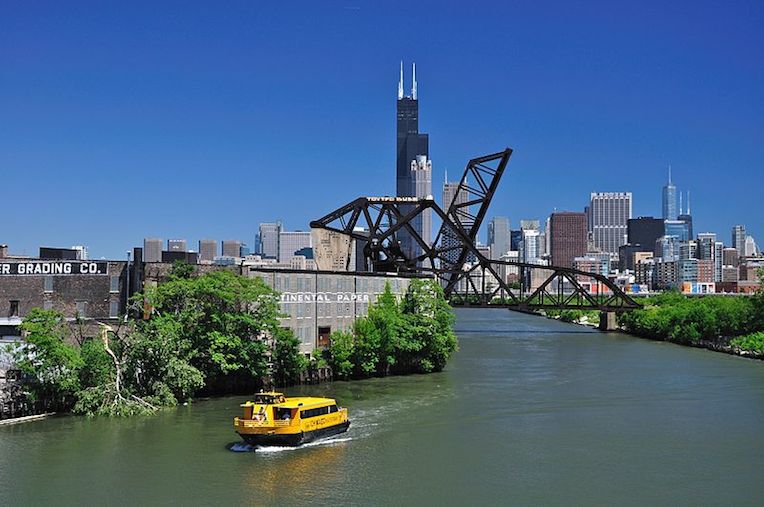 Water Taxi
Chicago's water taxi is a quietly brilliant idea. The Chicago River is underutilized today, but it was once the city's main artery for transportation. The water taxi has been putting it to that use again for over 50 years. Routes run on the North, South, and Main branches of the river and tie together spots as disparate as Chinatown and the Mag Mile.
The water taxi does not have a tour guide. It is simply transportation. While it's not designed as a sightseeing experience, the water taxi is probably the cheapest and quickest of the boat tours in Chicago.
Kayak Tours
The original way of getting around Chicago's waterways were canoes and kayaks paddled by Native Americans and French-Canadian voyageurs. Reconnect with that heritage by heading to the riverwalk for a kayak tour of the Chicago River. It's an ideal outing during Chicago's balmy summer weekends. In fact, the whole Chicago Detours team went on a kayaking tour with Urban Kayaks in May and had a blast.
River Boat Tours
Tour boats on the river are a very common sight during the summer. The most popular tour boat operators are Wendella Boats and Chicago's First Lady. Both offer architecture and sightseeing tours from their docks near the Michigan Avenue bridge. The Wendella tours are a bit cheaper, though it's worth noting that the prestigious Chicago Architecture Foundations organizes the tours on Chicago's First Lady. These companies are the mainstays of the boat tours in Chicago, so I'd think either choice should work out.
Lake Michigan Cruises
The wide blue expanse of Lake Michigan offers up a variety of different cruise experiences. If you have a need for speed, Seadog Cruises does a speedboat cruise that looks thrilling or terrifying, depending on your disposition. Shoreline Sightseeing has a lakefront sightseeing tour that runs at day or at night beneath the bi-weekly Navy Pier fireworks. Anyone looking for a unique date idea can look into the dining cruises offered by Entertainment Cruises on its small fleet of yachts. That fireworks outing sounds terrific to me.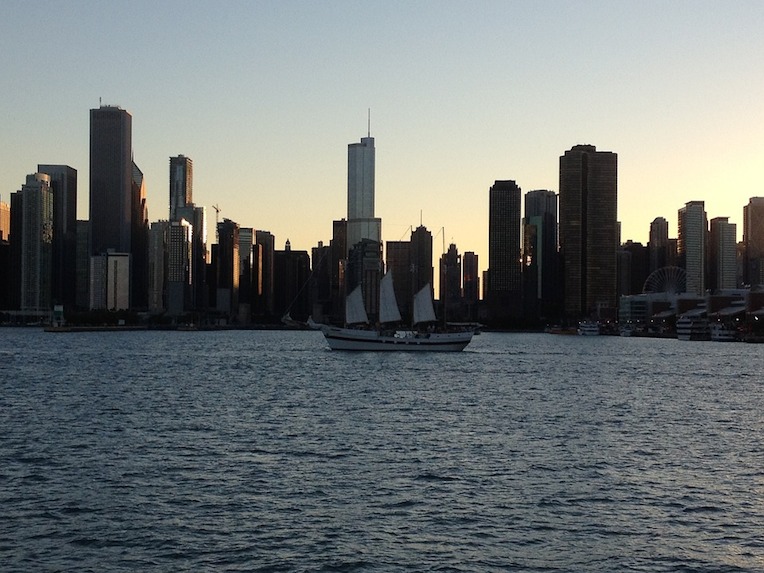 Charter Sailing
As I mentioned in the list of the Top Ten Things to Do in Chicago this Summer, charter sailing tours are an amazing experience. Outfits like Chicago Sailboat Charters set your small party up with an experienced sailor. Most tours allow you to bring drinks and snacks, too. Sailing charters offer stunning sights and a beautifully slow-paced experience. Maybe you'll even get close to the lighthouses?
Private Yacht
Not a casual affair, if you really want to do it up for your boat tour, then rent a private yacht! Likely more appropriate for a special occasion, companies like Windy City Cruises and Anita Dee have beautiful private boats for a luxury experience. And then of course, you could consider bringing on our Executive Director Amanda Scotese as your boat tour docent.
Our city is uniquely situated for aquatic sightseeing and has a surprising variety of boat tour options that allow you to see Chicago architecture from a unique perspective. And locals and visitors alike should have a good time with the boat tours in Chicago. Most boat tours run around March through November, so hurry up as your time is running out this season!
-Alex Bean, Chicago Detours Tour Guide