Innumerable backyard grills will be fired up for summer holidays, like Memorial Day weekend and Fourth of July. In honor of that, I wanted to dive into the greatest possible use of a grill: barbecue. The history of Chicago BBQ is tied directly to the city's history of industry and immigration. Taking a look at how BBQ arrived and evolved here can give us a glimpse at some of the major forces in Chicago history.
BBQ Arrives Along with the Great Migration
The food that we call barbecue arrived in Chicago during the Great Migration. In two waves, between 1910 and 1960, millions of African-Americans left the sharecropping of the Jim Crow South for industrial jobs in the North. Hundreds of thousands came to Chicago and brought their distinctive culinary traditions along. The history of Chicago BBQ starts with that first wave of emigration up the Mississippi River to Bronzeville, which you can always visit with us on the Jazz, Blues, and Beyond Bus Tour.
Barbecue's origins in Southern African-American life go all the way back to the initial days of the Columbian Exchange and European conquest of the Americas. Europeans, Africans, and Native Americans all collided with each other in the Caribbean and Gulf Coast. Slaves, and their descendants, were always left the cheapest cuts of meat. So they combined European smoking, Native American open pit techniques, and sweetly spicy sauces made from tomatoes and hot peppers. That combination created a distinctively succulent and delicious food which became a staple of the African-American community.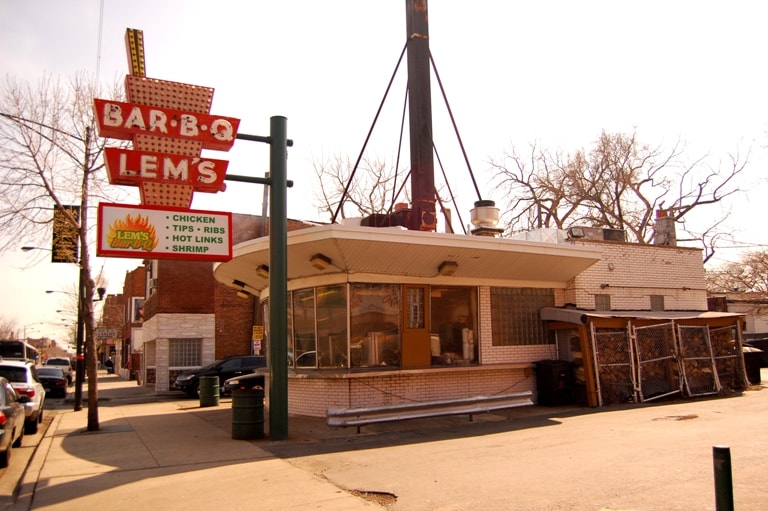 What Makes Chicago BBQ Distinct?
According to an article on AmazingRibs.com, Chicago is not one of the traditional capitals of BBQ. Those are Memphis, Kansas City, Texas, and North Carolina. Each has a distinctive, even monolithic, cooking method and sauce. But Chicago barbecue does have a bit of a style. Rib tips are cheap cuts and quick to cook, so they became ubiquitous. They are meaty but also very fatty, providing that delicious flavor akin to bacon.
Chicago is (in)famously the home of the "boilbeque," a style created by the city's Eastern European immigrants.  The Czech, Polish, and and Lithuanian newcomers to Chicago only smoked sausages. The rest of their culinary tradition was based upon boiling meats with cabbage and other vegetables to make stews. So, they paired delicious sweet barbecue sauces with ribs that were boiled.
To be fair, that's where the "fall off the bone" style of ribs originates. But boiling robs the meat of its natural juices and flavors. Boiled ribs tend to only have the flavor of the sickly-sweet ketchup-based sauces on them. So if "boilbeque" were the only innovation in the history of Chicago BBQ then I'd say we don't deserve higher status! I have a profound love of grilled and smoked meats, so the idea of boiling a cut like that offends me on a deep, personal level.
Technological Innovation Drives the History of Chicago BBQ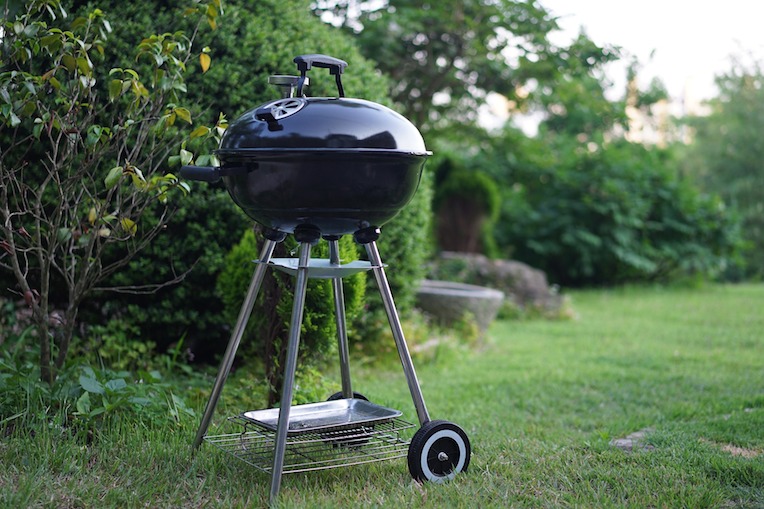 Despite that, Chicago still has a major role in BBQ's history because of the industrial and technological innovations that influenced the meatpacking industry. It's no surprise considering our city's other huge contributions to industrial food production. Chicago changed the world with the McCormick wheat reaper, Swift ice cars, and Union Stockyards.
Notable inventions in the history of Chicago BBQ included the wood-burning aquarium smoker, which allowed for open-pit style smoking in an urban kitchen. You'll see the smokestack of this kind of smoker on 75th Street at Lem's, one of the city's most famous old-school spots. Woodchips and charcoal, which have to be constantly managed, create the smoke that slowly cooks the meat. Newer versions, such as you can find at Smoque in Irving Park or County in Tri-Taylor, use gas. And best of all, these machines pump out the delicious aromas of smoking meat to anyone on the block.
Chicago is also the originator of the most famous and popular object in backyard history: the Weber kettle grill. Incredibly, the initial Weber grill was a Lake Michigan buoy that an Weber Bros. Metal Works employee had cut in half. The tight-fitting lid allowed millions of dads to better control their coal temperature. Plus, the top and bottom vents allow for smoking meats over charcoal.
Get Out and Try Some Chicago BBQ!
On a long holiday weekend, I highly recommend visiting the historic BBQ joints that dot Chicago. Personally, I still miss the smell of the hardwood smoke from the dearly departed Ribs n' Bibs in Hyde Park. My first apartment in Chicago was a block away and I got an ungodly amount of takeout there.
So, when you next settle in for some ribs, be sure to appreciate the cultural and technological trends that influenced the history of Chicago BBQ.
-Alex Bean, Content Manager