Looking for a place in Chicago to have a romantic moment during Valentine's Day? I'm the new Chicago Detours Editorial Intern, and I went on a little winter walk to get some pictures for this "Top 3 List" of some of the best Chicago architectural spaces to sneak away for kissing your Valentine:
1) Ando Gallery in the Art Institute of Chicago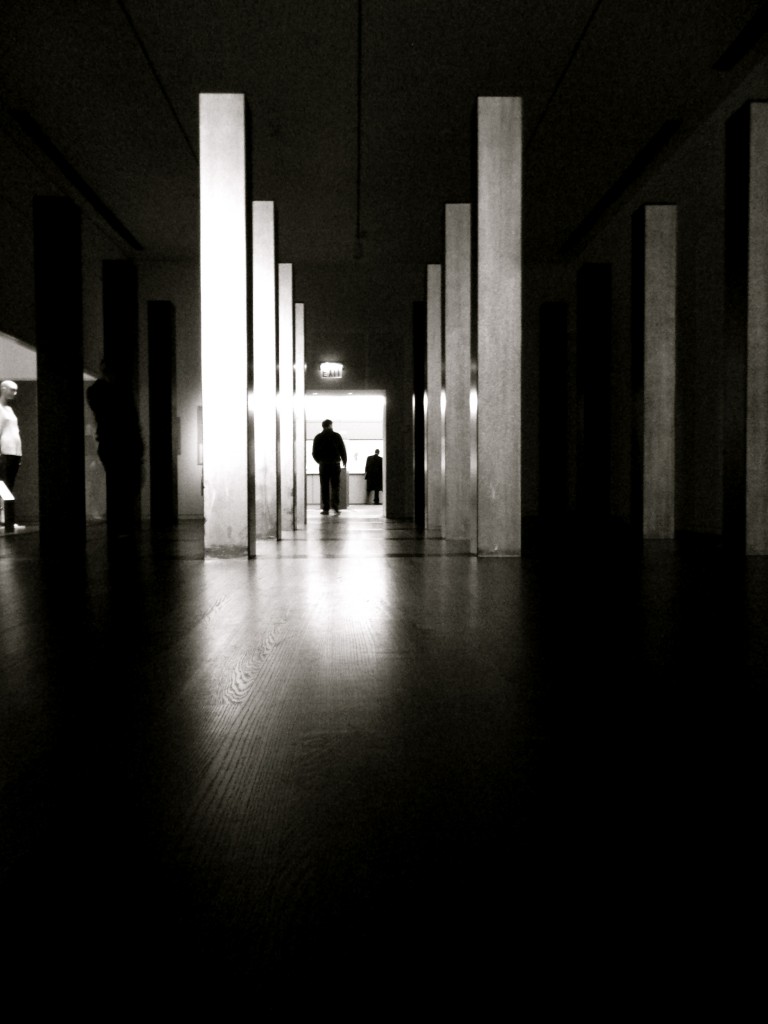 I snuck away from the Detours office to take this picture and took advantage of the free entrance for Illinois residents until Feb. 13th  (any day, any time!). When you enter the small, somewhat hidden Ando Gallery, you are confronted by 16 tall wooden poles evenly spaced in a darkly lit room. Behind them you see an "L" shaped case dimly lit currently holding a fashion exhibition. You feel drawn to the lit cases yet also feel you should wander through the poles and linger in the darkness before you proceed. With this space, Ando said he wanted to "create something that reminds them of beyond physicality."  And truly, in this space he succeeds. Kissing amongst the silent columns feels like a lovers tryst in a Greek forest where you'll soon see Pyramus and Thisbe running to their doom or Daphne morphing into a mulberry tree. Ooo, la la. It is a haunting and beautiful architectural space for romance.
2) Osaka Garden in Jackson Park (behind the Museum of Science and Industry)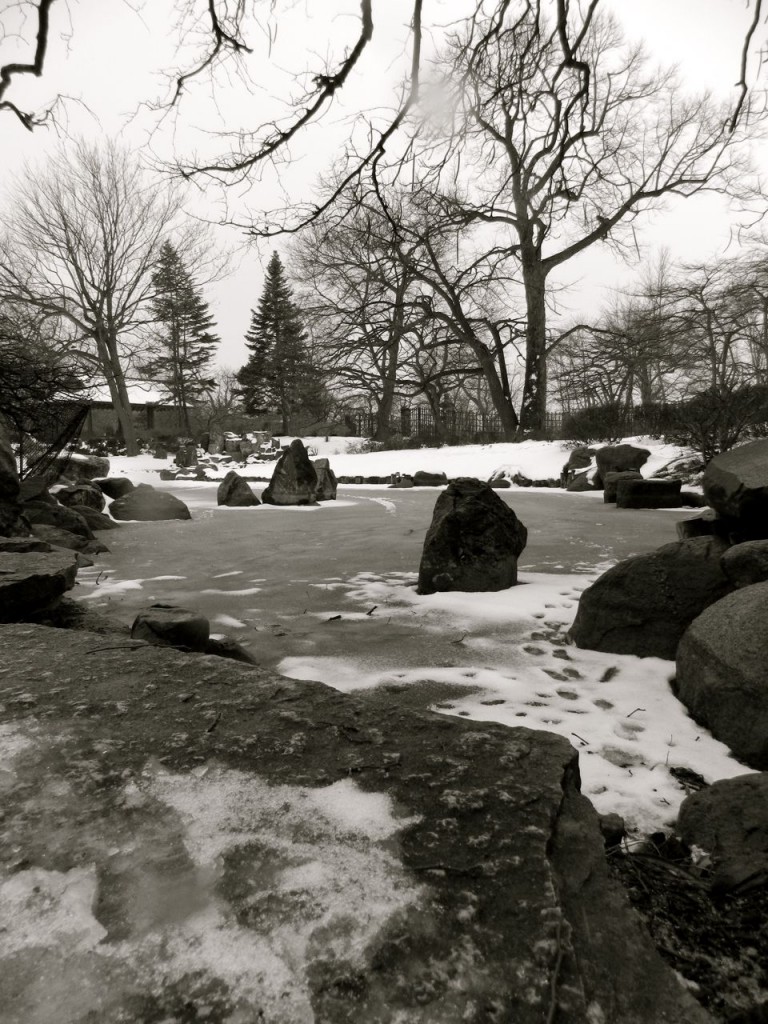 Osaka Garden is a designed space left over from the Columbian Exposition of 1893.  Originally Phoenix Hall was the main structure within the gardens, however it burned down in 1944, and the garden has since been renovated a number of times. Like many Japanese gardens, Osaka Garden in Jackson Park offers a winding and peaceful experience among perfectly juxtaposed aesthetics of nature and controlled design. Here, you can coo and cuddle in a tree-lined niche, over a doll-sized bridge, or at the tea house pavilion. Also, your view is primarily of the Museum of Science and Industry surrounded by a wooded park and lagoon. The Osaka Garden offers seclusion, beauty, and a rare glimpse of Chicago's past. And it's free, of course.
3) Lurie Garden and Nichols Bridgeway in Millennium Park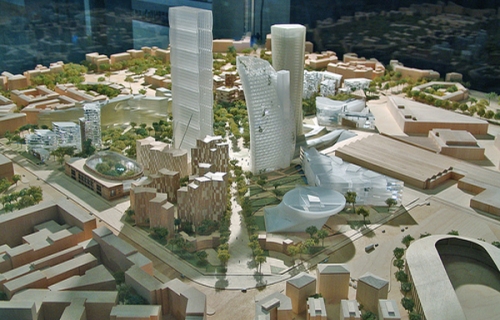 On my photo walk, I discovered that Lurie Garden is currently roped off from the public. Yet, it's accessible with your sweetie if you're daring enough to sneak around it (as appears to be popular idea from the picture).  Here you can seclude yourselves, curl up on a bench and wonder arm-in-arm among the skyline of Chicago.
After sitting on a cold bench for so long, I decided to warm up and tour around Pritzker Pavilion and Grant Park. The area was covered in hardly tromped snow and ready to be ruined with lover's play.
Thereafter I trekked over Nichols Bridgeway to the Art Institute. From this spot you can perch and kiss while overlooking Monroe Avenue, the Metra tracks, Millennium Park, the Art Institute and Lake Michigan.
Of course, there are a number of other architectural and historical hideaways within Chicago waiting for Valentines to come and romanticize them (or great places to propose in Chicago!).  So, here are a few other ideas for the holiday:
53rd and Dorchester in Hyde Park – Get a picture of you and your lovely next to the plaque commemorating the Obama's first kiss.
Harper Theater – Perhaps while you're in Hyde Park for a visit to Osaka Garden, or smooching like a Presidential couple, you could visit this recently re-opened historic theater.
Signature Hancock – A panorama of Chicago. Sunset is around 5:15pm, so I would get there around 4:30pm.
McCormick Tribune Plaza and Ice Rink – Another Millennium Park offering. Admission is free and skate rental is $10.
The Ferris Wheel at Navy Pier is a little cliché, yet it really is a romantic Chicago activity and offers an unrivaled view of the Chicago skyline.
— Jenna Rae, Chicago Detours Editorial Intern