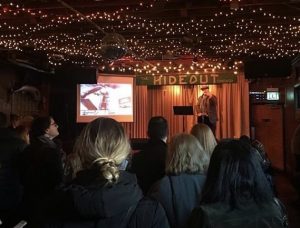 Our "
Badass Women of Chicago History
" storytelling event on Friday, March 22 had good vibes all around and a packed house! We SOLD OUT with 132 guests. Incredible storytellers told us about Chicago heroines on the peripheries of history. We had incredible storytellers. In case you didn't make it, here's our special event wrap-up: Here is Hideout Inn Owner Tim Tuten sharing some history of the venue and most of all, the political situation around the Lincoln Yards development. Originally built in 1881 as a  boarding house for nearby factory workers,
The Hideout Chicago
sits in a cozy wood-frame building encircled by a dump truck parking lot and old brick warehouses. This industrial district is no more, and private development firm Sterling Bay has purchased most of it and plans to build giant glass box buildings. The whole thing is
speeding into the process
versus having a more measured approach.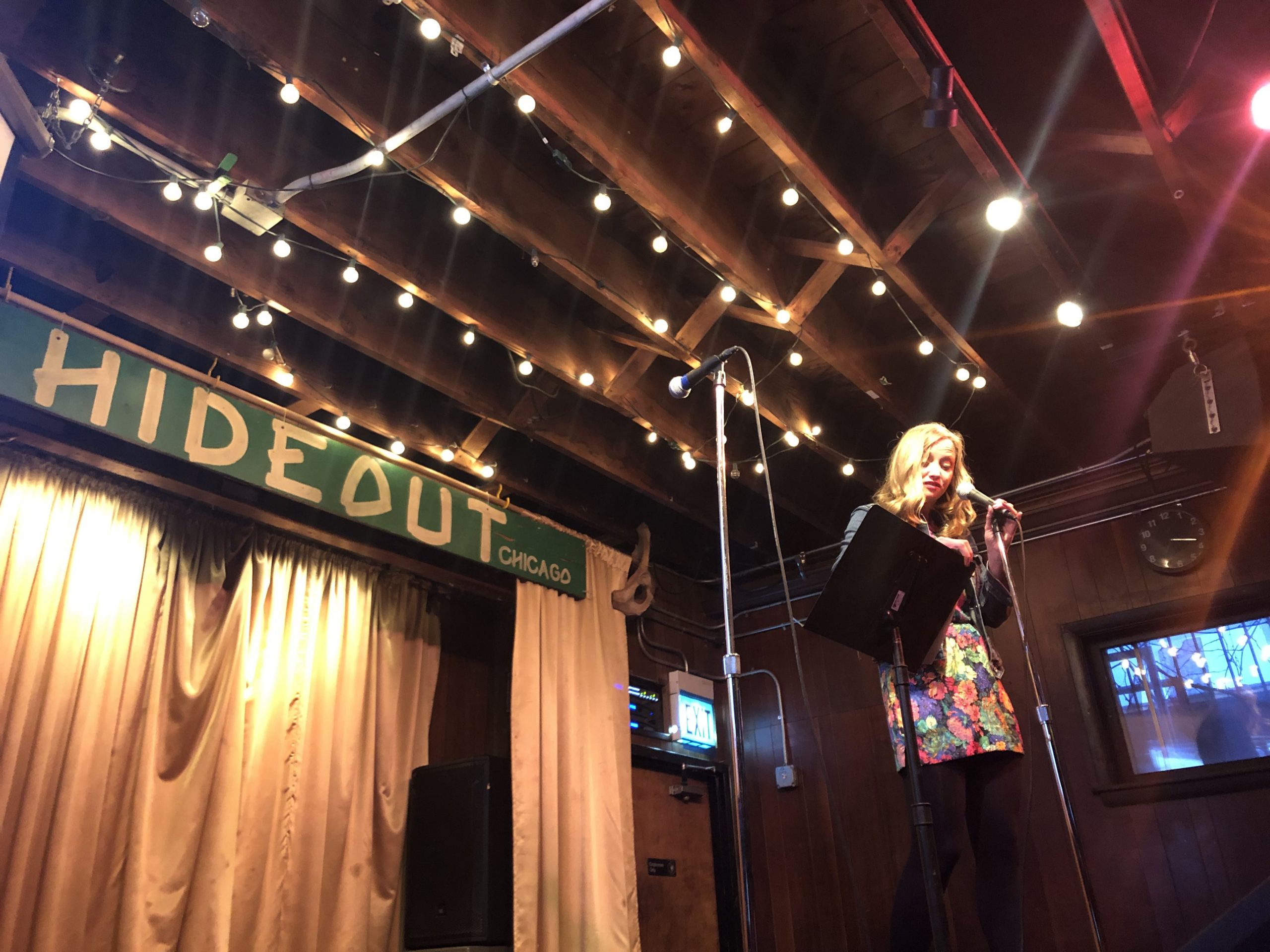 Personally, it was really special for me to throw an event here. I've been coming to the Hideout for the past 15 years. As I reflected on my time at this one-of-a-kind place, I realized that it is one of few Chicago bars where you truly get a mix of people of different ages. In my late 20s, my friends and I went to the Saturday dance parties that started at midnight. In my 30s, I went to countless rock shows. Now in my 40s, I'm getting more intrigued by the talk shows and more political events that happen in the early evening. Speaking of…
Erika Wozniak of
The Girl Talk
co-emceed with me (Amanda). The Girl Talk is an activist talk show recorded live at The Hideout. Each month they tackle a new issue facing our city, state and country by having discussions with women who are at the forefront of doing some badass work to make the world a better place. While I do tours all the time, being an emcee is new territory for me so it was great to bounce off of the energy of a badass woman!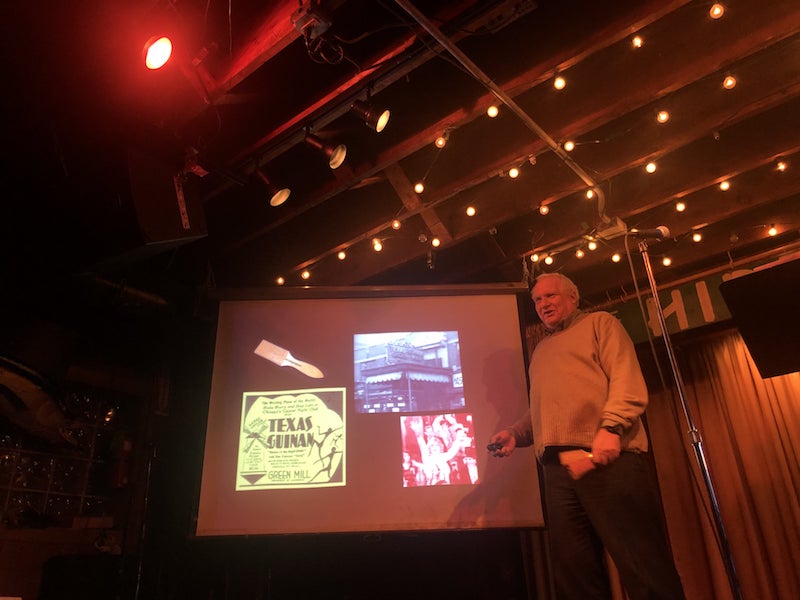 Tim Samuelson is one badass dude. He's the City of Chicago cultural historian. Thanks to him, now the tale of Nightclub entertainer Texas Guinan will now never be forgotten.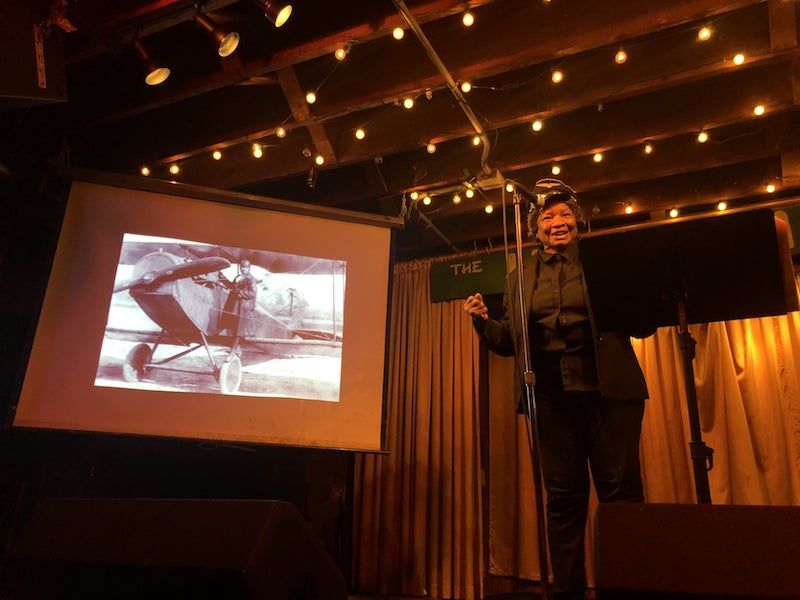 Velma Gladney took on the persona of Bessie Coleman, an aviation pioneer. She told the story in the first person, proclaiming "And I didn't take hell from nobody" when men told her she couldn't make it as a pilot. Bessie Coleman was the first woman of African American and Native American descent to earn a pilot's license. Velma got everyone pumped!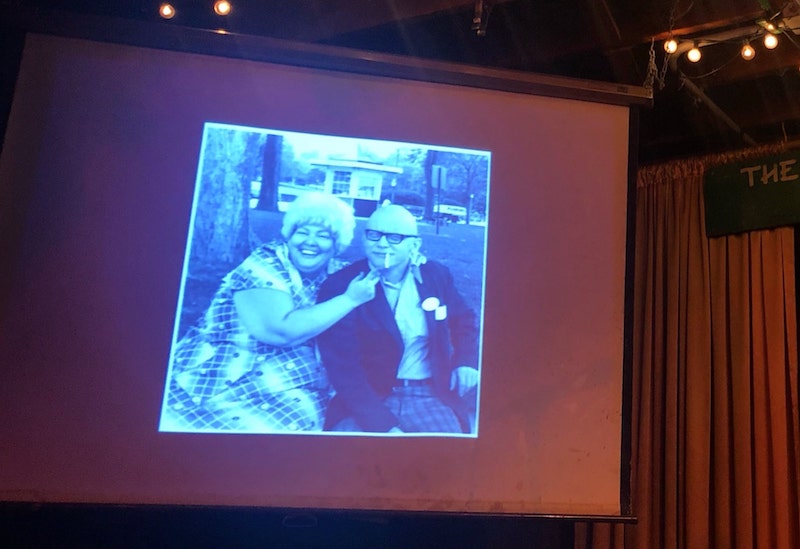 We got to learn from Mary
Lu Seidel of Preservation Chicago how badass Gale Cincotta was. This West Side community organizer didn't take s–t from no one and political leaders started to pray she wouldn't show up with her brazen strategies of activism. For example, when her alderman was not addressing the rat problem in her neighborhood of Austin, she and her buddies started catching and freezing dead rats. Then they delivered him a special present!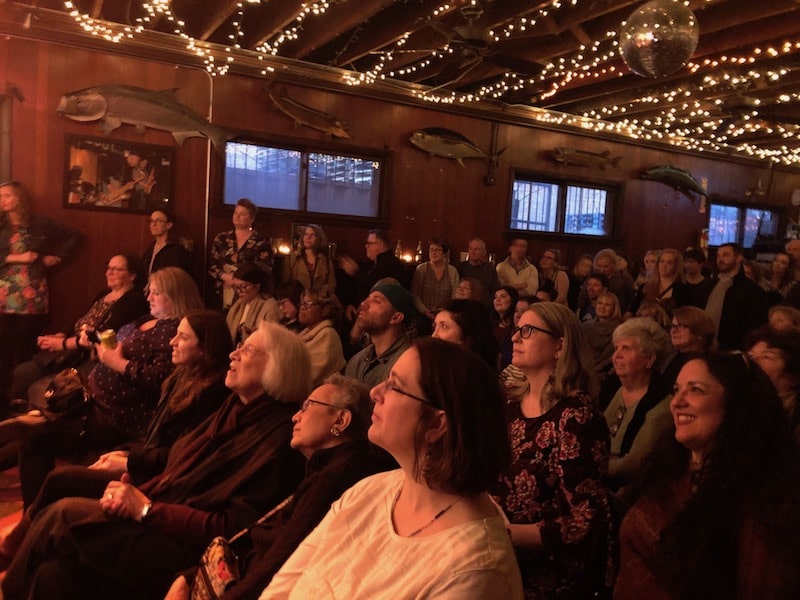 All the prize donation $ and our Chicago Detours merchandise money went straight to the
Chicago Women's Health Center
, as well as a portion of the ticket sales. Thank you to organizations who gave prizes:
Mata Traders
,
Glessner House
,
Game On! Sports 4 Girls
,
Whimsical Candy
, Greg Borzo and
Arcadia Publishing
,
Spoken Cafe
,
Unabridged Bookstore, Albany Park Theater Project, Back to Print, and Cafe Selmarie.
We ❤️ the Hideout. Thank you to all who came and helped make it a magical night celebrating Chicago women in history! — Amanda Scotese, Executive Director