With friends and family visiting town, you have your standard Chicago holiday traditions, but how about something new? How about some architectural things to do? It's always nice to look at the windows of Macy's on State Street, shop on the Magnificent Mile, go ice-skating in Millennium Park, or fill up on a giant bag of Garrett's popcorn, or join our annual Holiday Tour of Drinks, Daleys and Dead Guys. But we would like to share with you some less traditional, and particularly architectural activities for something new this holiday season.
"Chapel in the Sky" tour of the Chicago Temple Building
This activity is perfect to pair with a visit to the Christkindlmarket because it's just across the street from Daley Plaza at 77 W. Washington. Every day at 2pm you can go up to the 26th floor to this intimate space, commissioned by the Walgreen's family. The tour guide for your Sky Chapel tour will open up a window so that you can see awesome skyline views of downtown Chicago. The tour takes a little less than a half hour and it's free!
The Chicago Theatre "Marquee Tour"
Step into early cinema-house glitz and glam to experience the grandeur of one of the last standing 1920's movie palaces from Balaban and Katz.  Tours of the beautiful French Baroque interiors are offered in December: Mondays through Thursdays 12pm, Saturdays at 11am & 12:30pm, and also this Thursday, December 19, 6pm. Go backstage to see historic autographed walls or walk on the famous stage of the Chicago Theatre and imagine the faint sounds of Duke Ellington, who graced this stage, playing jazz piano.
Driehaus Museum "Meet the Servants" Holiday Tours
In the late 1800s, some railroad moguls and bankers were making obscene amounts of money. So what would the holiday's have been like at a Gilded Age Chicago mansion? Find out with costumed servants at the Driehaus Museum, Fridays, Saturdays and Sundays in December, from 11am-3pm. They will share holiday customs, including cookie recipe and special fashions of the time.
Indoor Architectural Tours with Chicago Detours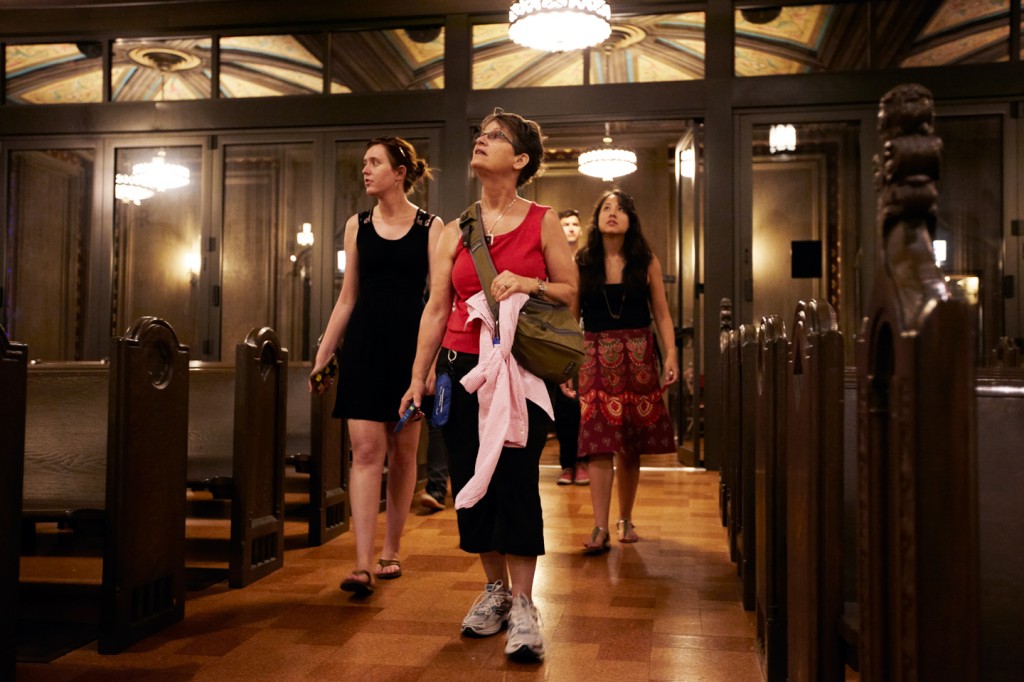 Our Loop Interior Architecture Tour or Chicago Historic Bar Tour are great activities for groups of family or friends. If you have eight or less in your group, just register for a regularly offered tour for a great architectural thing to do. Tour dates are filling up close to Christmas. For bigger groups, we will schedule a private group tour for you. Remember, both tours keep you mostly indoors so that you don't have to freeze.
Second Presbyterian Church Tour
This Gothic Revival Church is bedecked with beautiful stained glass windows, many by Louis Comfort Tiffany. Many of the movers and shakers of Chicago once worshipped here, before much of the neighborhood moved to the North Side, such as the where the Driehaus Museum is today. You could pair an architectural and historical tour of the church with a visit to Chinatown for dim sum since it's right around the corner. Tours are Wednesday 1pm-3pm, Saturday 1pm-3pm, and Sunday 12:15pm-2:15pm.
— Amanda Scotese, Chicago Detours Executive Director