We've made it through a year unlike any other and hope to help you ring it out in good cheer with our 2020 Shop Local Gift Guide. Our staff searched high and low for unique gift ideas for Chicagoans near and far. We strove to highlight local neighborhood stores – including our own new store! Hopefully the 2020 Shop Local Gift Guide helps make picking presents a bit easier for you and yours!
'Tis the season to shop, and we encourage you to support your local businesses this holiday season. Many are under great strain after 9 months of Covid and Amazon is doing just fine anyway. 
We research Chicago history and architecture like this while developing our live virtual events and custom corporate events. Join us for our public virtual events or book an exclusive team-building event for your private group. We can also create custom tours and original content creation about this Chicago topic and countless others.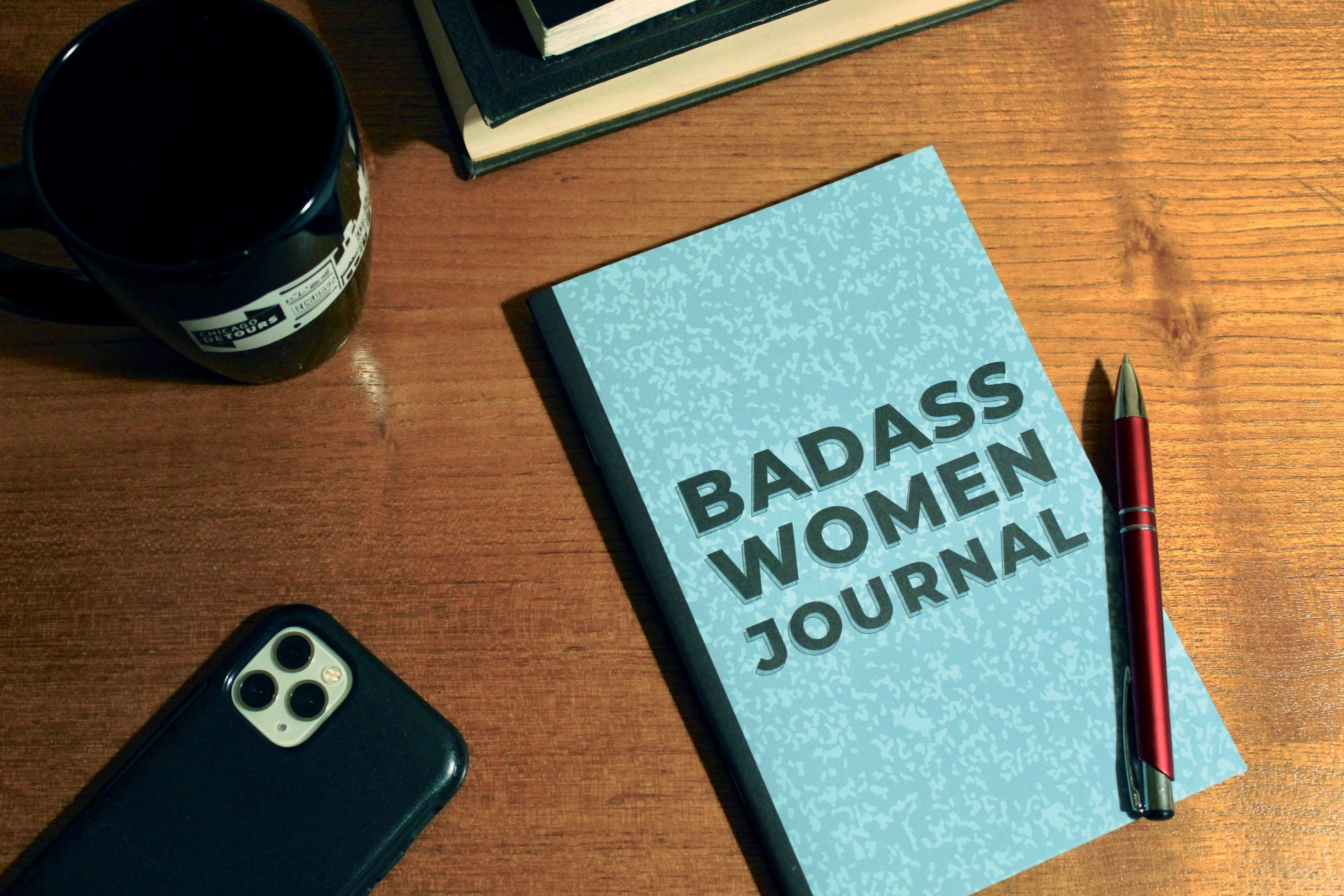 Our Badass Women Journal is now on sale in our online store. We designed this booklet for the freaking fantastic folks blazing trails to a better tomorrow.
The 52-page Badass Journal has blank pages along with vibrant watercolor illustrations and the backstories of eight badass women – like Bessie Coleman, who was the first licensed Black pilot, or Maria Tallchielf, who was America's first prima ballerina. The blank sheets of this journal are great for notes, reflective writing, or drawings. Some of them have inspiring quotes by well-known heroes like Ida B. Wells and Michelle Obama.
That special event for the holidays that I just mentioned? It's a ton of fun. We crafted this year's Virtual Holiday Stories Happy Hour to be the perfect substitute for the family get-togethers and shopping excursions we can't partake in right now.
The hour-long virtual event is a fun, safe, and interactive way to discover Chicago holiday traditions, both famous and forgotten. Our co-hosts will regale guests with stories, while guests get to participate in contests, storytelling, and even more fun!
Transit Tees has become a staple feature of our annual shop local gift guide. To quote our Marketing Manager Marie, "Well, they keep making great shit." Indeed, they do!
This year, we're highlighting their daunting Neon Neighborhood Map of Chicago. This 1,000 piece challenge will surely keep local geography and puzzle aficionados busy during our stay-at-home winter.
Speaking of neighborhoods! Chicago, as we have mentioned before, is a city of neighborhoods. Right now, we dearly miss getting to see and experience all those distinctive neighborhood, so we turn to the magnificent artwork from The Chicago Neighborhoods. They make beautiful posters, prints, and t-shirts in the iconic WPA style. A poster that show off this muscular, mystical city's distinctive boroughs could help enliven someone's new home office.
Bury me with that South Loop poster, by the way.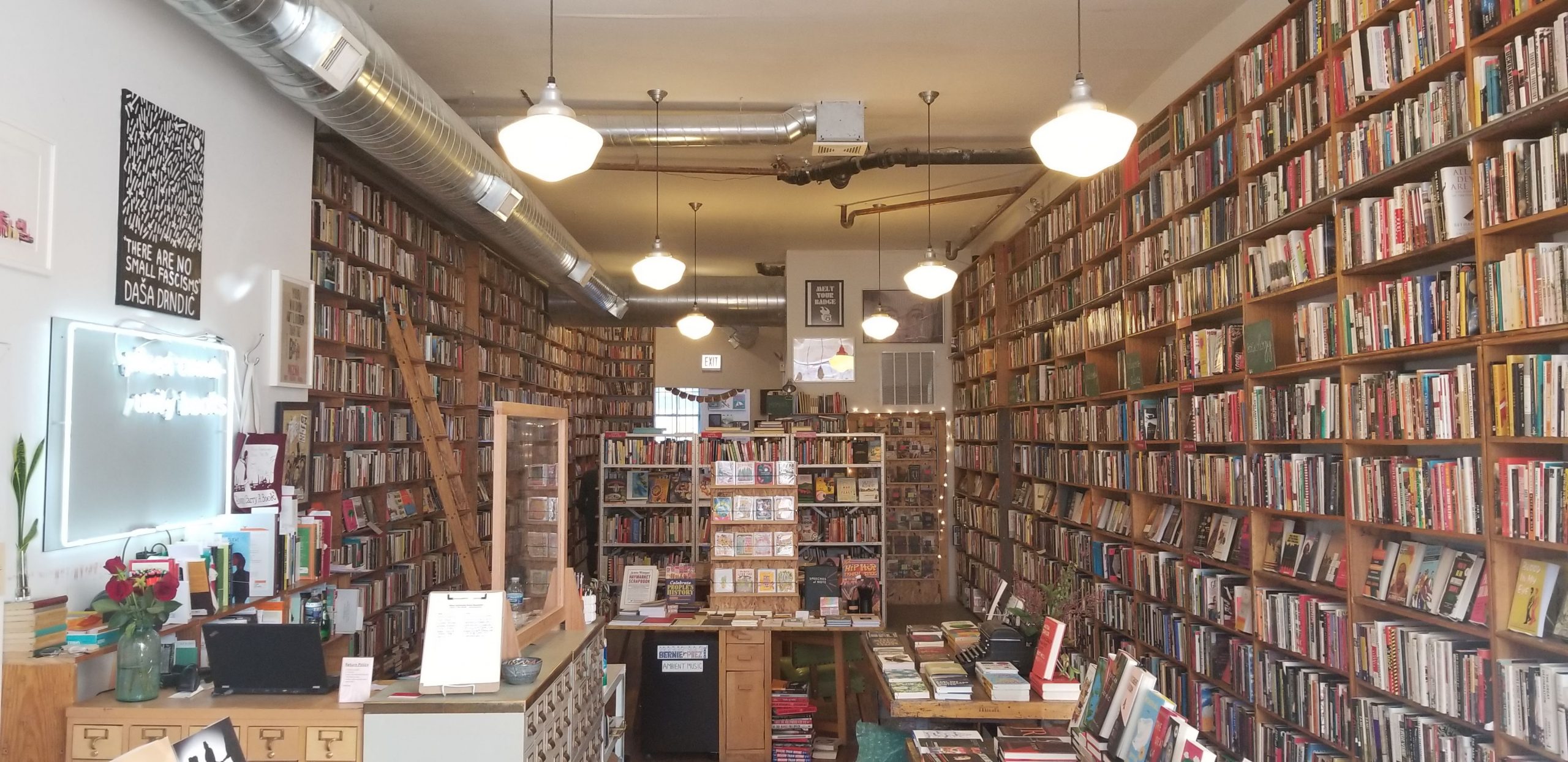 The 2020 Shop Local Gift Guide initially didn't have any bookstore entries, which was obviously unacceptable and out of character for us. So onto the list goes Pilsen Community Books! They have been one of our favorite local indie bookshops since it opened in 2016. They became an employee-owned cooperative earlier this year, instantly making them a singular presence in Chicago's literary scene. Their collection of new and used books is vast and their ACAB (Always Carry a Book) merch is the best sloganeering I've seen in years.
If you're looking for a recent title by a local author, the Chicago book of the year seems to be Gabriel Bump's Everywhere You Don't Belong. A coming of age story about growing up Black in Chicago, it's been showing up in year-end lists and picking up debut writer awards.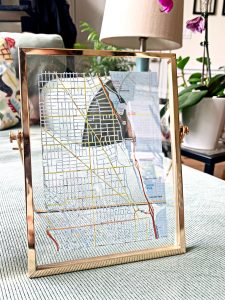 Maps are de riegeur decor for many Chicagoans, but the same prints from the safe gift shops can be a little passé. We recommend putting our famous city's grid on your wall with a Mini Framed Hand-Cut Chicago Road Map. These hand-cut wooden maps are all handmade, making each one individual and unique. That'll be sure to set you apart from the Chads and Trixies on the block.
#7. Tell Someone in Your Life that They Kick Butt with a "You Are a Badass" Bracelet
We love celebrating the badass women of Chicago's history in our journal (see at top), virtual events (in March 2021!), past live events, and writing. They're the fierce female powerhouses that have made our city great. If there's a badass woman in your life that deserves similar celebration, then gift them a "You Are a Badass" Bracelet along with our Badass Women Journal! The cold rub of metal against their wrist will be a constant reminder of the cold fire in their heart, fueling their badass life. Buy before 12/10 with code DETOUR for 10% off and an extra 5% to your chosen charity.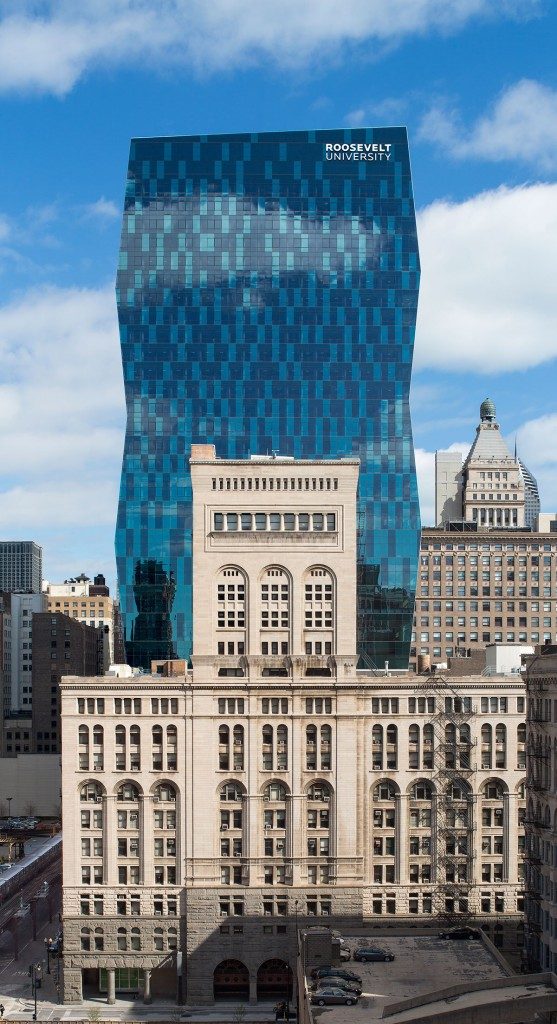 Chicago Detours offered dozens of regular virtual tours and events in the early days of the pandemic and, honestly, they were pretty fantastic. The ones we're proudest of are the 12-part Chicago Architecture Crash Course. We ran this as a live, weekly series throughout the summer, but made sure to record the sessions.
You can gift the rental of the Architecture Crash Course and your dad, mom, lover, or sibling can watch them on their own schedule. You or your gift recipient will delve into the big topics and specific details that make our city's architecture so spectacular.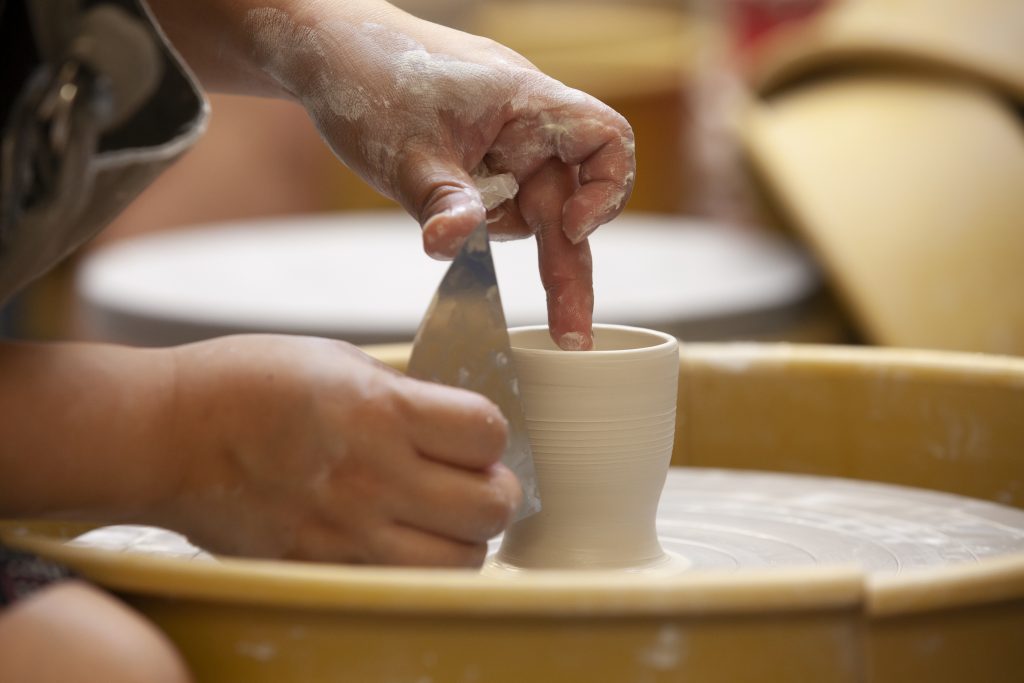 The Lillstreet Gallery, in Ravenswood, is a collection of artists working in "ceramics, textiles, photography, painting, drawing, metalsmithing and more." You can support these local artists by ordering one of their delicate works for your own home. Lillstreet also offers online classes, in case you want to bust a mold. Ya know, like…like "bust a move." But with a ceramics mold.
Alright, I will see myself out.
#10. Enjoy some Virtual Cinema from the Music Box
The movie industry, understandably, has seen its audience decimated by the pandemic. Happily, you can still support one of the most iconic movie theaters in Chicago history before a vaccine arrives. The Music Box Theater is offering Virtual Cinema streaming options, so your money goes to one of the best theaters in the world and not Jeff Bezos. You can even listen to the famous Music Box organ before starting the film!
#11. Support an Arts Non-Profit
Traditional gift-giving is great, but we also love encouraging atypical ways of showing you care. We've long been advocates for and supporters of the arts here in Chicago. So we're encouraging you to donate to an arts-centric non-profit like the Chicago Artists Coalition or our friends at the Albany Park Theater Project. Charitable gifts like this enable striving artists all across Chicago to continue making this a city known for its art and culture. The Council for Arts Education has a list of local and state arts groups that will surely be happy to hear from you.
#12. Ship or Snack on Gluten-free Treats from Ms. P's
Bringing a plate of cookies over to grandma's house can't happen this year, but shipping treats and recipes can be a sweet replacement. We recommend making an order from Ms. P's Gluten-free, a local, Black woman-owned baked goods company. Their delicious dishes are carried at chains like Whole Foods and can help cheer up any kitchen counter.
Ordering delivery from your favorite Chicago restaurant has become more common than ever this year. Still, not all of us are lucky enough to have a 312 or 773 area code. So Lou Malnati's has put together Tastes of Chicago, which ships local fare from Chicagoland favorites like Portillo's or Fannie May anywhere in the nation.
A frozen deep dish pizza is an upgrade for our Deep Slice of Chicago Food History Virtual Event that we offer as a corporate team-building event. We'll help coordinate shipping a Lou Malnati's pizza to the rest of your party. Then they can prep their deep dish pizza in time for our interactive presentation about local culinary history. Sounds like a happy holiday season to me!
#14. Grab Some Chicago Art from Glenn Galen Studios
Chicago Detours transitioned to being a virtual tour company amidst the pandemic. That means we're all spending a lot more time at home this year. Which is nice, but has led us to miss seeing the city on a daily basis. If you're feeling the same way, then order a painting of the city from Glenn Galen Studios. Their wide range of subjects let us choose the segment of the city to commemorate, and our Executive Director Amanda is a big fan of their impressionist style and nostalgic tone.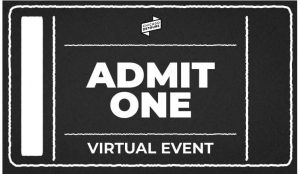 Still can't figure out exactly what gift to grab? Be like all dads everywhere and snap up a gift card. Virtual Event gift cards give their bearer the chance to register for one of our frequent virtual events, like the Virtual Holiday Stories Happy Hour.
These gift cards can be also be stowed away in an inbox and saved for future events, like the Badass Women of History series in March. You can also use one to book a private virtual event, like the Virtual Holidays Stories Happy Hour that runs through the end of December
We Hope the 2020 Shop Local Gift Guide Helps!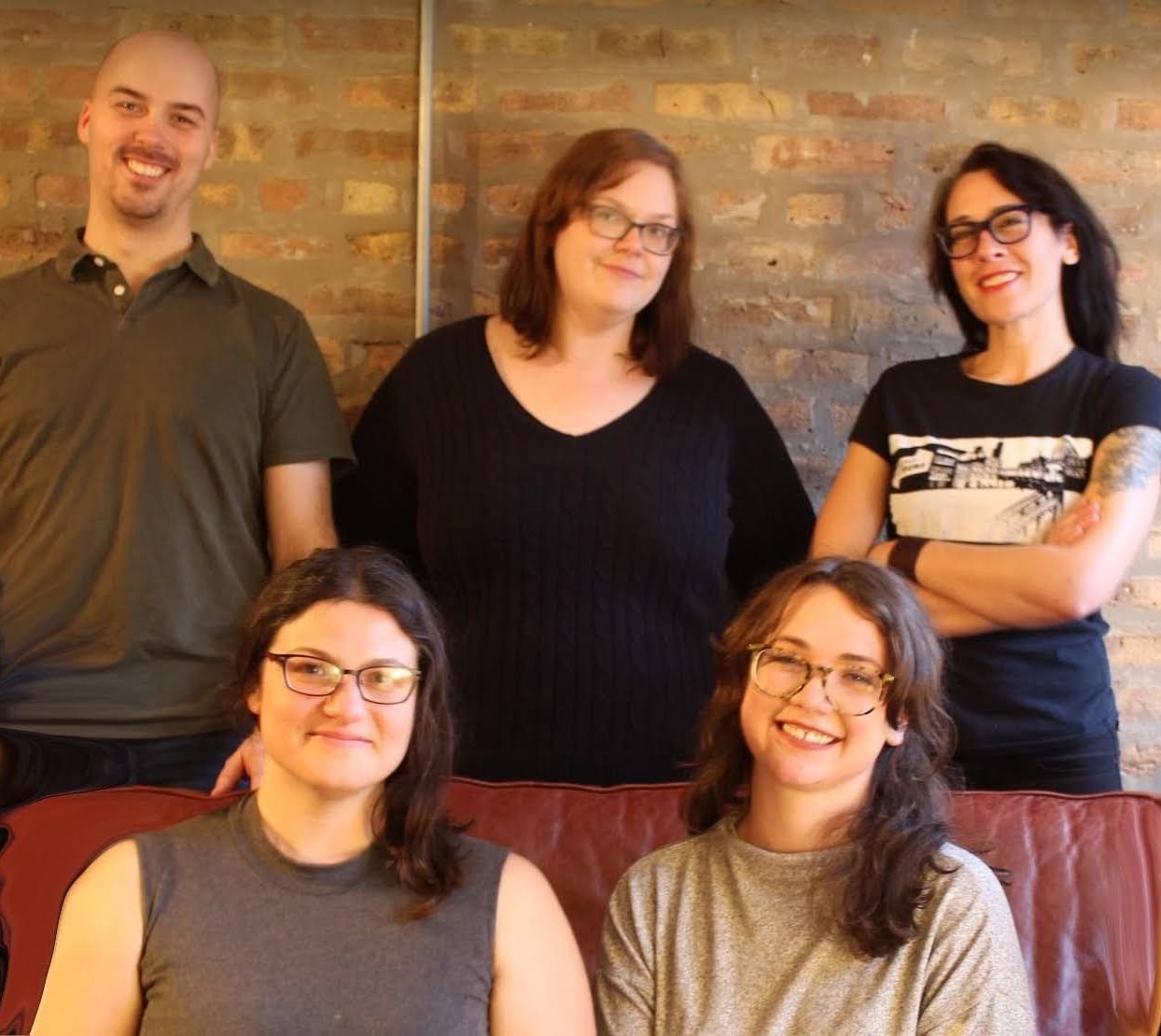 The Chicago Detours team is very grateful for the continued opportunity to share Chicago's amazing history and culture with all of you. We hope the ideas in the 2020 shop local gift guide can spread the joy of learning about Chicago and loving our city.
ABOUT CHICAGO DETOURS
In business since 2010, Chicago Detours is a passionate team of educators, historians and storytellers. We applied a decade of experience as one of Chicago's top-rated tour companies to become a virtual event company in 2020. We bring curious people to explore, learn and interact about Chicago's history, architecture and culture through custom tours, content production, and virtual events.
– Alex and the Chicago Detours Team