In the 100 years of its history, the Pittsfield Building is a big art deco skyscraper that has gone through an incredible transformation. Despite being located adjacent to the bustling Millennium Park, this 37-story skyscraper was once practically empty. From the outside, the Pittsfield appears to be your typical 1920s building, constructed in a throne shape. No one would guess inside one will find a soaring, 5-story atrium draped in gilded exotic Spanish Gothic details. And no one would guess, the story this building holds.
The Pittsfield Building exists in a beguiling balance. Visual clues to its rich past remain, despite it present with an uncertain future. Walking inside is like stepping through a time warp. It's a fascinating example of how Chicago architecture can elegantly age, even while time passes it by.
We research stories from Chicago history, architecture and culture like this while developing our live virtual tours, in-person private tours, and custom content for corporate events. You can join us to experience Chicago's stories in-person or online. We can also create custom tours and original content about this Chicago topic and countless others.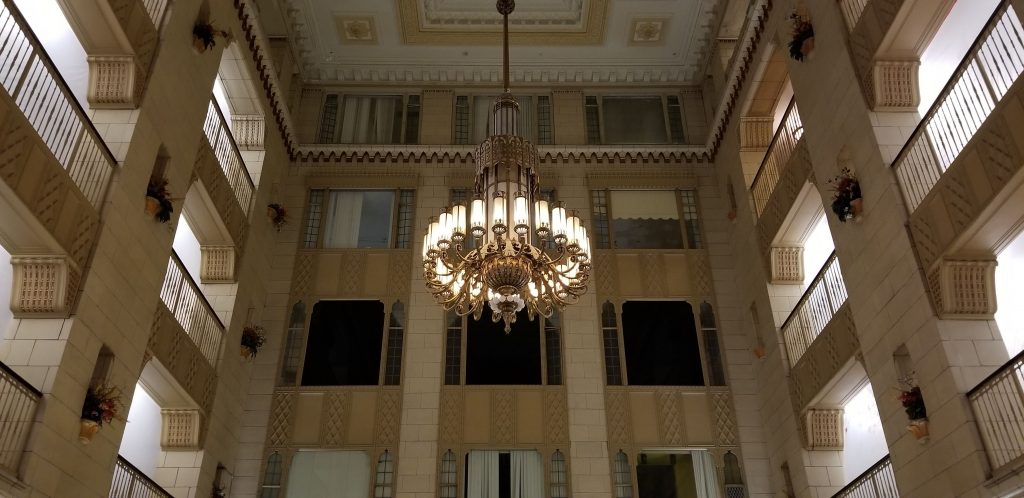 History of the Pittsfield Building
Located just next to the landmark district of the Loop's Jewelers Row, the Pittsfield Building opened in 1927 as a mixed-use office and retail skyscraper. It's right across the street from more-familiar landmarks like the Cultural Center and Marshall Field's.
The Estate of Marshall Field constructed the Pittsfield Building, trying to capitalize on the building boom of the Roaring 20s. The prolific architecture firm of Graham, Anderson, Probst & White, which was the successor to the famous D.H. Burnham and Co. designed the tower. The Field Estate constructed other office towers in this era, including the Burnham Center in 1913 and the Field Building in 1934. All three towers were funded by the wealth left laying around by Field when he passed away. Quite a bit of loot!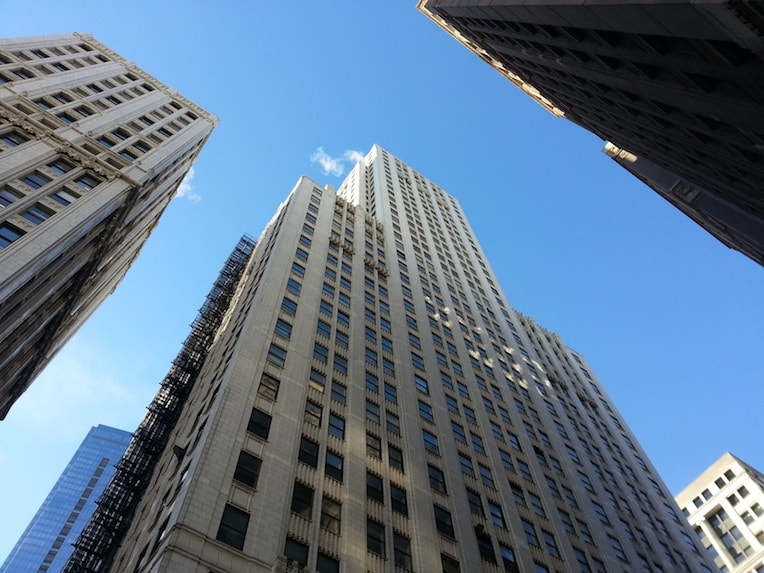 Architecture of the Pittsfield
The tower, despite its gleaming terra cotta facade, is a bit hidden on the skyline. Tucked a block back from Michigan Avenue, it looms over the adjoining 'L' tracks, rather than the lakefront parks. Due to its ongoing development issues, detailed below, one has had to enter the building by going under gloomy construction scaffolding. Finding which door on Washington Street will even open is sometimes a challenge in and of itself.
One cannot help but wonder what lies hidden behind such an uninviting entrance. Just past the doors, a sleepy security guard flips through his phone at a cheap table set across the lobby hall. The light is dim and indirect, making one feel almost like a trespasser. Once your eyes adjust, though, the opulence is awe-inspiring.
The coffered ceiling above the elevators thrums in a maze-like hexagonal pattern. An ostentatious mailbox, bedecked with a metallic eagle, arrests your attention as you pass into the building's heart. There, a central atrium soars five floors above, crowned with a gigantic chandelier. Marble covers every spare surface in the lobby and atrium, though much of the space is lost in dim shadows.
The effect of all the architectural ornamentation is stunning in its opulence and aesthetic appeal – no wonder it's been rented out for weddings. The architects called their style "Spanish Gothic Revival," but a careful eye can spot hints of the burgeoning Art Deco aesthetic. Of course, that fits right into the flashy architectural approach that Marshall Field pioneered at his store, as any of our Loop Interior Architecture Walking Tour guests can attest. It's easy to see why the building was declared a Chicago Historic Landmark in 2002.
Contemporary Hurdles for the Pittsfield
Two different commercial uses dictated the design patterns of the Pittsfield Building. The upper floors, from 5 to 37, were professional offices for lawyers, dentists, and doctors. The lower levels, from the basement to the 5th, were for small retailers such as jewelers, restaurants, tobacco stores, and newsstands.
The architectural plan for the Pittsfield Building suited its time, but it faces some contemporary hurdles. Medical professionals and their patients prefer sparkly new facilities, meaning a loss of tenants and office rentals. The Pittsfield has made up for that loss by renting several of the floors to nearby universities as dorms. Another plan wants to turn some of the floors into a new hotel, but a legal battle between developers has that currently on hold.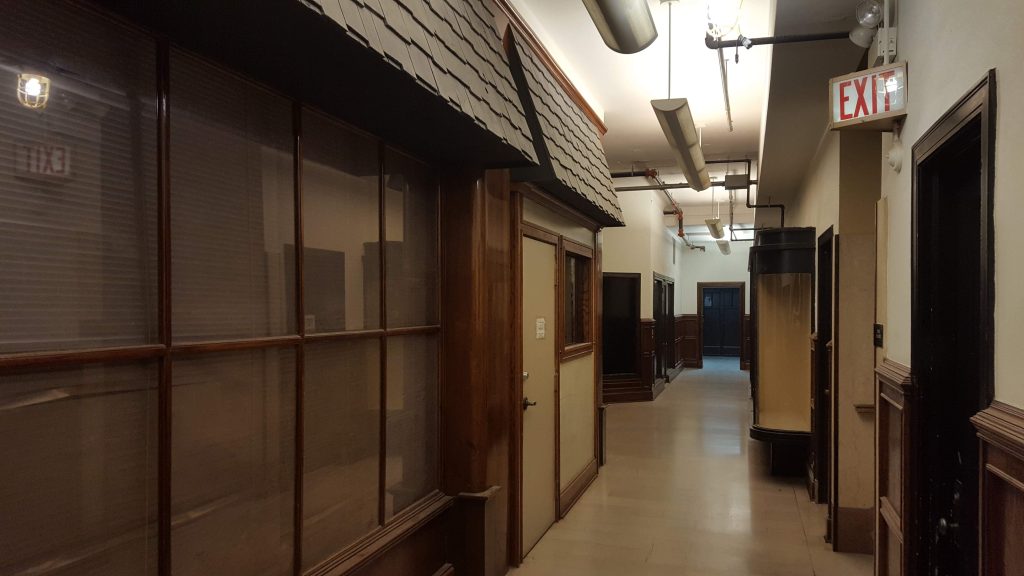 A building this old also presents a challenge for contemporary retailers. The architects' original plan put most of the shops and cafes in the atrium or basement. The ground-floor spaces still look beautiful, but most are vacant and seemingly forgotten, giving the Pittsfield a haunted feeling. Only Pittsfield Café patrons searching for the restroom visit the basement arcade, pictured above. Its faux storefronts, empty display windows, and hallways to nowhere are hauntingly strange.
Strange Vibes and An Uncertain Future
To be frank, there's little else in downtown Chicago with a vibe as strange as the Pittsfield's. Nearby historic skyscrapers, like the Reliance, have been reborn as beautiful hotels. Others, like the aforementioned Field Building and Burnham Center, are still bustling office spaces. All of them have seen significant upgrades and preservation efforts. The Pittsfield is unique in its obsolescence.
Magnificent architecture litters Chicago's past. Many of those works, like the Pittsfield, outlived their original architectural design. Some, like Louis Sullivan's old Stock Exchange, met the wrecking ball. Others, like the Chicago Athletic Association, are thriving after being revitalized and repurposed. I'd prefer the latter for the Pittsfield Building, of course, but it will take a developer with big ambitions and deep pockets to see it all the way through.
– Alex Bean, Chicago Detours' Content Manager
ABOUT CHICAGO DETOURS
Chicago Detours is a boutique tour company passionate about connecting people to places and each other through the power of storytelling. We bring curious people to explore, learn and interact with Chicago's history, architecture and culture through in-person private group tours, content production, and virtual tours.