We lose things for all kinds of reasons – we're absent minded, we drop them, or we just plain forget about them.
One could make many cases for why drinking poems might get lost over time:
1. People were drunk when they wrote them, so they aren't worth being remembered.
2. People got drunk after they wrote them, so they lost the poems.
3. Like many poems by lesser known poets, they have been put on a shelf and have been waiting for us to READ THEM AT THE AWP ANNUAL CONFERENCE IN CHICAGO!
Chicago Detours has dug through the archives to revive Chicago's overlooked, forgotten, goofy, and underrated poets of the past. A great mix of writers, to-be-announced, will read these poems for a fun crowd at the Berghoff Restaurant and Bar. Chicago by the Pint author Denese Neu reads an excerpt from her creative non-fiction book.
Poetry will by read by 2010 AWP award winning visiting novelists Mandy Keifetz and Douglas Light, Chicago poet Sophie Grimes, Two With Water co-editor Amy Ganser, Chris Bower of Rays Tap Reading Series, the deadline. editor Elizabeth Tieri, and Chicago's very published Hannah Pittard.
Conference attendees as well as the public are most welcome to join us.
Details
Date: Saturday, March 3
Time: 6:15pm-7:45pm
Cost: FREE
RSVP: Each attendee must rsvp to info@chicagodetours.com. SPACE IS LIMITED.
Where: 17 West Adams St.
More info: Walk just a block from the Palmer House to drink and listen to readings of forgotten poems about drinking, beer, and saloons that creative tour company Chicago Detours dug up from archives. Notable writers, mentioned above, will read the poetry. Light appetizers available for punctual guests!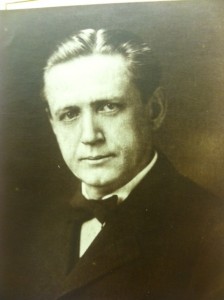 To give you an idea of a quirky poem that we will NOT be reading but found in the archives, have a look at the poem written about this man, named James. Doesn't he look like lots of fun?
The AWP, if you're not familiar, is the standard abbreviation for the Association of Writers and Writing Programs. Every year they hold a national conference (and book fair) where they discuss the finer points of plot, publishing, translating, and everything in between. It's a great place to go and rub shoulders with the big potatoes of literature; as Caroline Leavitt puts it: "AWP doesn't really stand for awesome writers party, but it sort of should." A more tentative account of the experience was published in Poetry Magazine by noted poet and social curmudgeon, Kay Ryan. We can't think of a more perfect group of people to get
together and indulge in some drinking poems with us.
What does Piece's Golden Arm Ale have to do with Nelson Algren? While we drink, Denese Neu will give us a pint-sized introduction to the history of Chicago's beer scene with a reading from her book: "Chicago by the Pint: A Craft Beer History of the Windy City."
Chicago Detours primarily focuses on guided tours of history, culture and architecture for public and private groups, our explorations may surface time to time in other forms – for example, as a creative video or this poetry reading. We've been performing lots of, ahem, research for our Historic Bar Tour, which we sold-out almost every night of for the month of February and may continue to offer in the future alongside "Inside the Loop," our interior architectural tour.
The A.V. Club has mentioned us, and so has Crain's Chicago, and WhereChicago. My goodness, we've even made New York Daily News a little jealous!
The "Lost Chicago Drinking Poems" event is almost at full capacity, so R.S.V.P asap by emailing info@chicagodetours.com.
— Amanda Scotese, Executive Director