Take a straight shot to the north edge of chicago to find Rogers Park, which has the eclectic mix of people you'd expect of a  border town — except it's a border neighborhood. Hop off the CTA red line at Morse and you are in Rogers Park; The Glenwood Avenue Arts District, to be exact. Rogers Park rubs shoulders with Evanston to the North and Lake Michigan to the East. Because it's far from downtown and other sleeker Chicago regions, the Rogers Park community has made sure they have their own arts and events so that they can stay local.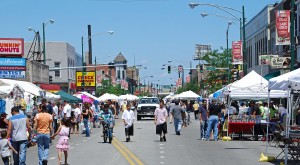 Discovering Rogers Park
I first discovered what Rogers Park had to offer when I began a part-time job at the Heartland Cafe several years ago. I figured it would be a good job to have while I applied to graduate school, and at the time I didn't know how essential this restaurant was to the surrounding neighborhood. Open since 1976, not only does the Heartland serve food, it also has a Buffalo Bar, a General Store, hosts annual run/walk races along the lake, and even broadcasts a radio show on WLUW live from the restaurant on Saturday mornings. A visit to the Heartland, and a look at the current photography on the walls of the place would be a good way to start exploring Rogers Park, though I can't go so far as to strongly recommend the food.
Find FLW in Rogers Park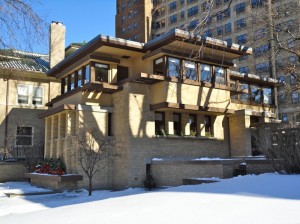 For some more residential architecture, north of the quirky Armadillo's Pillow Book Store you'll find a Frank Lloyd Wright building. Built in 1915 at 7415 N. Sheridan, the Emil Bach house has aged rather ungracefully, as the neighborhood changed over time; and the opulence  was slowly displaced by practicality. Fortunately, the historic landmark has restored to its original luster and opened for public events thanks to James Pritzker and his team.
Food, Drink, and a Show
If you are in the mood for music, grab a drink or dinner at the Morseland while watching live jazz, or head over to the The Red Line Tap, a dog friendly neighborhood bar that hosts a weekly open mic, and all sorts of shows, including a metal night if you're into that kind of thing.
Rogers Park's performing arts are a particular draw, and the neighborhood can boast being the winner of past theater awards because of their local, high-quality theater venues like the Boho Theater at 7016 N. Glenwood. Just a short walk south down the same street at 6912 is the Lifeline Theater, which seems to have benefited from its name with having been around since 1983.
— Sophie Grimes, Editorial Intern