Tips For Finding Fascinating Documents and Objects in the Chicago Archives
Tip #1 Don't be Afraid to Ask Questions 
I like to browse. I browse the paper, browse menus, and browse my way through museums. In bookstores, I will go to the fiction section and thumb through a few interesting-looking novels before choosing one to take home. The Special Collections room of the Chicago Public Library does not have anything out for patrons to touch, browse, and explore because the material is often simply too fragile. This makes navigating a bit more of a challenge. A good way to start is to ask for help.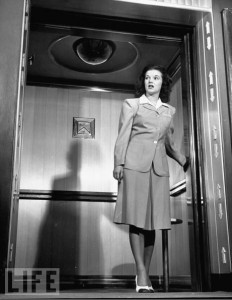 So I asked for help in looking at old documents or photos of Marshall Fields, the Cultural Center, and the First Methodist Church. I wanted to see how these buildings, which are all stops on our Loop Interior Architecture Walking Tour architectural walking tour, looked through the lens of the past. A staff-woman recommended I start by looking at a binder called the Chicago Loop Alliance Collection. She guided me to a shelf with many hefty black binders (see tip #3) and lugged one out from the group. You can see the contents of the Chicago Loop Alliance Collection listed here.

Tip #2 Gloves are Provided, but Don't Forget to Ask For a Magnifying Glass.
All the items listed in the binder, though overwhelming, looked captivating, but keep in mind that for every item you want to look at, you must fill out a small, square piece of paper that notes the reference number and title of the item in addition to your name. This can get a little tedious pretty fast, which will counteract the "eyes bigger than stomach" effect for digesting this material.
One of the first things I requested was a photo of a brass band playing on State Street taken in 1940.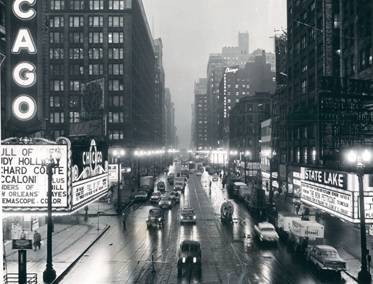 It's stored in a clear plastic sleeve within a folder, which is within a larger folder. So much care for a single photograph! I used my gloves to hold it and looked at the faces in the picture. I squinted. "Would you like a magnifying glass?" the staff-woman asked me. "Well, yes!" I exclaimed. I felt just like a scientist. But instead of beakers with green foam, I was watching a large crowd of 1940's Chicagoans enjoying some music. The women wore hats and heels, and the men had crisp white shirts. Some hung in an upper window ledge with their sleeves rolled up and their vests unbuttoned. It looked like an exuberant Chicago summer day. What was the occasion for the band to play in the street? I wondered about the concert's historical context, and my curiosity only increased.

Tip #3 Be Sure to Browse the Binders
The shelf of binders has different labels. Some hold listings based on Chicagoland neighborhoods, others are private collections that are donated to the library, such as the Knowles Postcard Collection. Others contain the Chicago archives of a certain theater or Chicago community organization. One of the most interesting of all is the Civil War Wayne Whalen Collection, which contains artifacts such as pins, official uniforms, swords, drums, and even guns! Be sure to consider exploring this wealthy stash of historical objects when you visit.
Tip #4 Photocopies are .10 Cents Each
If you find something you just can't bear to leave behind that is not too fragile to be photocopied, a staff-person will copy it for you for a dime. Here are the copies I brought home with me: An ancient, undated photograph of the First Methodist Episcopal Church (probably taken around 1871), a 1981 detail of the Marshall Field Building's facade, and photo of Chicago's First National Bank with a black buggy in the foreground. It looks similar to this photo of the bank taken before the fire of 1871. The building below is a photograph of the same bank, but taken after the destructive fire took its toll.
Tip #5 If Something Intrigues You, Check it Out 
In Part I of this post about the Harold Washington Library Center Special Collections Archives, I mentioned something I saw that was very peculiar. The listing in the binder that I was looking through said this: "World's Fair Midget Village, 1934." I couldn't help myself from filling out a little piece of paper to get a glimpse of this titillating little artifact. Here is what it was: A postcard from the Chicago World's Fair dated 1934, stamped with a one-cent Fort Dearborn stamp. The illustration on the postcard showed many small people welcoming visitors to their "Midget Village." The inscription on the card said this: "Midget Village, a colony of Lilliputans, living in miniature houses, furnished with tiny furniture. Every detail of midget life is faithfully carried out for the entertainment of the visitor." How absolutely peculiar!
The resources at the Special Collections are extensive and exciting. It's a great place to learn about Chicago through primary images, collections, and documents. Be sure to "browse the binders" the next time you visit the Harold Washington Library. You can even delve into Chicago from literally the inside out by starting with Chicago's Sewer archives.
— Sophie Grimes, Editorial Intern