The Chicago Trolley and Double Decker Company ceased their tour operations at the end of 2019. That marks the end of an era in Chicago's transportation history. The Chicago Trolley Company mostly offered general sightseeing tours and "party bus" services, but the history of actual Chicago trolleys goes back much further. In one form or another, vehicles that at least looked like trolleys had graced Chicago's streets since the 1800s.
We are sad to see an icon of Chicago tourism go, and thank Chicago Trolley Company for having expanded Chicago tourism over the years. Over our past 10 years in business, we have found that today's travelers want tours that go beyond dates and names. Our private group tours are designed as curated experiences. Our tour guides are not actors, they are highly trained professionals. We are happy to bring private tour groups to experience the city's highlights, delve into some of its lively and diverse neighborhoods, or roll through a custom route exploring a topic like the history of Chicago jazz and blues. While we don't have party buses, we do have educational pub crawls by foot! If you're planning an event for a wedding, corporate team building, or birthday party, we hope to be your go-to tour company for private bus tours for the 2020s!
We research Chicago history and architecture like this while developing our live virtual events and custom corporate events. Join us for our public virtual events or book an exclusive team-building event for your private group. We can also create custom tours and original content creation about this Chicago topic and countless others.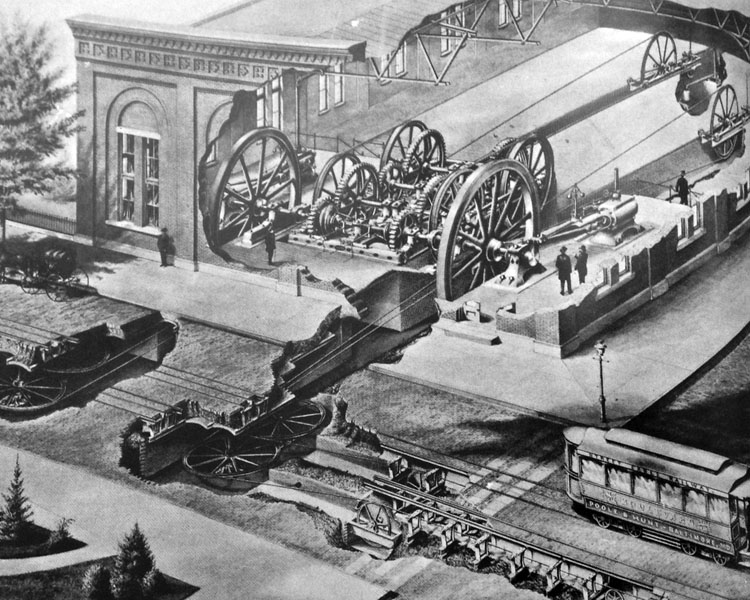 Trolleys are the Roots of Chicago's Mass Transit
Chicagoans have relied upon one form of mass transit or another since the 1850s. The very earliest method was horse-drawn streetcars, which ran on tracks through downtown. Cablecars and trolleys controlled by Charles Yerkes eventually replaced the horsecars. If that name rings a bell, guests from our Loop Interior Architecture Walking Tour learn about his robber baron ways.
The first his attempts to monopolize mass transit in Chicago was the conversion of old horse-drawn streetcars into cablecar lines. Working just like the famous system in San Francisco, these streetcars moved about the city by clamping onto a cable that was pulled beneath the street's surface. Chicago boasted the world's largest such system in the 1880s. Interestingly, the building which housed some of the cable engines is still standing at 500 North LaSalle. The engines in this Chicago landmark pulled cable cars through a tunnel below the river and across the Loop and North Side. Hard to imagine for the Gino's East diners in there today.
Yerkes turned around and started converting his cable cars lines to electric traction in the 1890s. These electric-powered street cars were Chicago's actual trolleys. "Cable car" means that a steel cable underneath moves the vehicle. A trolley pulls power from overhead wiring. These streetcar trolleys snaked across hundreds of miles of Chicago's streetscape. A Geoffrey Baer article says the system Yerkes built had "a fleet of over 3,200 passenger cars and over 1,000 miles of track." The authentic Chicago trolleys were replaced by buses in the 1940s and '50s because a CTA chief didn't like the sight of overhead trolley line. Well, maybe I don't like the sight of him, so there we go.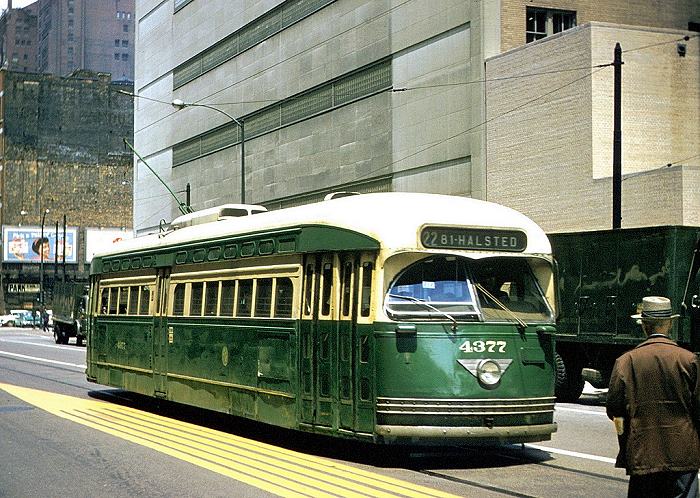 The Chicago Trolley is Reborn for Tourism
As Baer wrote, the last true Chicago trolley "click-clacked down Vincennes Avenue on June 21, 1958." Trolleys became museum pieces from then until the '90s. The Trolley Company started operations in 1994, right after the Chicago Architecture Foundation moved into the Railway Exchange Building. The modern Chicago architecture tourism trade was really beginning to develop in the '90s. The Chicago Trolley Company was among the big players. The Chicago Trolley Company offered hop-on, hop-off tours, along with chartered outings. You may recall the familiar sight of a trolley packed with "woo girls" rolling through Wrigleyville on a bachelorette party, for example.
Chicago Trolley Company also came to be an icon for Chicago's biggest sporting events and parades.  Now, strictly speaking, the vehicles themselves were not trolleys, but buses dressed up like trolleys. Functionally, the Chicago Trolley Company was a fleet of diesel buses which merely looked like the old streetcars. The appearance was a huge part of the charm, though. Rolling through town on a vehicle that looks straight out of the Gilded Age is romantic. I can't even guess how many wedding parties I've seen on trolleys for this very reason.
Will We See Chicago Trolleys Again?
The sudden closure of the Chicago Trolley and Double Decker Company caught us all by surprise. We'd actually had a private tour client who insisted we charter one of them for an event this past fall. Some corporate groups and school groups called us now that their tour with Chicago Trolley is cancelled. As stated before, our private group tours by bus can do highlights and more. Even if the fleet of familiar red vehicles never hits the streets again, Chicago Detours' tour guides can provide a fun, engaging experience with the city's history and architecture by a comfortable luxury coach. Contact sales@chicagodetours.com for details and rates.
– Alex Bean, Content Manager and Tour Guide
About Chicago Detours
In business since 2010, Chicago Detours is a passionate team of educators, historians and storytellers. We applied a decade of experience as one of Chicago's top-rated tour companies to become a virtual event company in 2020. We bring curious people to explore, learn and interact about Chicago's history, architecture and culture through custom tours, content production, and virtual events.