It hard to walk past Daley Plaza and not catch a glimpse of Chicago Picasso. The colossal three dimension sculpture towers 50 feet into the sky above plaza. Some say it is a woman, a horse, or even a baboon. To locals of Chicago however, this sculpture is just the Picasso. (By the way, you can learn all about it on our Loop Interior Architecture Walking Tour.)
The Chicago Picasso
Designed by renowned painter and sculptor, Pablo Picasso, this unnamed work of art has been the focus of much debate. Commissioned by Skidmore, Owings, and Merill, Picasso donated it as a gift to people of Chicago.
Architect William E. Hartmann approached Picasso about the project in 1963. He brought items which he thought represented Chicago. These included a Sioux war bonnet, a White Sox blazer, and a check for $100,000. Picasso generously refused the money. In fact, Picasso never visited Chicago in his lifetime. Yet, apparently, he said that he felt his sculpture was a great representation of the city.
Controversy Beckons
Unveiled to the public by Mayor Richard J, Daley on August 15, 1967, the sculpture did not initially win over the public. An article from that day that appeared in the Chicago Tribune, described some of the public's feelings. There was little modern art in Chicago when the sculpture was erected. Plus, putting anything at all in the city's civic center is courting controversy.
Previous monuments and works in the city honored a particular event or individual from Chicago's past. By contrast, the Chicago Picasso sculpture is pure artistic expression. Well, and to match the Cor-Ten steel cladding of the City Center behind it.
Subjective Experiences and Time Passing
Looking at the sculpture in present day I see much more than just an animal or a person. I see Chicago and all it has to offer. The sculpture was fabricated by a division of U.S. Steel in Gary, Indiana thereby encompassing the industrial character of Chicago.
In my opinion as a local I see the sculpture as a quintessential aspect of the Chicago landscape. It is as much a part of Chicago as the Sears Tower or Marshall Fields. The sculpture is a trademark and a symbol of the city, and without it we wouldn't be Chicago.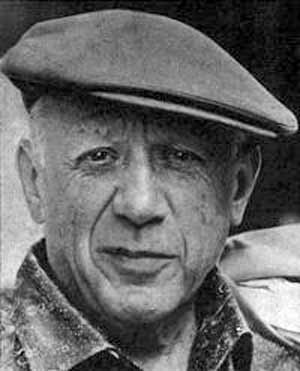 The sculpture was one of those things that had to grow on Chicagoans, and ultimately the Picasso sculpture marked the beginning of Chicago's love affair with contemporary art. Several years later an ordinance was passed that required the city to devote one percent of their annual budget to the construction and renovation of public art. Within a decade of this ordinance the city featured works by other renowned artists, Marc Chagall, Alexander Calder and Claes Oldenburg, to name a few, and of course today visitors to Chicago love to view our incredible collection of public art.
If you would like to learn more about the Picasso and other fun and interesting parts of Chicago's history, culture and architecture, you can subscribe to this blog or join us on our "Inside the Loop" tour. This interior architectural walking tour includes the Pedway system as well as the full story of the Chicago Picasso sculpture and some fun footage presented on iPads that shows Chicagoans of the '70s speaking their mind about the sculpture.
~Brian Failing, Research & Collections Intern