Beneath the skyscrapers of Chicago there is an unseen world that many Chicagoans are unaware of. Hidden deep below the skyscrapers of Chicago are underground freight tunnels. I always assumed them to be a myth, but they are quite important to the history of the city of Chicago. The extent of these tunnels is something that I want to bring to further light for guests on our Downtown Bucket List private tours.
We research stories from Chicago history, architecture and culture like this while developing our live virtual tours, in-person private tours, and custom content for corporate events. You can join us to experience Chicago's stories in-person or online. We can also create custom tours and original content about this Chicago topic and countless others.
Origins of the Underground Freight Tunnels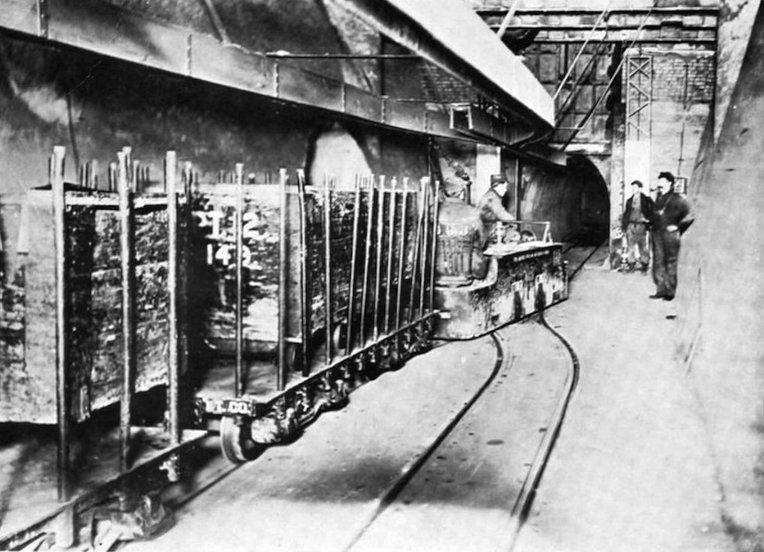 The Illinois Telephone and Telegraph Company built this expansive network of tunnels at the beginning of the twentieth century. Originally meant to hold telephone and telegraph cables, the project stalled after the Illinois Telephone and Telegraph Company ran out of money. In 1912 the Illinois Tunnel Company took over the underground construction and devised new uses for them for stores and warehouses. Stores like Marshall Fields could then move merchandise, packages and waste to and from their stores.
These tunnels are over forty feet below the surface of city streets. As discussed in "Chicago's Unique Underground" these tunnels are so far below ground that they are below the sewers, pipes, cables, wires, and conduits of the modern city. One of the largest benefits and incentives to use the tunnels was that they reduced traffic congestion on the streets of Chicago, especially in the Loop.
What's the Use?!
Even when the tunnels were in use few people of the city of Chicago knew they existed beyond those who used them. When completed nearly sixty-two miles of tunnels criss-crossed underneath the city. The tunnels were six feet wide and 7.5 feet high with one-foot thick concrete walls. Overhead trolley wires powered them.
Where'd They Go?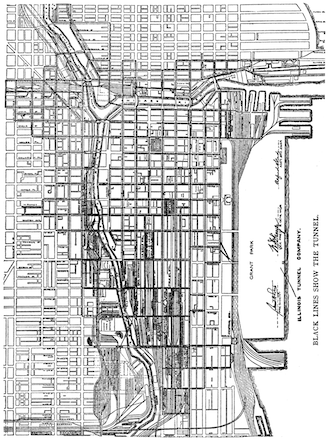 In the super intricate map, you can get a sense of how expansive this system really was. The tunnels encompassed the whole Loop area, and ran under nearly every street from the river down to sixteenth street. The tunnels even went south under the Illinois Central yards (the tracks that run through Grant Park today) as well as north of the river. To this day no other city has had a system of freight collection and delivery comparable to Chicago's.
So you're likely wondering, where are these tunnels now? Well most of them are still there. The tunnels stopped carrying cargo in 1959. They sat empty and forgotten for decades until April 1992. One of the tunnels under the Chicago River near Kinzie Street was punctured, flooding most of the system and two dozen downtown buildings with open tunnel connections.
Today, some sections of the tunnels are used for utility and communication lines. None of the tunnels have been used for the Pedway system, which does not go as far below ground level. Since they are so securely sealed up, it is unlikely that anything like "Dark Days" is going on down there. Finally, no, we do not and cannot tour the old freight tunnels. The city has had them well-sealed since the flood.
~Brian Failing: Research & Collections Intern
ABOUT CHICAGO DETOURS
Chicago Detours is a boutique tour company passionate about connecting people to places and each other through the power of storytelling. We bring curious people to explore, learn and interact with Chicago's history, architecture and culture through in-person private group tours, content production, and virtual tours.