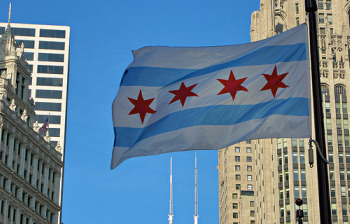 Walking throughout Chicago's Loop you see the Chicago flag flying high upon flagpoles, hanging from buildings, printed on t-shirts and stamped as arm tattoos on hipsters. The city of Chicago however did not always have a municipal flag. In 1917 the Chicago Flag Commission hosted a contest for the best design for a municipal flag for Chicago. Over 400 designs were submitted and Wallace Rice's design won. The original flag had only two stars and has since taken on two more.
Design of the Chicago Flag
Along with the stars, the design contains three white stripes and two  blue stripes. The blue stripes represent Lake Michigan and the Chicago River. The white stripes represent the North, West, and South sides of the city. However, it's been reported that white is the background that the artist chose for the flag. By chance, the two blue stripes create the three sections.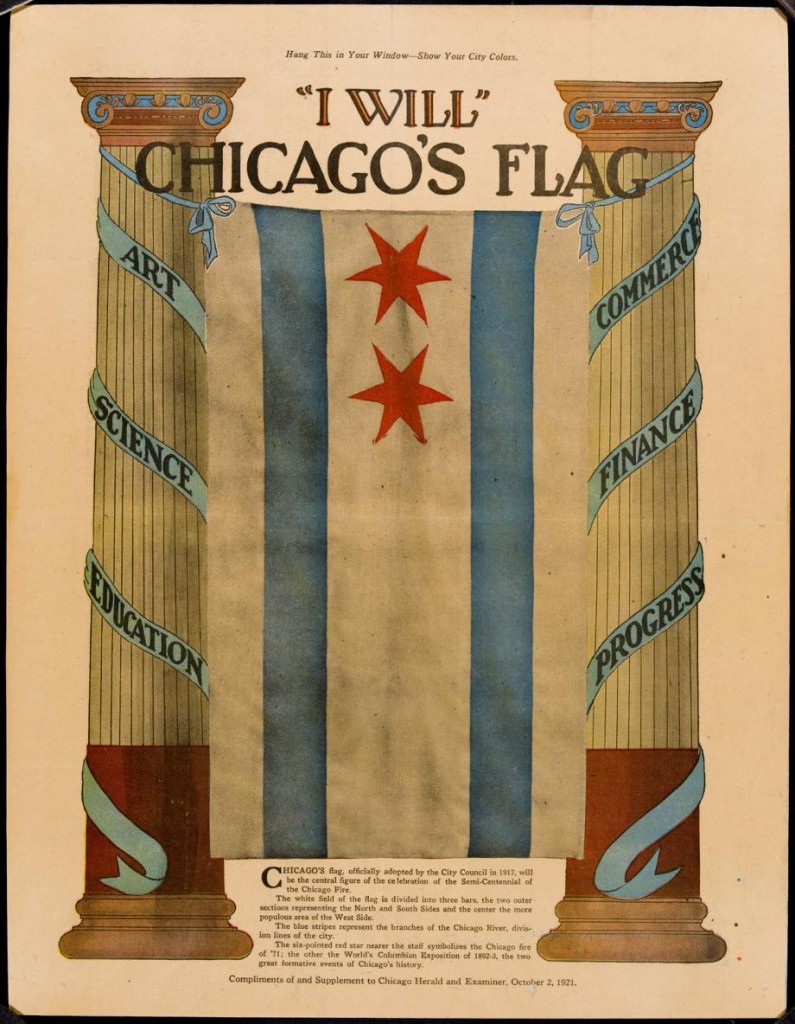 The original two stars honor the Chicago Fire and the World's Columbian Exposition. The other two were added to commemorate the Century of Progress Exposition (1933) and the founding of Fort Dearborn (1939).  Looking at the Chicago flag today, most describe these events in chronological order.
And so what's up with the six-pointed star? The commission prohibited the use of religious symbols on the flag. So this six-pointed star is pointedly not replicating the Star of David. It has no religious connotations and also appears on no other city flag – at least not back then. I learned that each star on the Chicago flag that each star point represents something different.
The Four F's of Chicago History
Fort Dearborn has points for transportation, labor, commerce, finance, populousness, and salubrity.
The Great Chicago Fire of 1871 has points for the virtues of religion, education, aesthetics, justice, beneficence, and civic pride.
The points of the World's Columbian Exposition of 1893 (aka the 1893 World's Fair) stand for political entities that have had dominion over Chicago: France 1693, Great Britain 1763, Virginia 1778, the Northwest Territory 1798, Indiana Territory 1802, and Illinois 1818.
The Century of Progress Exposition (1933-34) (aka the 1933 World's Fair) has points for the "bragging rights" of Chicago. At the time this star was added, Chicago was the second largest city in the United States, Chicago's Latin Motto (Urbs in horto – City in a garden), Chicago's "I Will" Motto, Great Central Marketplace, Wonder City (what?), and Convention City.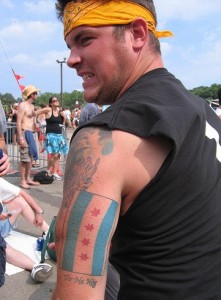 While researching this post I found an interactive website on the Chicago Flag if you want to learn more.
Discussions have come up for adding stars, such as after the death of Harold Washington and before the lost 2016 Olympic Bid. Many think the Chicago flag is just fine as is. And imagine what a pain it would be to toss all the current flags and pay for new ones. And would the tattooed have to add an extra star, too?
~Brian Failing: Research & Collections Intern