As the Chicago Blackhawks are doing better and better this season. That means I'm getting more and more questions about them on our Chicago walking tours. Being a non-athletic, bookish girl, I thought I should brush up on my Blackhawks knowledge with a little research on Chicago's ice hockey scene and share it with all you curious people out there.
I understand that many of us can't quite follow all this hockey talk. Before the Hawks won the Stanley Cup a few years ago, all I knew about hockey aside from the obvious (ice, skate, stick, puck, mask, goal) was that Patrick Sharp is dreamy and that when it comes to the playoffs, it's all about the beards.
But even in my nerdiness, I'm not completely anti-sports. I grew up under the stars of the three-peat Chicago Bulls and, at heart, I'm a Southpaw. But more than any of this, I am a die-hard fan of Chicago. Bit of a requisite since I am indeed a Chicago Detours tour guide. So when any team does as well as the Chicago Blackhawks, I can't help but get excited and applaud.
The Chicago Blackhawks Cup Winning Ways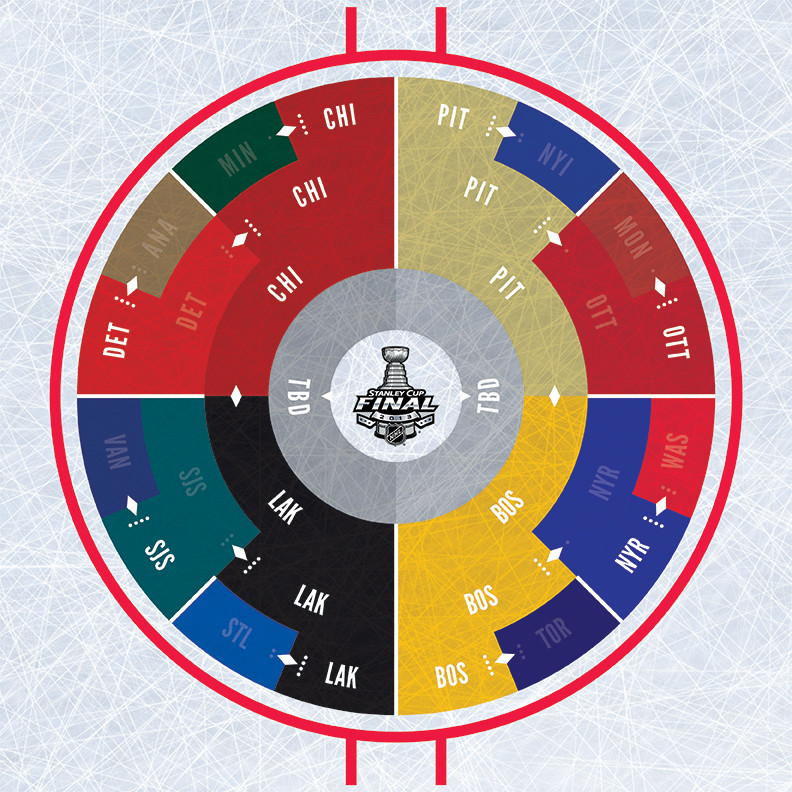 How well are we doing?  Super well.  Plainly put, we've succeeded to the final four teams, which is represented in this radial bracket for the more visual.
This shows the four series of the postseason which are 7 games each.  The winner of the current series is the Western Conferen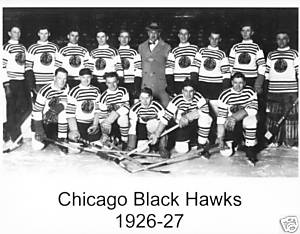 ce champion, is awarded the Campbell Bowl, and moves on to the Stanley Cup Finals. A weird bit of lore behind the Clarence S. Campbell Bowl is that it seems the winner shouldn't touch it or he jinxes his shot at the Stanley Cup. As you can see, the Hawks didn't make that mistake in 2010.
Blackhawks History
The Chicago Blackhawks have been our ice hockey team since 1926. Its first owner was a commander for a machine gun battalion in World War I. Its division was called the "Blackhawk Division" after the Sauk leader Chief Black Hawk. Kind of ironic, since said chief sided with the British during the War of 1812 and opposed American expansion.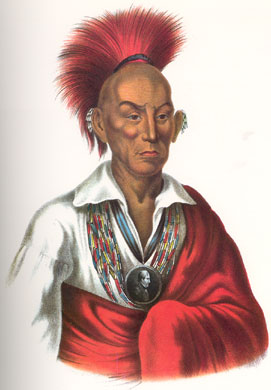 The Chicago Blackhawks are a member of the Original Six–though I've found that is a bit of a misnomer as it doesn't mean the Hawks were a founding member of the NHL, which began in 1917. It's impressive nonetheless. Other impressive stuff: the Blackhawks have won four Stanley Cups and are well on their way to their fifth!
I recently had the pleasure of going out to see game 7 of our previous series at a local bar. Unsurprisingly, the bar was quickly at capacity. I marveled not just at the excitement of the crowd, but also at the number of burly men in long-sleeved Blackhawks hockey jerseys. That's a lot of heavy fabric for a warm May day and the close conditions.  It gave 'fair-weather fan' a stronger meaning. Though I would associate myself more closely with the traditional definition of that term, if any of you dear readers are more dedicated we would love to hear any Blackhawks stories you may want to share.
— Elizabeth Tieri, Chicago Detours Tour Guide