With so many options, how does a teacher choose what will be the best student field trips for their class? A field trip is such a memorable experience for enthusiastic learners. When I look back on my years in school, it's the field trip days that clearly stand out to me. Whether focused on art, nature, music or science, a student field trip in Chicago or the Chicago area should be very special. Here is a handy guide and some helpful ideas for planning your student field trip.
We research stories from Chicago history, architecture and culture like this while developing our live virtual tours, in-person private tours, and custom content for corporate events. You can join us to experience Chicago's stories in-person or online. We can also create custom tours and original content about this Chicago topic and countless others.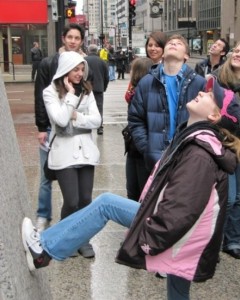 #1. Do Something New for Students
First of all, let's rule out field trips that students may have already experienced or that parents could easily take them to in the future. Events like a student field trip have more impact when the participants feel like they'll never be able to repeat the same experience. Teachers booking our student group tours sometimes ask me for other ideas for their field trip in Chicago. Only if the group is from far out of the Midwest would I recommend the very respectable institutions like the Art Institute or the Field Museum. While these museums are infinitely engaging, students from the suburbs and the Midwest may have already been and will go again in the future.
#2. Make it active, educational and fun
Secondly, the best student field trips have an activity that fulfills the grand triad: active, educational and fun. Passive activities can be fine, as long as there is an interactive element that gets students thinking from new perspectives. Student bus tours, like our Jazz, Blues and Beyond, might seem passive, since much of it is students sitting on a bus. However, we ask students questions about what they see. We also play an active listening game to get them actively engaged.
Other activities that fulfill this requirement could be a guided tour of a historic theater. I particularly appreciated the dynamic and detailed experience of the tour at the iconic Chicago Theatre. A visit to an artist studio, such as at Lakuna Lofts, is incredible for budding artists, though it works best for smaller-sized groups.
Considering trying a smaller or lesser known museum for cultural field trips, as they often offer more personal experiences. Years ago, I took some students to the Smart Museum of Art on the University of Chicago campus. The museum educator there did an excellent job at asking students questions to help make contemporary art more fun and accessible for them.
For science field trips, I highly recommend getting up close and personal with the Chicago River! Both Friends of the Chicago River and Mercury Cruises offer ecologically-based student field trips that focus on the Chicago River. Students get to learn about water creatures, water monitoring, and maybe even slime!
What doesn't fulfill this requirement? It surprises me when teachers want to take their students to Navy Pier. The amusement-park atmosphere can certainly be fun, but the best student field trips should teach something, too!
#3. The Best Student Field Trips Will Connect with Curriculum
Thirdly, teachers should connect their Chicago student field trip with topics from their classes. The activity could connect with themes that fit within the subject matter. A visit to the Clarke House, Chicago's oldest building, could tie in with an American history course. Factory visits can fit into various science classes. For example, a physics class could visit Chicago's last pinball factory at Stern Pinball (technicaly, it's just outside Chicago's city limits). The machines and colors are mesmerizing, and students actually get to learn how they work! Lots of music students like band groups love the aforementioned Jazz, Blues & Beyond tour. The tour teaches them about how Chicago came to be such a hotbed for music. Students don't just learn trivia and facts. Instead they hear the dynamic stories behind the people and groups of Chicago music history.
Our 1893 World's Fair Walking Tour with Games gives an in-depth look at the beautiful remaining buildings in downtown from the era of famous World's Columbian Exposition. This new walking tour incorporates educational games and the route weaves into historic buildings downtown. Group is divided into two teams. There are prizes, too!
Planning the best student field trips in Chicago will ultimately depend on the excellence of teachers who best understand the interests and passions of their students. Good luck planning your field trip, and let us know if we can be of any help!
–Amanda Scotese, Executive Director
ABOUT CHICAGO DETOURS
Chicago Detours is a boutique tour company passionate about connecting people to places and each other through the power of storytelling. We bring curious people to explore, learn and interact with Chicago's history, architecture and culture through in-person private group tours, content production, and virtual tours.