How can you tell when a tower was built? A few key features can help you winnow it down, as we prove with these 1920s towers in Chicago.
We research stories from Chicago history, architecture and culture like this while developing our live virtual tours, in-person private tours, and custom content for corporate events. You can join us to experience Chicago's stories in-person or online. We can also create custom tours and original content about this Chicago topic and countless others.
Reading Architecture like a Book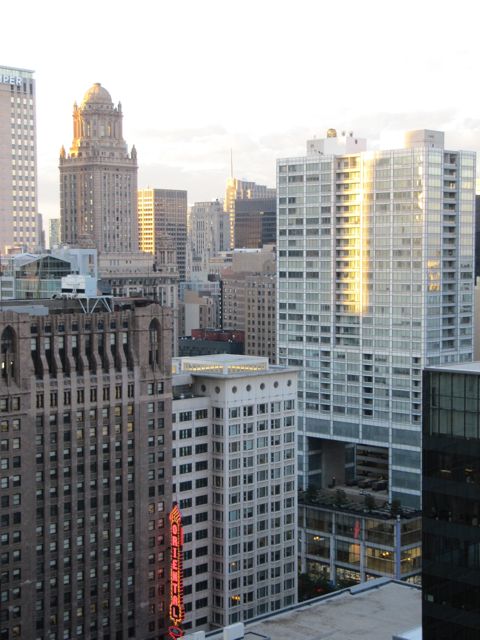 We've got a little secret of reading Chicago architecture to share with you. A pretty tower on the top of a skyscraper means it's likely a 1920s tower. Social and political ethos were much more socialist in the early 1900s, and people had strong feelings about maintaining equal building height. In the 1920s, however, buildings shot skyward with a booming economy, advancements in structural engineering, and changes in city zoning.
The first major change allowed structures to extend the height of buildings above the rest of the skyline, which at the time consisted of primarily buildings below twelve stories. While overall building height was increased to 260 feet, or about 26 stories, architects could further stretch it to 400 feet with unoccupied, ornamental towers.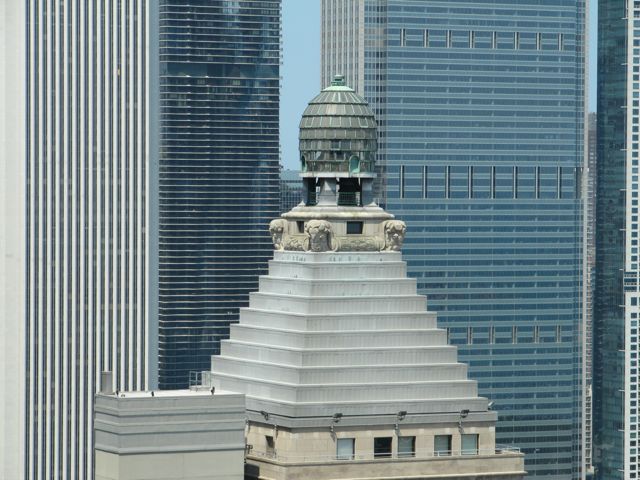 The "Bee-Hive" Building
One you may recognize as the "bee-hive." I dug into the history of this building when invited by the law firm of Michael Best & Friedrich to do a public-speaking presentation about the view from their lobby overlooking Millennium and Grant parks. This glowing blue orb tops a stone pyramid on the top of the Metropolitan Tower on Michigan Avenue. Right under the "hive" you can almost make out the 1,500+ pound carillon bells. They play "Handel's "Cambridge Quarters" on the quarter hour. They were restored in 1979 for Pope John Paul II's visit to the Windy City.
It was originally built by a financial investment company, though it's converted to being a residential building now. They wanted the blue glass,  hive-shaped tower to express "busy like a bee," and the pyramid top to symbolize stability. Alas they went bankrupt during the Depression.
Chicago Temple Building One of Many 1920s Towers
Another tower that took advantage of the "unoccupied structure" is the Chicago Temple Building. Its hollow steeple is brilliantly illuminated in the vintage postcard above. We delve into that tower's surprising history on tour Downtown Bucket List private tours.
In 1923, the city altered zoning laws to allow towers with occupants. This eventually led into the "setback" zoning of 1926, which warrants a post of its own in the future.
So now that you know, what are some of your favorite 1920s towers in Chicago?
— Amanda Scotese, Executive Director
ABOUT CHICAGO DETOURS
Chicago Detours is a boutique tour company passionate about connecting people to places and each other through the power of storytelling. We bring curious people to explore, learn and interact with Chicago's history, architecture and culture through in-person private group tours, content production, and virtual tours.