Chicago attracts student groups from around the world. This outline of new places to visit was made specially for teachers, group leaders and student group tour operators. Since we offer student group tours of Chicago, we know what students like!
If you're planning a student group visit to Chicago, we hope this information on some new places to visit in Chicago (or "new and improved") will help!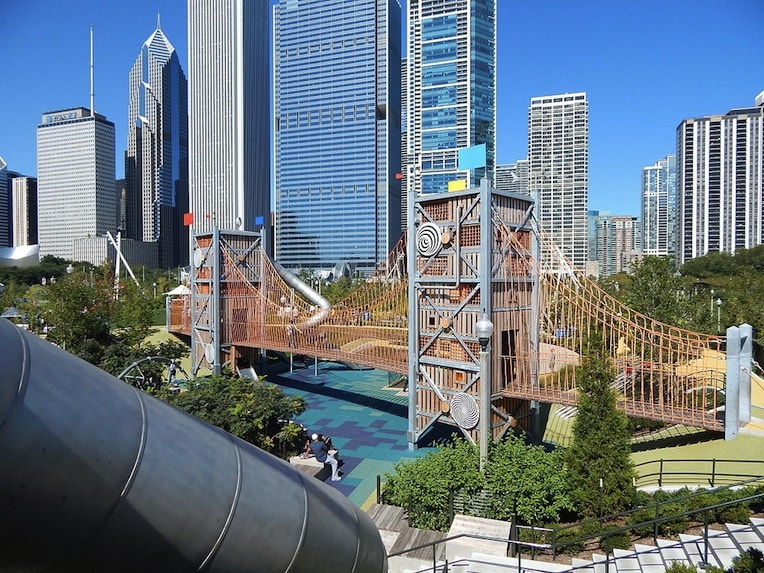 Maggie Daley Park
The newest addition to Chicago's lakefront parks is an interactive wonderland for kids of all ages. The largest attraction for youth in the park is the massive Play Zone. As we previously wrote in our blog, the Play Zone, which covers a whopping three acres, is broken into six different areas. Each area caters to a different age group and they encourage diverse types of play. This means you can bring elementary students or high school students to engage in fun at Play Zone. You'll find anything from giant suspension bridges to a boulder sculpture that you can (try to) spin around!
The new Maggie Daley Park has plenty to offer to student groups in Chicago looking to fill an hour or two. Students can go iceskating in winter on the "skating ribbon," which turns into a rollerblading track in the winter. Rock-climbers scale the walls that rise up above the skating ribbon. There's a sculpture garden and miniature golf, too!
For a group lunch, you could grab box lunches from the Mariano's just north of the park. Group leaders can rent picnic groves in Maggie Daley Park that accommodate groups of up to 50 people. Or just go guerrilla-style and just sprawl out on the wide grassy lawns! Our "Loop Interior Architecture Walking Tour" ends a five-minute walk from Maggie Daley Park and we could help you plan your student field trip. While Maggie Daley Park by no means eclipses Millennium Park, it's worth it to incorporate into your student field trip plan.
New Ferris Wheel and More at Navy Pier
Navy Pier isn't exactly new. With the pier's celebration of being around for one hundred years, new and improved activities for student groups abound. The most exciting addition for students will likely be the brand new Ferris wheel! It was installed in 2016 and soars 197 feet into the Chicago sky. The LED lights, video presentation, smooth ride, and climate-controlled pods all combine to make a ride on the new wheel as pleasurable as can be imagined. Plus, the views are killer.
Secondly, the pier's grounds have been redesigned. This is the kind of thing that architecture and design geeks like us would get excited about, and the kind of thing that students would revel in for just plain "hanging out." The 90's-era clutter that crowded the interiors and blocked views across the water are now gone. The difference is subtle, because the buildings themselves haven't hanged much, but it makes a simple walk down the 3,000-foot-long pier much more pleasant.
Also ends of the pier are seeing dramatic overhauls to make the space more inviting. A new "lake overlook" may be ready for 2017. The curving elevated walkway will bring pedestrians out above the azure waves lapping the pier. Polk Bros. Park, which is the green entrance to the pier, will be further improved in 2017. In the interactive spirit of Millennium Park, it already has a new jet fountain. An outdoor amphitheater is currently under construction as well.
And lastly, but certainly not least, Navy Pier has amped up their food offerings. Now your student groups in Chicago can try more than McDonald's! We particularly love the fried chicken at Big City Chicken.
Chicago Riverwalk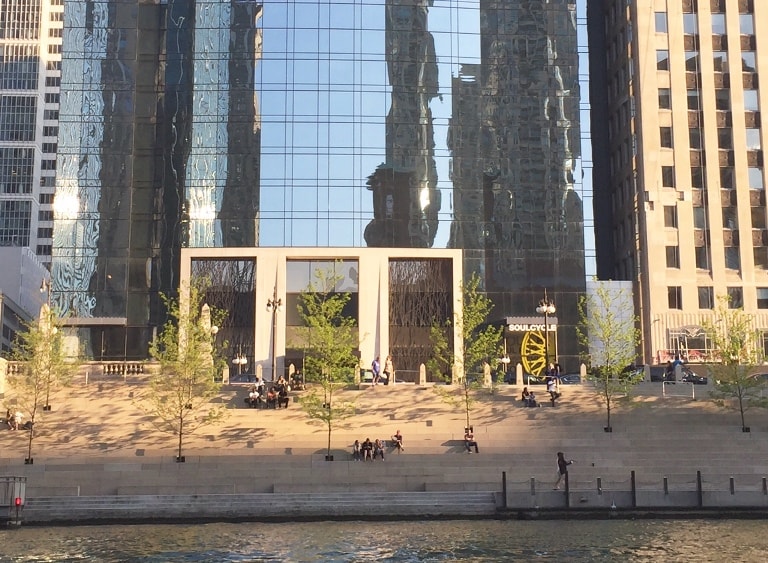 The Chicago Riverwalk gives students a fun and safe place to wander and enjoy the beauty of the downtown Chicago landscape. Over a decade in the making, the Chicago Riverwalk is a pedestrian space that hugs the banks of the Chicago River from Lake Shore Drive to Franklin Street, which is basically the entirety of the main branch of the river. It creates a vibrant new public space, full of places to sit, people-watch, and gaze at the architecture around. Major phases in it's development were just completed in the past few weeks.
Student groups might particularly enjoy a tasty excuse for a wander on the Riverwalk. Frost Gelato makes sorbets, coffee drinks, and of course gelato. Flavors range from cinnamon apple pie to bubble gum to sea salt caramel. You can grab a gelato cone, and sit on the steps of the "River Theater," where stepped seats give grand views of the performance of river life around you.
Go to All Three Easily!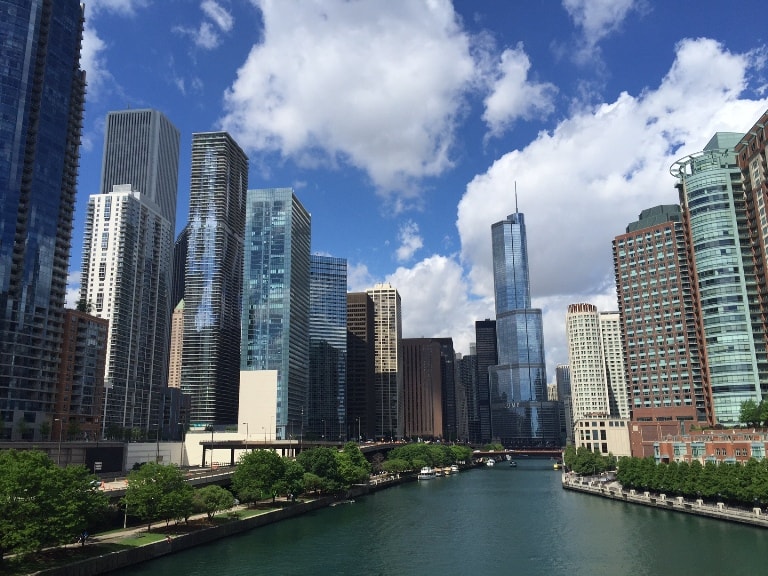 All three of the above new places to visit in Chicago connect. You can easily walk your students from Navy Pier to the Riverwalk by crossing the lower Lake Shore Drive Bridge. It's just a five-minute walk to connect the two. Also at the east end of the Chicago Riverwalk is DuSable Harbor, yet another pleasant place for a stroll, where you can gaze at the beautiful boats. From DuSable Harbor, it's a five-minute walk to Maggie Daley Park. But of course we know that with a group of students, take that time and double it!
If you're interested in booking a student group tour with us, please download our catalog and give us a call.