We went on a little hiatus from our weekly events posts as we have been incredibly busy here at Chicago Detours this fall. We rolled out our brand new private tour catalog, so we've been having lost of fun with private tours of historic bars, jazz and blues, Chicago neighborhoods and more. We've also been busy working on our fall "Detour", Visual Scavenger Hunt and Art Walk, which took place this past Sunday in Logan Square for Chicago Artists Month 2014 and was a huge success!
And now we're back with more events to put on your social calendar. In honor of the spooky holiday this Friday, we thought we'd bring you some spooky events in Chicago architecture and History. This week we feature a Day of the Dead exhibit, and two very spooky walking tours.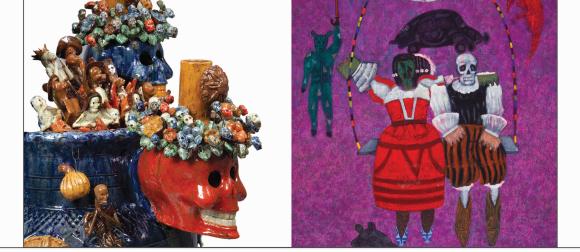 1852 W. 19th St. – during regular museum hours through December 14th
FREE
All Hallows Eve isn't the only holiday this weekend. Head on down to one of our favorite Chicago neighborhoods, Pilsen, for the Day of the Dead exhibit at the National Museum of Mexican Art. This ancestral tradition in Mexico honors those who have passed away and is celebrated annually on November 1st and 2nd. The exhibit honors those who have left this year with altars, installations, popular art, and works by more than sixty artists from both the US and Mexico.
1752 N. Stockton Drive – Wednesday, October 29th, 4:00pm and Saturday, November 1st, 10:00am
$22 members/$30 non-members – reservations required
From the beach to the zoo to the gardens, Lincoln Park is known as an outdoor retreat from the hustle and bustle of urban life. Yet its past is a little less cheery and often still being uncovered since the site was one of the city's original burial grounds. Over the last 100 years, construction projects in and around the park have revealed some of these leftover remains. So what better time than Halloween to explore this spooky history? Historian Sally Sexton Kalmbach leads the excursion hosted by the Driehaus Museum.
3. Shadows on the Street: Haunted Tours of Historic Prairie Avenue – HAUNTED TOUR
1800 S. Prairie Ave. – Friday, October 31st, 7:00pm and 8:15pm
$8 members/$10 non-members – reservations recommended 312.326.1480
Once home to Chicago's historic elite, Prairie Avenue also has some pretty spooky history. Explore tales of strange sounds, unexplained sightings, and untimely endings after dark with the Glessner House this Friday. Your guide will share the mysterious circumstances of Marshall Field Jr.'s death and the tragic events that plagued the Philander Handford house. Plus the story behind the rattling windows in the William Kimball mansion, and more spooky tales from Prairie Ave.