I recently moved to the Portage Park neighborhood, near Six Corners, on Chicago's Far Northwest Side. My zip code change not only gave me a new address, but a new identity. Chicago neighborhoods each have a unique character that seems to attach itself to you once you become a resident. People in Chicago really have neighborhood pride. Often the affect of your neighborhood on you manifests slowly, perhaps without notice like the adoption of a colloquial accent, yet in my recent case it came on abruptly and without warning.
Will the Real Six Corners Please Stand Up?
I heard a friend and colleague use the term "Six Corners" in reference to Wicker Park and even though I hadn't even heard of Portage Park until my Craigslist apartment search landed me here a few months ago, strangely, I was offended. Six Corners isn't in Wicker Park, it's in Portage Park, I thought. There are banners proclaiming so all over the place. And, more so, the history proves it. So why were so many people calling the intersection of North, Damen and Milwaukee, "Six Corners?" I decided to look into the debate and find the history behind the "real" Six Corners.
First of all the "real" Six Corners is in fact the intersection of Irving Park, Cicero and Milwaukee. This intersection is the heart of the Portage Park neighborhood. It developed as a business district all the way back in 1841 with Dickinson's Inn. The inn or tavern was owned by Chester Dickinson, who later became the town's first supervisor, and has some legendary history from rumors of Abraham Lincoln staying there to stories of drunken town planning. Sadly in 1929 the Dickinson Inn, then Chicago's oldest brick building, was torn down to make way for a commercial block.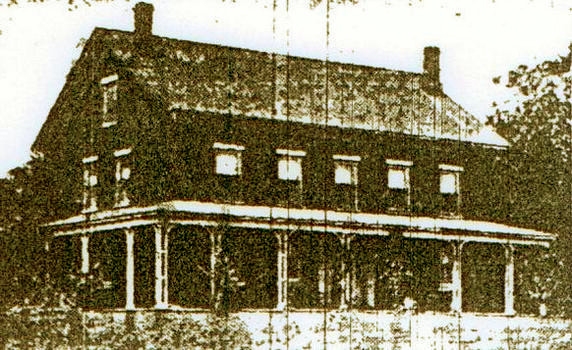 An Early Commercial Hub
After annexation to the city in 1889, the area began its long history of commercializing. Major retail development came along with the Irving Park and Milwaukee Avenue street railway lines and businesses included Brenner's grocery, Bauer's bakery, Fabish's restaurant and D.D. Mee's general store. By 1914, the increase in transportation to the area had helped to create a booming retail center. The Portage Theater was built in the 1920s and was the first commercial movie palace in Chicago built specifically for movies, and not for vaudeville.
The Art Deco Sears, Roebuck & Co. was built in 1938 and quickly became an anchor for the area. Taking a cue from retail giants like Marshall Field, whose history we share on our Loop Interior Architecture Walking Tour, the store claimed the largest store windows in the Midwest, which helped draw more than 99,500 customers on its first day. By the 1980s there were a whopping 150 stores populating Six Corners of both national and local origin.
Ceding Supremacy, but Surviving
Recently, however Wicker Park has supplanted Portage Park as the most visited commercial district outside of downtown. It even has its own intersection of six corners at North, Damen and Milwaukee. The booming retail industry in the trendy west side neighborhood is certainly reminiscent of the "real" Six Corners past. By contrast, while Six Corners itself has met a substantial decline in its own retail economy. Not surprisingly though, the two neighborhoods bear other striking similarities to one another especially in their built environment. Both have dominant bank buildings on one corner of the six, the Noel State Bank Building in Wicker Park and the Bank of America Building in Portage Park. They even each have a historic People's Gas Light & Coke Co. building.

Despite this recent economic shift, its nice to know my gut instinct to defend the Six Corner's name is backed by some impressive roots. Chicagoans have a strong sense of pride, so it is no wonder that long time Chicago natives in Portage Park are in a tizzy over the recent adoption of "Six Corners" by the young transplant residents of Wicker Park. To me it is clear this is a debate less over a name than it is over identity. And since I now consider myself a Portage Parkian, let us keep Six Corners and the Wicker Parkians can keep its other nickname: "the Crotch."
–Jenn Harrman, Tour Guide