This past Saturday we had our sold-out "detour" of the summer season. "Bridgeport History of Creative Production" brought together a group of mostly locals to explore the inner workings of art centers, factories and an artisan bakery in Chicago's oldest neighborhood. You can always explore Bridgeport with us on the Big Shoulders Historic Bar Bus Tour for private groups.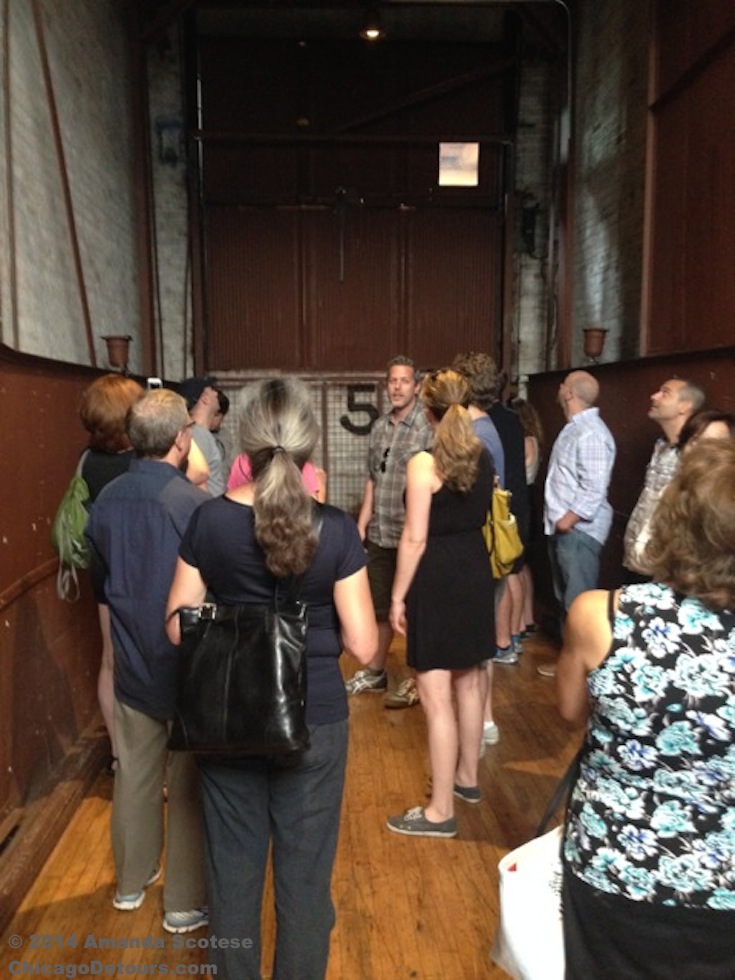 The Bridgeport Art Center
We had a beautiful day for our walking tour, starting at the Bridgeport Art Center, one of many buildings used by Spiegel before it closed up shop in Chicago in the early '90s (and eventually filed for bankruptcy in 2003). Mike of building management took us around, and first we got to ride in this massive freight elevator. A friend of mine had a wedding here last year, and the elevator made for a very interesting entrance.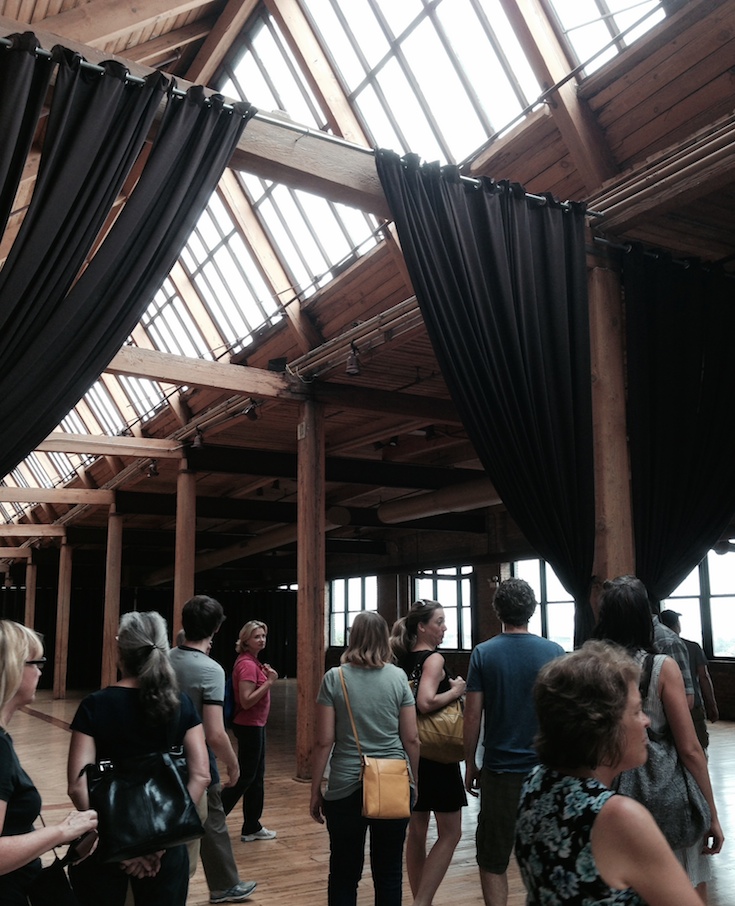 We checked out their special events space on the top floor, which has the angled skylights you find in lots of older factories in Chicago. Then we toured through the art studios and exhibition space before looking at the very cool marble entrance in front.
Walking down the block we got a mix of the area's industry. We passed Schulze Biscuit Company, most known as makers of Toast 'Ems, an old-school competitor of Pop Tarts. Then we passed another former Spiegel's building now owned by Tripp-It. A reflection of a new era in manufacturing in Chicago, Tripp-It manufactures cables and the like for the IT industry.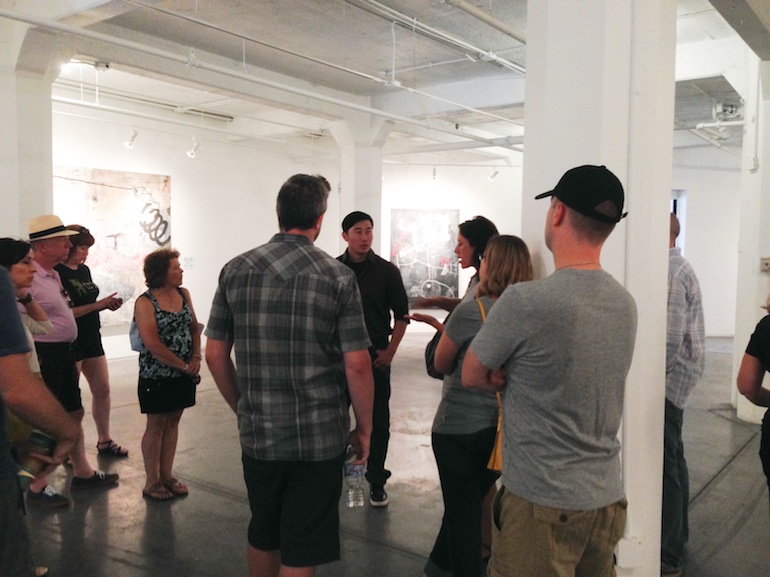 The Zhou Brothers
We stopped into the Zhou B Art Center, another warehouse-turned-art-center founded by contemporary art duo the Zhou Brothers. One brother's son Michael showed us around. Currently an exhibition of the Zhou Brothers was in their primary gallery space.
Then we walked down an alley as a short cut to our next stop at Decorators Supply Corporation, a 100+ year-old maker of hand-crafted architectural details. Our exclusive visit here was particularly the featured stop for our tour experience in Bridgeport.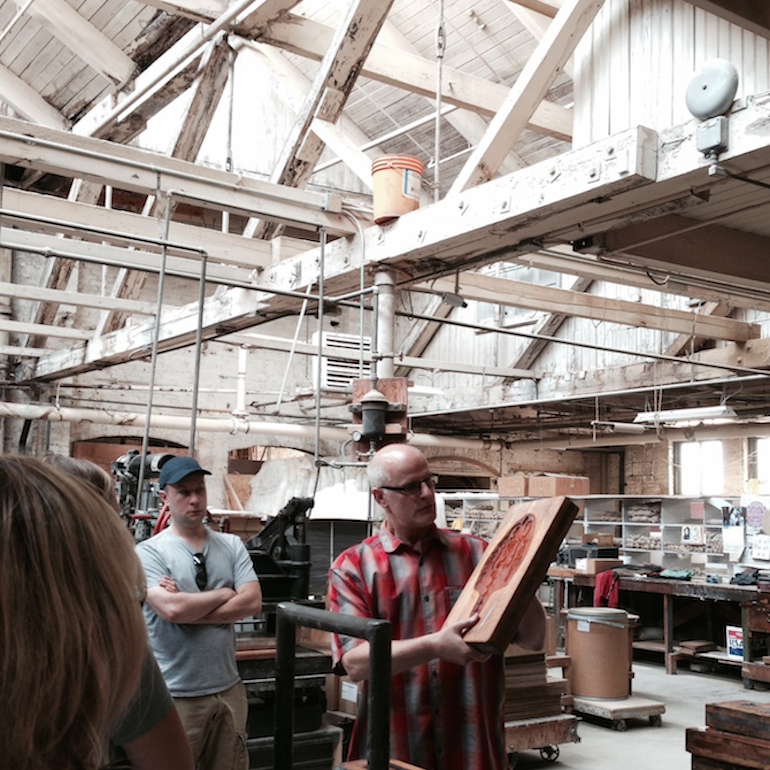 Bill is third generation in his family working at Decorators Supply and he graciously came in on his day off to show us around. Here he talks about the technique of using a material called "composite" to craft architectural details like corbels, capitals, and all kinds of ornamentation.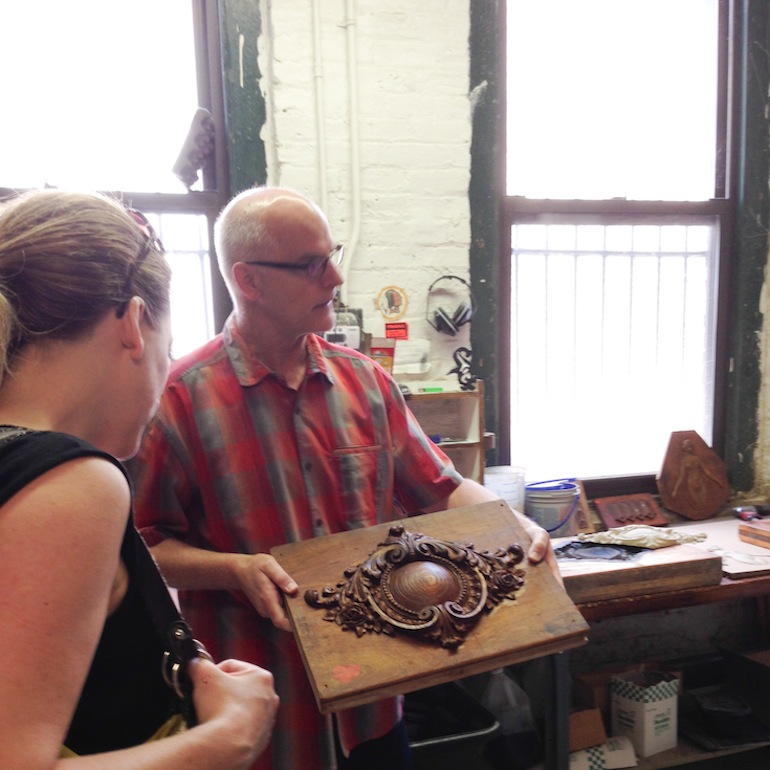 If you look very closely in these images, you will likely find the White Sox in all of them! We were on the South Side of course.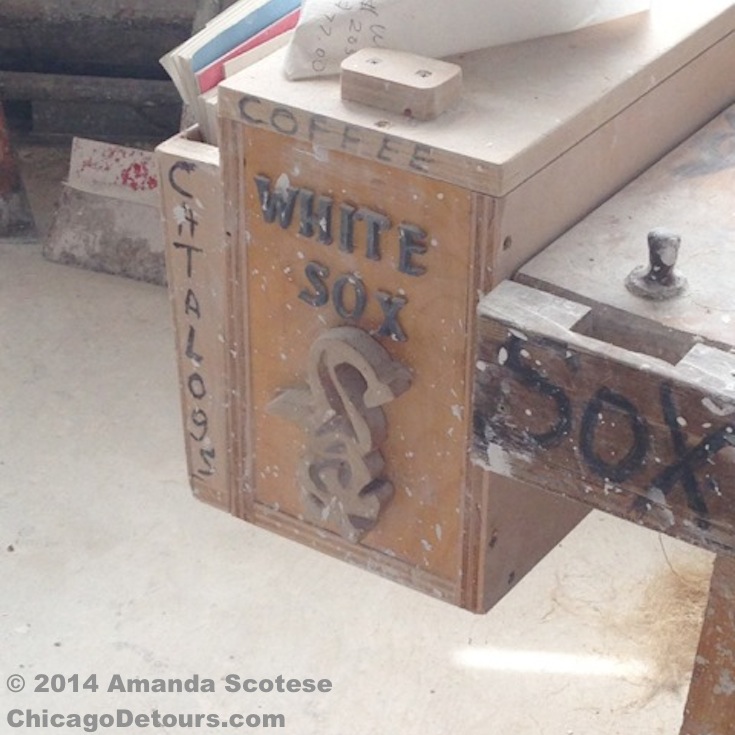 Johnny O's and the Immortal Mother-in-Law Sandwhich
Then we had a great walk down Morgan Street. Johnny O's is a little slice, or casing, of hot dog history in Bridgeport. They are well-known for their "mother-in-law sandwich," a South Side specialty of a beef tamale in a hot dog bun that's covered in chili and peppers. It's always a treat serving those to visitors on our South Side tours.
Though Morgan Street had its streetcars taken out in the 1950s, it still retains a lot of clues to its more retail past. We past an old theater, a former pharmacy with gold lettering still on the glass of its covered up windows, and ended up at Co-Prosperity Sphere.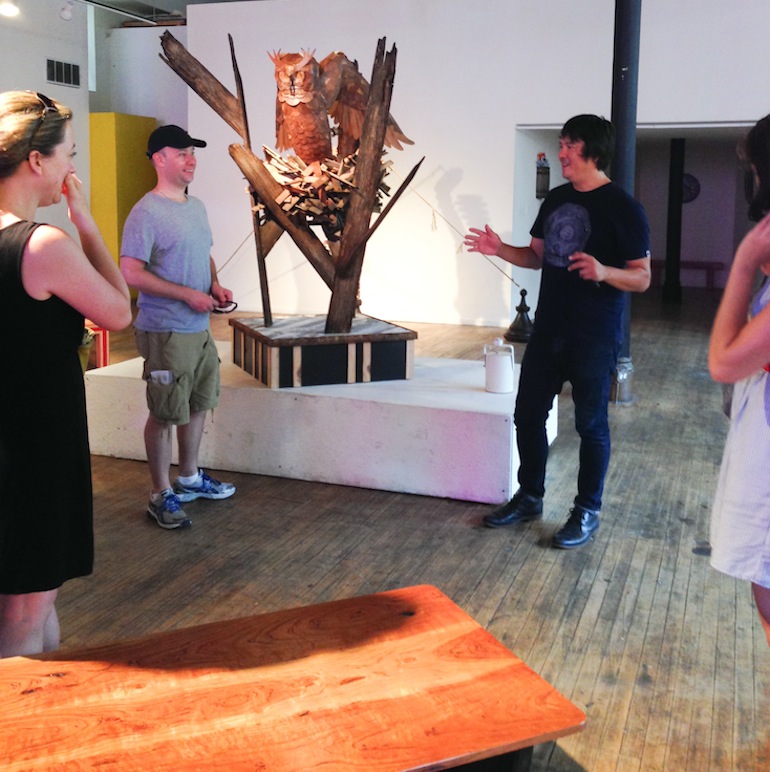 Ed Marszewski told us the story of getting his space from a Chinese mafia slumlord and cleaning it up into a cultural center for Bridgeport. In addition to having art shows and concerts at Co-Prosperity Sphere, Ed published Lumpen Magazine, one of the few independent arts magazine in the city.
Lastly we wrapped up the tour over drinks at Maria's Packaged Goods with savory pies from Pleasant House Bakery next door.
Thanks!
Thank you to all the above businesses for partnering with us for this special event of the creative side of history and the present in Bridgeport. Also thanks to Jeremy Parker for the photos, to Stephanie Jokich for having moved down there which initially inspired me to have a special tour in Bridgeport, and to the random trucker who patiently explained to me how flour is sucked through tubes out of giant trucks into the Schulze factory.
— Amanda Scotese, Executive Director