I dedicate myself every year to a list of New Year's resolutions, but they seem to dissolve by February. But this year I got smart and chose a fun resolution: to better explore Chicago architecture and history with some sightseeing in my own Chicago back yard. Previously, this yearly New Year's resolution has been thwarted due to busy schedules and frankly, cost. So I did some research on ways to explore Chicago with my busy schedule and also do it on the cheap.
1.  CAF lunchtime Talks
One big hurdle in accomplishing this New Year's resolution is first to create a proper list of these places to explore in Chicago. So why not get the scoop from architecture experts? The Chicago Architecture Foundation offers a Lunch Talks @ CAF series that allows you to pop in and explore topics about Chicago architecture and Chicago's built environment and it fits in to your lunch break if you work downtown. These weekly Wednesday lectures from 12:15pm-1pm are free to the public and you can bring your lunch! Munch, learn, engage and go.
2. Free days at Chicago Museums 
Hitting up a museum might not fit in to a lunch break, but you don't have to spend all day and it doesn't have to cost an arm and a leg. Most of Chicago's museums are free or offer free museum days to Illinois residents with proof of residency. A full list of free museums and museums with free days can be found at the Chicago Public Library website. Here is a list of a few of my favorites and their free days:
3.  Volunteer
Why not tackle two New Year's resolutions at once? Volunteering, another popular New Year's resolution, can get you free access to explore cool exhibits, events and spaces at your favorite Chicago building, museum or organization. In the spirit of the new year the Chicago Volunteer Expo is held annually and this year is on Feb 16th at the Peggy Notebaert Nature Museum in Lincoln Park.
So you get to explore a museum, sign up to volunteer, then potentially visit another museum as a volunteer!
4. Explore Chicago on your lunch break
The cheapest way to explore Chicago architecture is to be your own tour guide. Take 30 minutes at lunch and walk down streets you've never traversed before. You can make notes as you explore buildings that intrigue you so you can look them up later in the Encyclopedia of Chicago, an online resource for Chicago history and architecture. Or explore Chicago's underground Pedway with our handy map.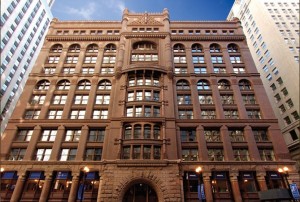 For a short guided tour with a docent, the Frank Lloyd Wright Trust offers lunchtime tours of the Rookery building for only $5. These cheap, 30-minute tours are available on Mondays, Tuesdays, Thursdays and Fridays.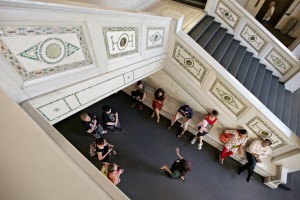 If you want to explore Chicago in more depth, our Loop Interior Architecture Tour lasts two hours and the ticket price includes deals to other great things to do in Chicago.
Have fun exploring Chicago!
– Jenn Harrman, Marketing Manager and Tour Guide