Bar tours of any kind are an all-around fun experiences. You get to meet new people, see new things, and drink! When I started as Editorial Intern for Chicago Detours, I came on the Good Times Historic Bar Tour with my boyfriend and found that this walking tour of Chicago is all that and more. I'm just being honest–not trying to be promotional at all. I swear!
We started our journey inside the lobby of the Tribune Tower, a neo-Gothic building on the Magnificent Mile. Often tour guides just throw facts at you, but this is not the case for a Chicago tour with Chicago Detours. We were asked to engage with the architecture around us and to really think about why it's there.
For instance in the lobby of the Tribune Tower we were asked to really look at the architecture. From the group there were a number of answers, all of them correct in some way. Tour Guide and Executive Director Amanda (she usually does the weekday tours) explained how the features of the architecture can reveal clues to ideas from history. It was already an interesting and thought-provoking space, and it became even more interesting to take a moment to really talk about what we were seeing. One fun little fact was that the huge relief map of the United States on the wall is not just plaster but made out of a very surprising material, and that in the exterior there are 149 stones from different famous buildings from across the world.
We then stepped outdoors for a few minutes. We walked a block down the Magnificent Mile to take a look at the exterior of the InterContinental. It was an abrupt change of scenery as we had just been in this beautiful, warm, cathedral type space, then suddenly are outside feeling a light chill of the evening. We gazed at this skyscraper covered with strange iconography, symbols and other architectural decorations. Again, we were asked about what we see in the architecture. Someone said Egyptian, another said Roman, and I looked up and saw three dreary, ancient-looking stone men peering down at me and I thought, "What in the world kind of building is this?"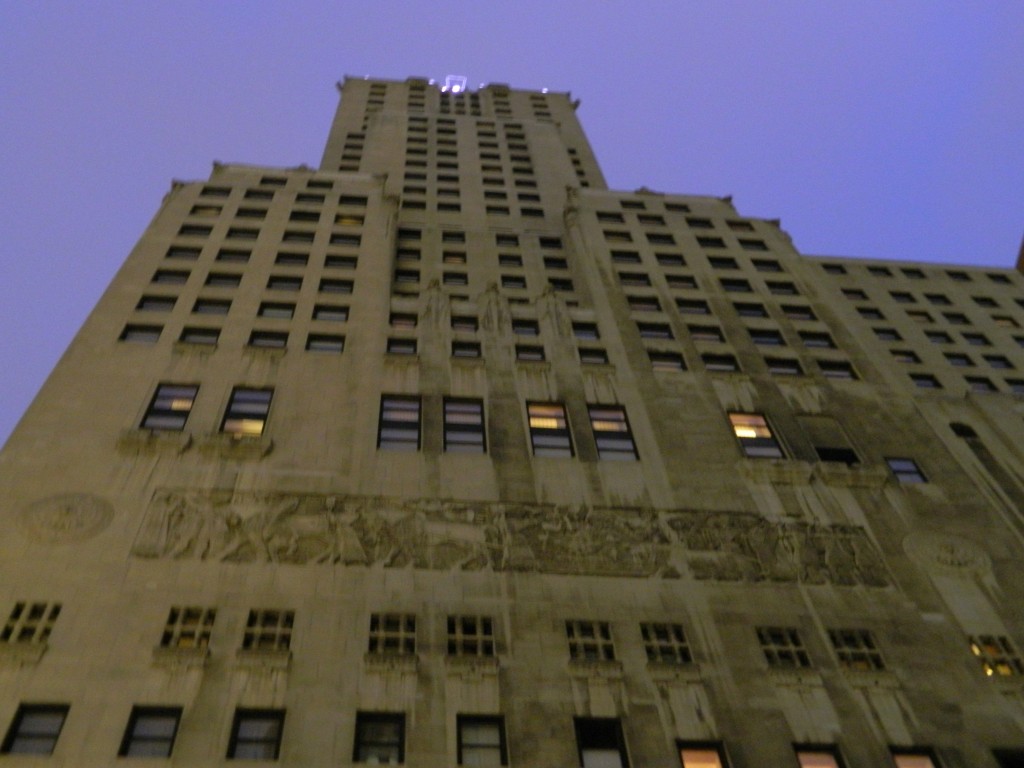 I'm not going to spoil the surprise of this skyscraper's fascinating history, but it's pretty interesting. We hadn't had a drink yet but it had all been eye-opening so far. Now we headed under the Magnificent Mile to…
Billy Goat Tavern! We're again thrown for another interesting loop and taken for our first drink at the most famous tavern in town. We're treated to samples of "cheezeborgers" and beers (or wine for those who prefer) and began to relax and take in the story of how a man named William Sianis became known as "Billy Goat."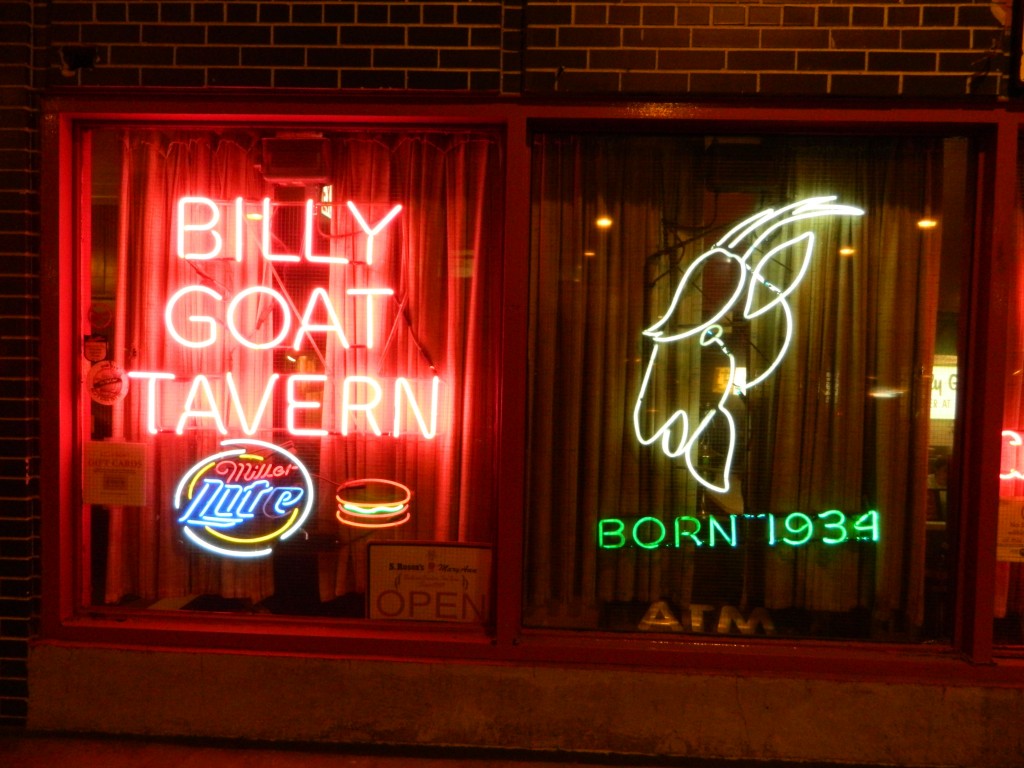 From there we headed off to Phil Stefani's 437 Rush to learn about its jazz history and grab another drink with some pretty abundant appetizers (this pub crawl tour is practically a food tour). Then we stopped by Lawry's the Prime Rib to check out their surprising architectural history. For our final drink we played a game that isn't exactly trivia, but more like a logical guessing game that helps us learn about things people did for fun and entertainment in the neighborhood in the 1960s. For the stops on the rest of tour, I'll leave you in suspense.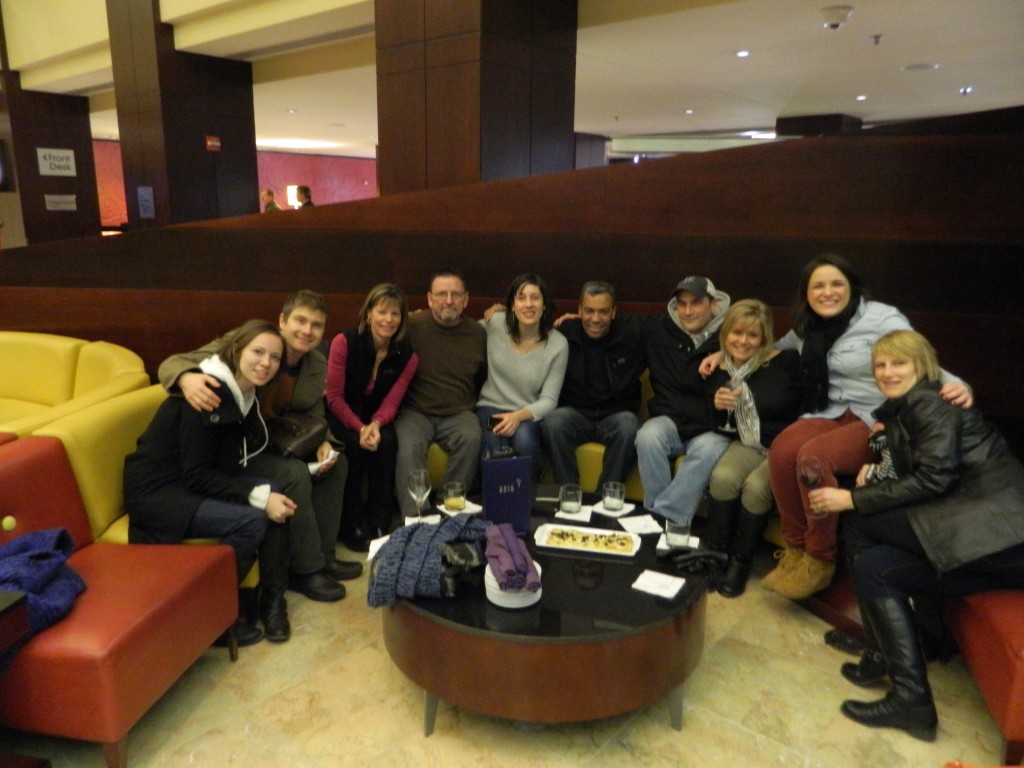 This was the Good Times Historic Bar Tour on a very small nut shell as I skipped a lot of the history and don't have room to ramble about the sparkling conversation with the very fun guests that came on this Chicago tour. In short, I promise that in addition to having a few drinks, you'll start to look at Chicago architecture in a new way!
-Jenna Staff, Chicago Detour's Editorial Intern