When I think of "planned community," pristine lawns, curving curbs, and happy little driveways come to mind. Maybe it's even a "gated community" with three or four house designs repeated along the block. Interestingly the roots of the 'burbs came from mastermind of landscape design Frederick Law Olmsted (think 1893 World's Fair or NYC's Central Park) with Riverside, located right outside of Chicago's southwest borders. Let's not forget his lesser known partner, too. His name was Calvert Vaux.
Riverside, Illinois was the first planned suburb, and the Chicago suburbs of the mid-19th century weren't exactly suburbs yet but towns near the downtown. Today planned communities are churned out left and right. Back in the 1800's though? This approach to city-building was revolutionary stuff.
We research stories from Chicago history, architecture and culture like this while developing our live virtual tours, in-person private tours, and custom content for corporate events. You can join us to experience Chicago's stories in-person or online. We can also create custom tours and original content about this Chicago topic and countless others.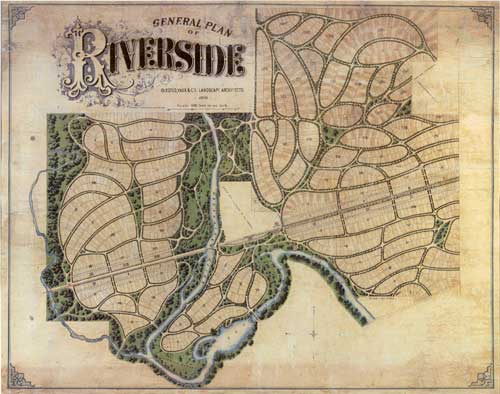 A New Type of Community
As you can see from the map, Riverside is designed as a commuter suburb around the train station. It's also notably not laid out in a clean grid like the city of Chicago. Instead, Olmsted insisted there be no right angle intersections and laid out streets that curved with the natural contours of the land. His landscape-design-inspired approach would beautify the two-square-mile area of little Riverside. It would be great for recreational use by residents, who would be blessed with the beauty of the country without forfeiting the benefits of the city. Essentially, Riverside was to be a self-contained community, a sub-urban place outside of Chicago.
If Olmsted was just a whatever landscaping gardener, perhaps history would have treated the town differently. Yet, Olmsted was "the father of landscape architecture" and Riverside accordingly fixed an image of its urban design that has yet to be altered. Today antique gas lanterns illuminate the streets at night, and giant green parkways contribute to the lawn-saturated neighborhood.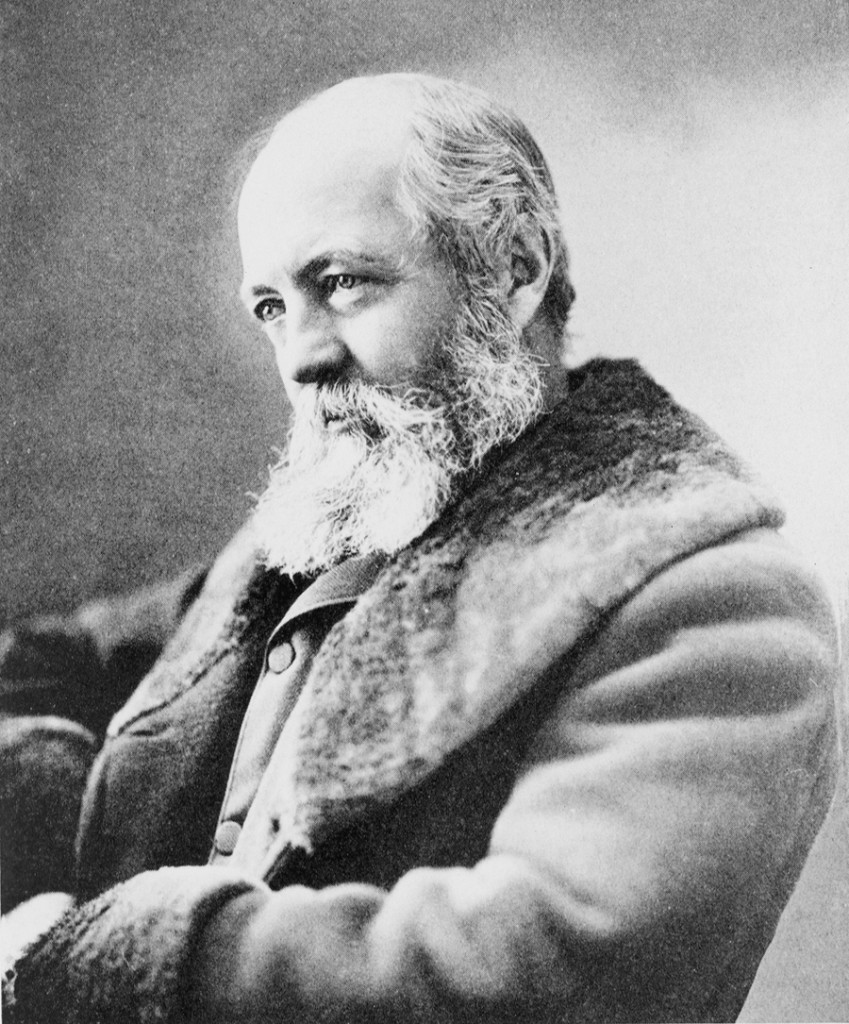 Old Man Olmstead's Plan
You can see Riverside's strict adherence to Olmsted's plans in this excerpt from a 1974 newsletter.
"The zoning that Riverside has had for nearly 50 years has assured our village of remaining a lovely, low-profile, low density community while other towns in surrounding areas have changed drastically…The same zoning has done an excellent job of retaining Olmsted's original plan and the character he intended." – March 1974, Frederick Law Olmsted Society of Riverside Newsletter
Strict zoning was a natural part of Olmsted's plan as regulations were needed to keep Riverside small, quaint and lovely. The only problem was that the world progressed. Technology changed, businesses came and went, and Riverside had pressures to modify. It has to balance the romantic perfect suburbia against Chicago.
While researching at Riverside Public Library, I stumbled upon a curious 1869 argument in one of F.L.O Society's newsletters. The argument was between Olmsted and the city. The city was thinking of allowing a private house to be built on a park land called Longcommon. Olmstead was putraged when he heard this and fired off an angry missive to the city. He said that they were pretty much going to ruin his entire plan because Longcommon was "key" to its design.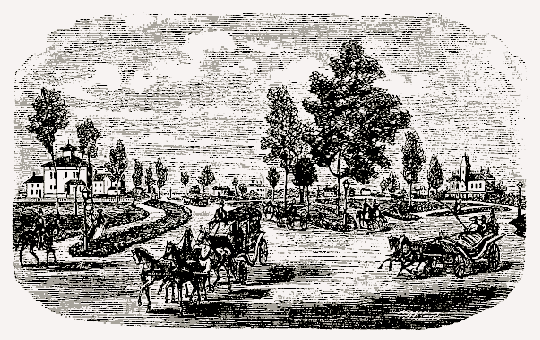 Fast forward a century and in 1995 a citizen of Riverside proposed to build a playground on that plot. This sparked a heated debate in the community. After all, Olmsted said that nothing should be built there. If you look at a map of Longcommon Park, you'll see that there still is no playground, just a baseball diamond within an open field.
How'd Riverside Turn Out?
Has Riverside's extreme focus on preserving Olmsted's original plan been for the best? Has Olmsted and his planned community succeeded as the perfect community? Can a community planned by an architect 150 years ago still be relevant to lifestyles today?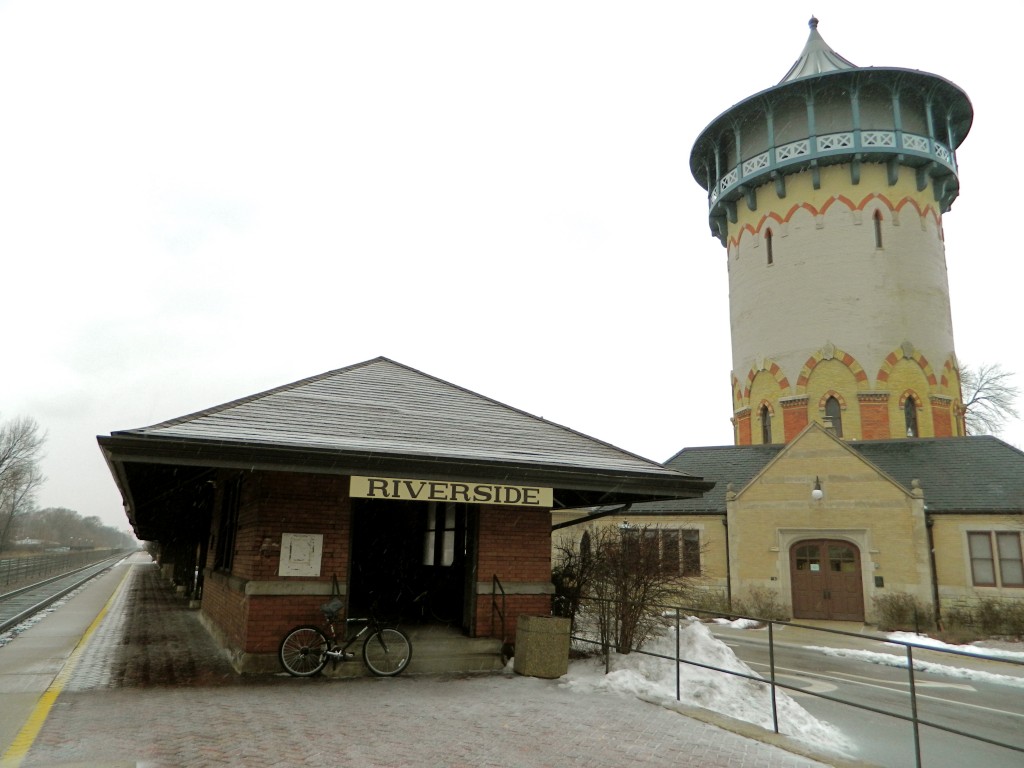 I'd say it has and it hasn't. If you visit Riverside you'll see a perfectly preserved town. The buildings, the streets, the train tracks, the river, the forest, the parks – all of the physical embodiments of Olmsted's Riverside – are extremely well intact.
However, I got a strange feeling interacting with the space. I felt like I was walking through a Hollywood set or visiting a "country" at Epcot Center; something about it doesn't seem real. And where is everyone? It's beautiful, it's interesting, yet you wonder. How such a place can exist for so long and so close to bustling Chicago without changing much at all.
Things have certainly changed over history, so what does that mean for a community like Riverside? It's a broader question that would require greater length than a blog post to elucidate. But perhaps you should go see for yourself and take a day trip from Chicago to tour Riverside and make up your own mind about Olmsted's vision of community living. Find details on 2013 historical walking tours of Riverside and architecture by Frank Lloyd Wright and William Jenney here.
-Jenna Staff, Chicago Detours Editorial Intern
ABOUT CHICAGO DETOURS
Chicago Detours is a boutique tour company passionate about connecting people to places and each other through the power of storytelling. We bring curious people to explore, learn and interact with Chicago's history, architecture and culture through in-person private group tours, content production, and virtual tours.