2022 Update: We no longer offer public tours and have kept this post as a historical record of our role in innovating in travel and tourism.
Lately we've been bombarded by interest in our private tours of Chicago, and it probably comes along with the surge in interest in unique experiences these days. (FYI, we can create custom tours for private groups.) Groupon and other deals' business models depend on this trend. Ten years ago activities for grown-ups didn't have this kind of hype. Apparently lines go around the block to tour Chicago first local distillery Koval, located in Lincoln Square, and new twists on the tour, like the Chicago Beer Experience or Urban Kayaks, show that Chicago Detours isn't solo in the lands of hipper travel.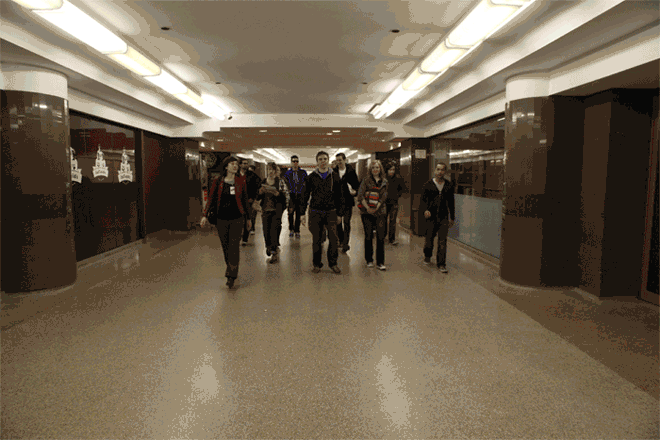 What's On Our Private Tours
Here is a picture of a crew from a digital agency called Doejo. They came on a "field trip" with Chicago Detours on our Loop Interior Architecture Walking Tour. Several of them were recent transplants to the city and hadn't seen much yet. This indoor walking tour of architecture, history and culture opened them up to the beauty of downtown – and to the idea that tourism doesn't have to be hokey.
We've done private tours for groups ranging from corporate team building outings to family reunions, and from every tour we learn a little something more about catering our tours to the interests and expectations of our guests. What do I mean by this? Well, when we do a family outing, we keep things real casual and roll with the family's style of sense of humor and personal interests. Law firm groups are impressed when we bring out Release Form Contracts for them to sign. And when I hopped on a boat with a private group from Morningstar and mingled to answer Chicago questions, I realized that financial types wanted more facts and figures than stories from history (one even asked me how much water is in Lake Michigan!). I had a woman from the Upper West side of Manhattan hire me to take her, just her, on a four-hour tour by hired car to experience Chicago history – but in chronological order. We haven't had too strange of requests so far – at least not yet.
Public/Private Divide
Our private guided tour options include our tours that we've offered to the public. The Loop Interior Architecture Walking Tour takes guests on an indoor excursion of a variety of sites downtown. While lots of locals have seen the sparkling Tiffany mosaics of the Chicago Cultural Center. Many haven't heard the insider stories our knowledgeable guides share. We also tour the mythic Pedway network of underground passages. These explorations balance with in-depth discussions on architectural design and city development follies.
We are just now beginning to offer our Historic Chicago Walking Bar Tour to groups. This guided walking tour, which takes place 90% indoors, includes three stops for beer or wine in restaurants of eras past. Just like the Loop walking tour, guests get to share iPads with historic video clips and photos. We pop into a couple examples of roaring '20s opulent architecture and dig into stories of prohibition, social clubs, early jazz, vices and nightlife. It's all just north of the Michigan Avenue bridge. We include appetizers at two of the stops, too, making it part food tour, part history tour, part architecture tour.
Musical Private Tours?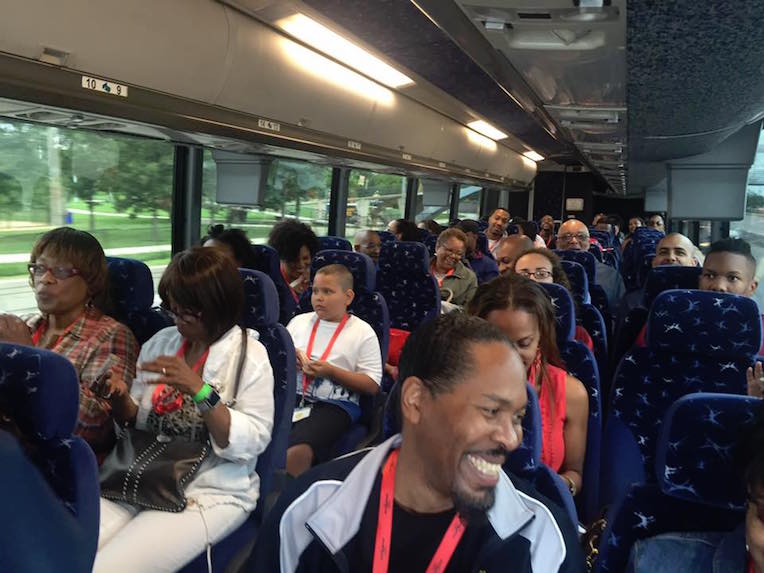 Groups looking for a premium experience love our Jazz, Blues, and Beyond Bus Tour. This tour (actually more like "luxury coach tour") goes to neighborhoods north and south to expound the cultural history of Chicago's most influential music. We even have a blues musician hop on the bus and teach blues harmonica.
And lastly, we do all kinds of custom tours for private groups. We've customized the Jazz and Blues tour to include dinner at a soul food restaurant. We've built a green tour of Chicago that shares thoughtful perspectives on the entire green movement, from architecture to food. And we've offered historic pub crawls by bus, a Pedway pub crawl, and creative food tours for our private tour guests.
Give Us a Call!
Tours with a private guide in Europe are pretty standard, but Americans like to think that they already know everything! A live tour guide has more enthusiasm and insights than a guidebook or iPhone app. And we also take tour guiding as not a hobby, but as a profession. That's why our tours are great for all kinds of local business groups. Lawyers love the learning, creative professionals love the visual experiences, etc. Plus, everyone enjoys getting out of the office and exploring our incredible city.
 — Amanda Scotese, Executive Director