French Lick, Indiana has the kind of name that you know you learned about in history class. Was a Civil War battle there? Was a US President from there? What could it be? Well, I'll tell you. I bet you could never guess that this seemingly innocent midwestern small town was a bustling resort of luxury and hedonism at the West Baden Springs Hotel around the turn of the 20th century.
We research stories from Chicago history, architecture and culture like this while developing our live virtual tours, in-person private tours, and custom content for corporate events. You can join us to experience Chicago's stories in-person or online. We can also create custom tours and original content about this Chicago topic and countless others.
Getting to French Lick
My friend Erin and I took a road trip down to the middle of Indiana. A mere five hours away and straight south of the city, French Lick is a perfect weekend getaway distance. While much of the drive is what you expect from the Interstate, my big surprise was that as we got closer to the West Baden Springs Resort and Hotel, the Waz app routed us through some cute little farmland.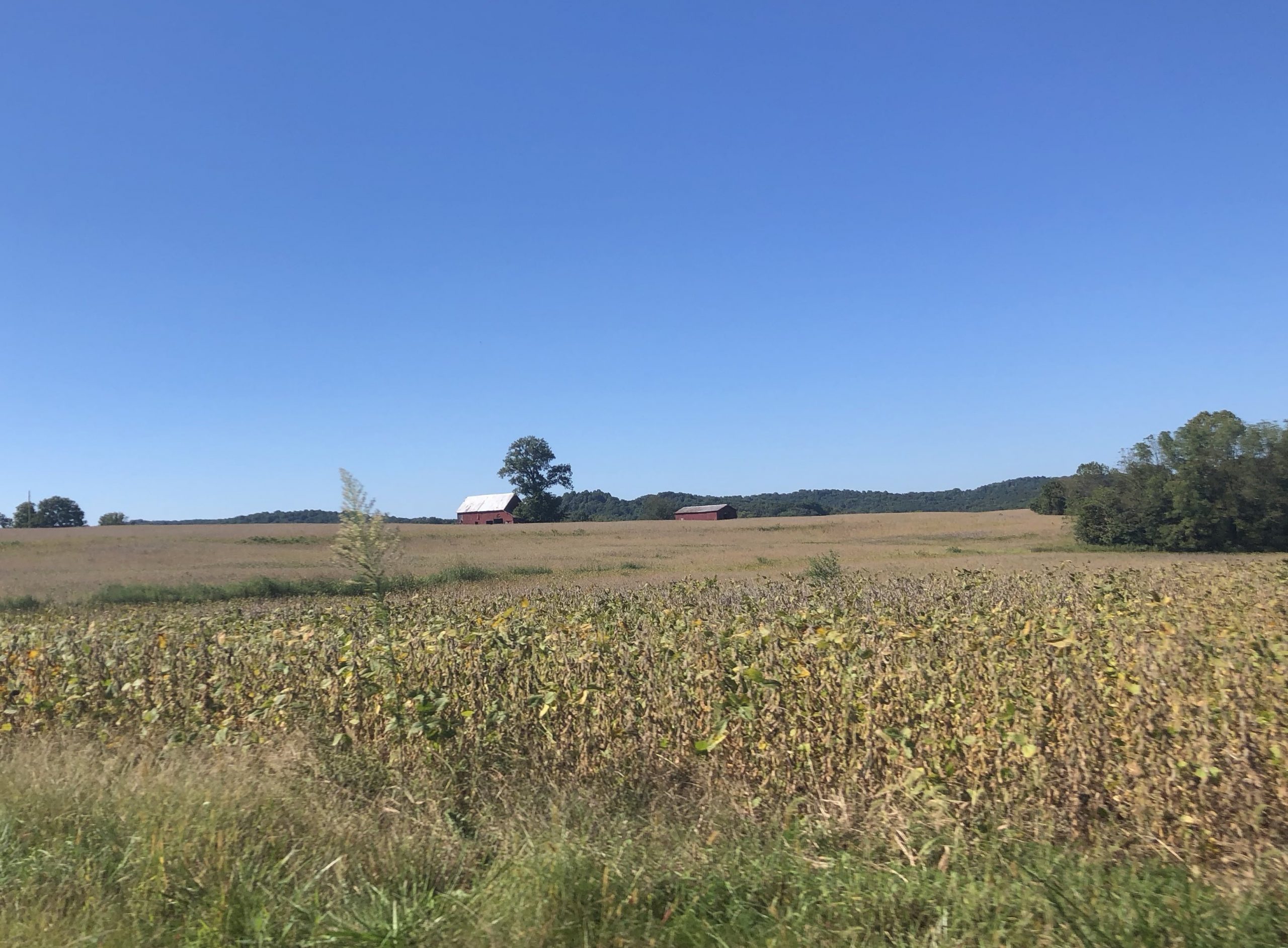 Then suddenly, the trees cleared and we arrived at the Eighth Wonder of the World. The West Baden Springs Hotel boosted the largest dome in America for more than half a century. Built with Chicago steel in the early 1900s, it's like what the Romans would have built had they had Chicago engineers.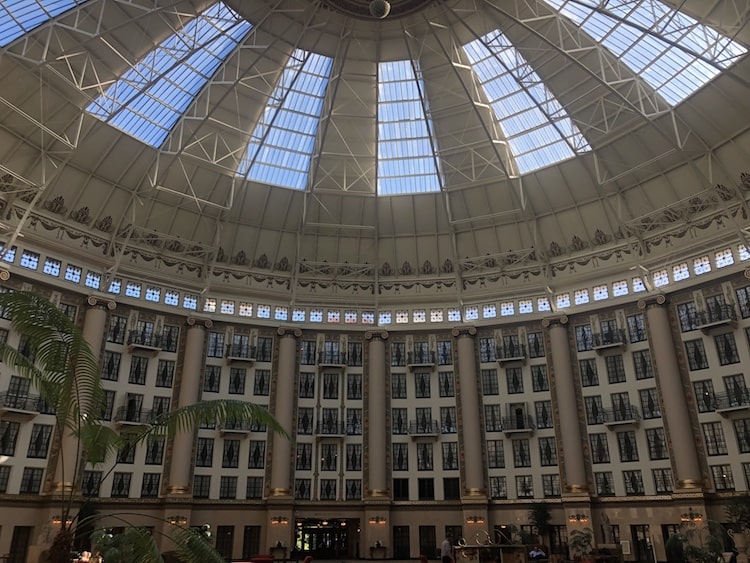 Touring the West Baden Springs Hotel
I was embarrassed to be a few minutes late for the historic tour, since I am a tour guide myself. I blame our long drive! But the very easygoing tour guide welcomed my friend and I out in the garden. Here we began to learn about the incredible history of this top-notch detour from Chicago. First, we got to see the former locations for the springs that made French Lick into a destination. People traveled here from far and wide to experience the curative powers of the spring waters. West Baden Springs indeed got its name for Baden-Baden in Germany (which I first heard about from my old boss, Rick Steves).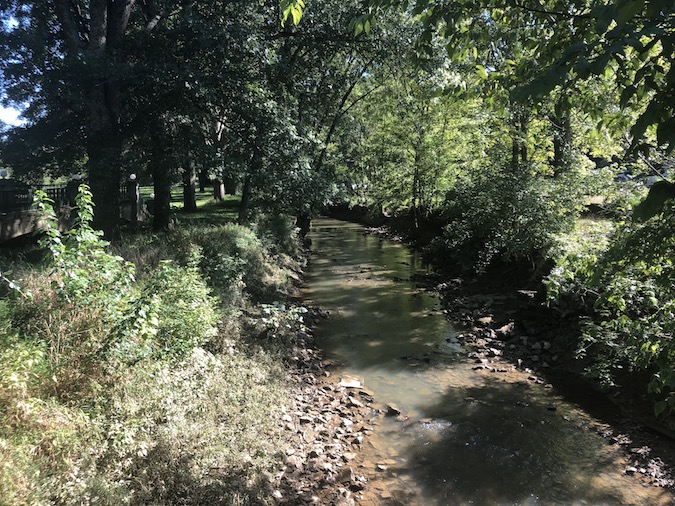 The water here has a unique color due to its mineral content. In the past, the multiple springs here in French Lick had a unique reputation as a cure-all. You could drink the famed potion or bathe in the spring water in constructed pools. The renowned spa waters treated various ailments. Whether you had backaches or diabetes, arthritis or you're just tired, the spring waters in French Lick were to be magic! West Baden Springs Hotel bottled theirs and called it "Sprudel Water."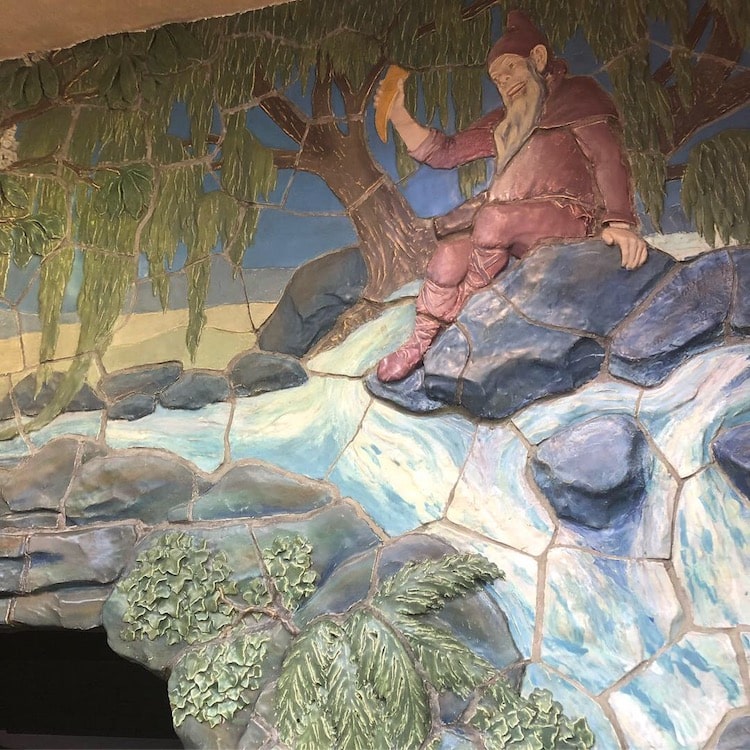 Rivals Turned Partners
And of course West Baden had a rival down the road. French Lick Springs Hotel had their own spring water, called "Pluto," with its respective mascot. Now, look closely at this happy elf. He sure looks awfully happy. Well, there were some special secrets to this magic water. First of all, it was high in magnesium which would make those with irregularity get things moving again. And then, it contained high levels of lithium, which is now used today for treatment of depressive disorders. While the two hotels once were rivals, today they are both owned by the same corporate entity and called "French Lick Resort."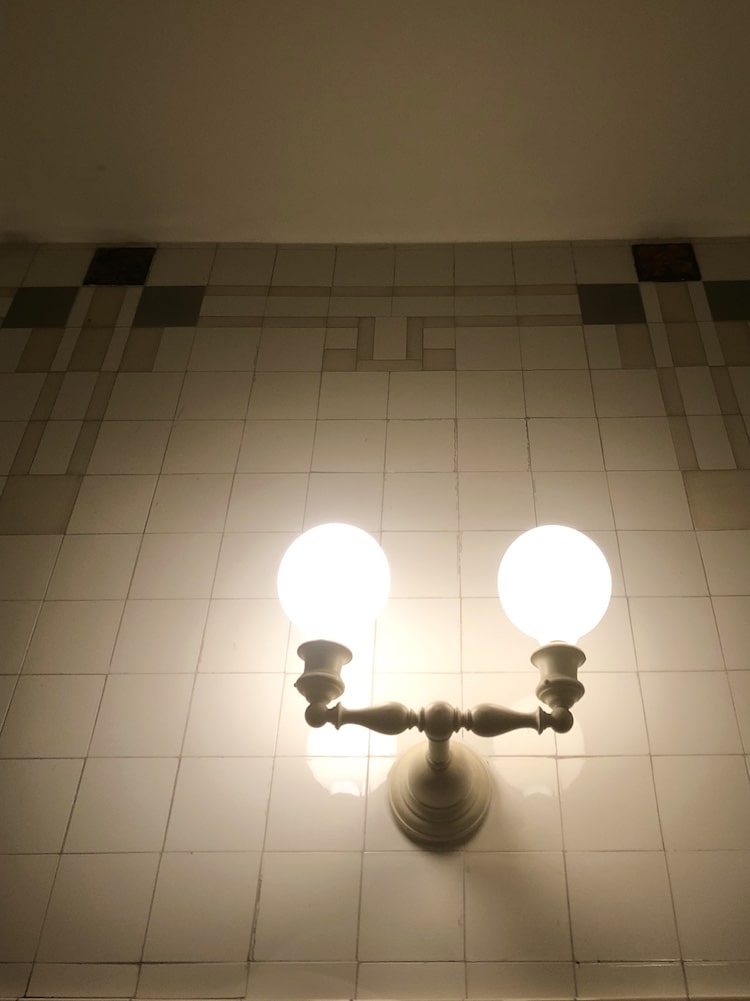 Our tour at West Baden took us around the flower-filled gardens, and our tour group saw former pools with columns and mosaic tile work. The tour took us inside the historic barber shop, now a little museum. Architectural details like these tiles and lighting fixtures make me swoon!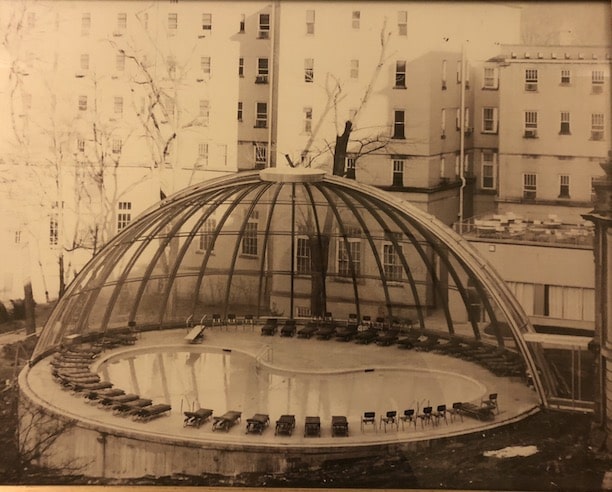 In its many iterations over history, these hotels boosted a variety of things to do, from casinos to baseball to bicycling. The French Lick Hotel was bought by Sheraton in the 50's, and while the remodel may have destroyed some of the very cool historic architecture, the design of the midcentury-style swimming pool is one of the coolest I've ever seen! It's kidney-bean shaped, and had a glass dome that could be opened or closed.
Activities Around French Lick
After our tour, Erin and I grabbed a drink at the bar, which is located right in the atrium. Some kind of a conference was going on. A lot of people looked like they might go golfing (which is indeed an activity option). We ran into a couple several times around various areas of the resort, and due to the woman very blatantly avoiding eye-contact with us, we also surmised that French Lick Resort could be a good Chicago getaway if you don't want to run into people you know, if ya know what I mean!
You can take a historic train car from one hotel to the other. Actually, it's a trolley car from 1930. I love the smell of old wood and wood oil!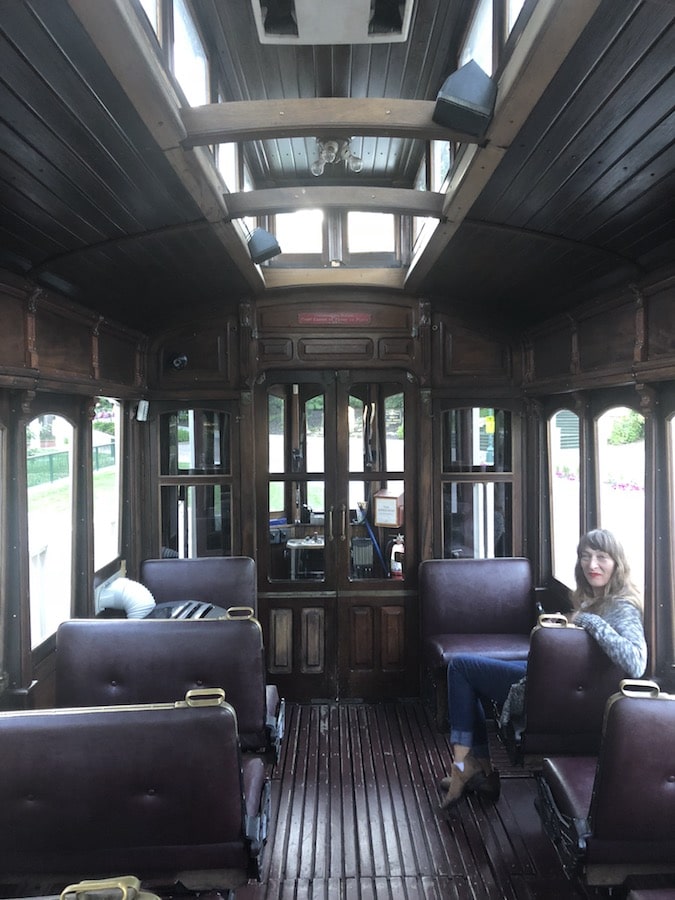 We stayed in the West Baden Springs Hotel, and the rooms provide excellent views of both the glorious architecture of the atrium and people-watching. At night, the massive dome looks even more dramatic. It's not hard to imagine that circus performances happened underneath these steel trusses!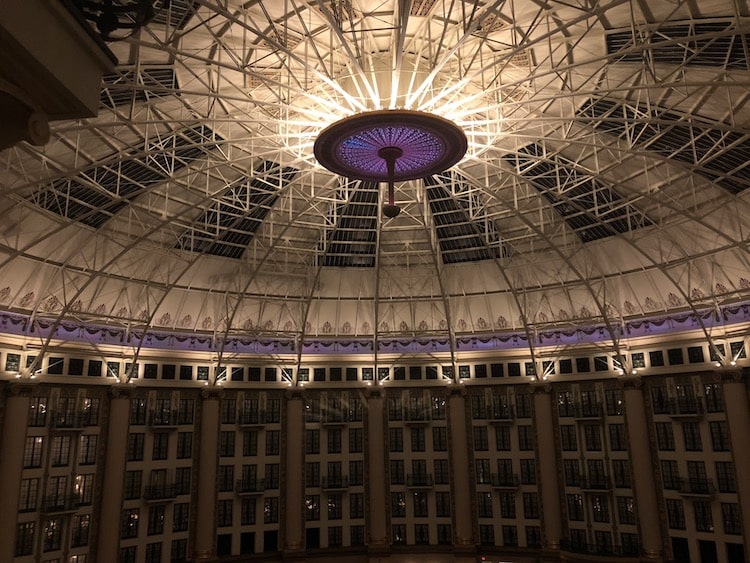 While the French Lick Resort provides quite a wealth of explorative opportunities, the historic downtown is quite cute, too. Beyond running into a log carving competition, one of my favorite things we did in downtown French Lick was eat at the kitschy, old school German Cafe'. It was both charming and delicious! Our friendly server explained to us how historically many German Catholics were in the area. Apparently, a beautiful old convent on a hill has become a grand locale for weddings. Alas, whenever you visit a new historical town, your list of architectural sites you want to visit grows longer.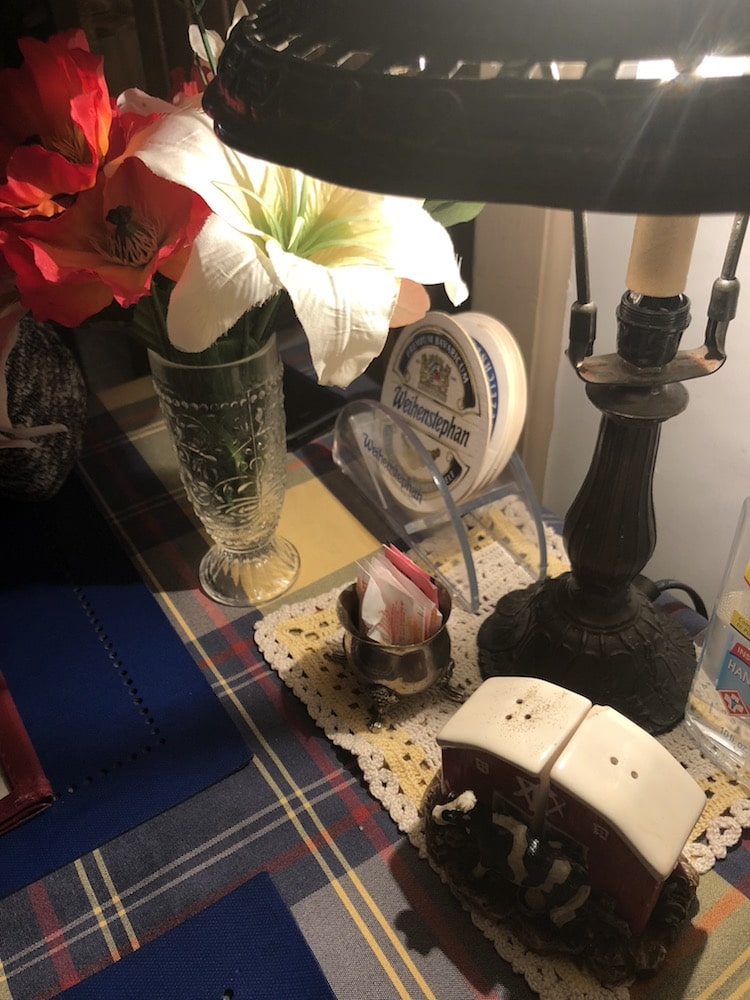 A Perfect Detour from Chicago
May is officially Historic Preservation Month and the French Lick Resort is an excellent place to celebrate. The West Baden Springs Hotel is a great example of the value of preserving our historic buildings since it actually was uninhabited and neglected in the '80s and '90s after a real estate firm bought it and went bankrupt. Its architectural renovation shows the value in preserving historic buildings.
For Historic Preservation Month, West Baden Springs Hotel has special historical exhibits, afternoon tea, and historical tours. Special for May 10-11, you can participate in "Photography Weekend" which tours the best spots for photo shoots on the grounds of the French Lick Resort and gives guidance in mastering the photographic art. Honestly any time of year would be excellent to take a road trip from Chicago to French Lick. I felt overwhelmed by the amount of hidden corners and historical stories I hope to come back to the West Baden Springs Hotel again.
—Amanda Scotese, Executive Director
ABOUT CHICAGO DETOURS
Chicago Detours is a boutique tour company passionate about connecting people to places and each other through the power of storytelling. We bring curious people to explore, learn and interact with Chicago's history, architecture and culture through in-person private group tours, content production, and virtual tours.