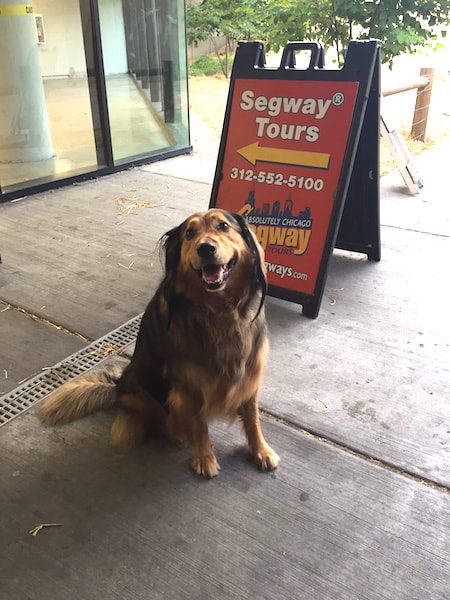 Recently, the Chicago Detours team took a night off and went on a Chicago Segway tour. It may seem more touristy than our "Detours" style, but none of us had ever done a Segway tour before. Plus, we spend so much time as tour guides, that being tour guests sounded fun.
We toured with our friends at Absolutely Chicago Segway Tours. Led by mom-and-daughter-duo of Timmie and Brittany, the Absolutely Chicago Segway office and tour starting point is beneath the edge of Millennium and Maggie Daley parks. Our Architecture Walking Tour for Design Lovers concludes almost directly overhead! We were greeted by their friendly dog named Dante. He's their office pet, welcoming us to a fun night gliding around Grant Park.
Learning to Ride a Segway
Our Chicago Segway tour started with a lesson on how to, well, ride a Segway. The basic idea is to keep both feet planted and then leave the rest of your body loose and relaxed. You accelerate by leaning forward, slow down by leaning back, and turn by leaning the handles and your body. Easier said than done, but within a few minutes we all figured it out.
I spent the first few moments riding like anything might send me flying. It's just an odd sensation to control a motorized vehicle by leaning. It lacks the sense of kinetic balance that riding a bike has A few test laps in the underground tunnels made me feel much better. Within moments, all five of us from Chicago Detours were ready to ride.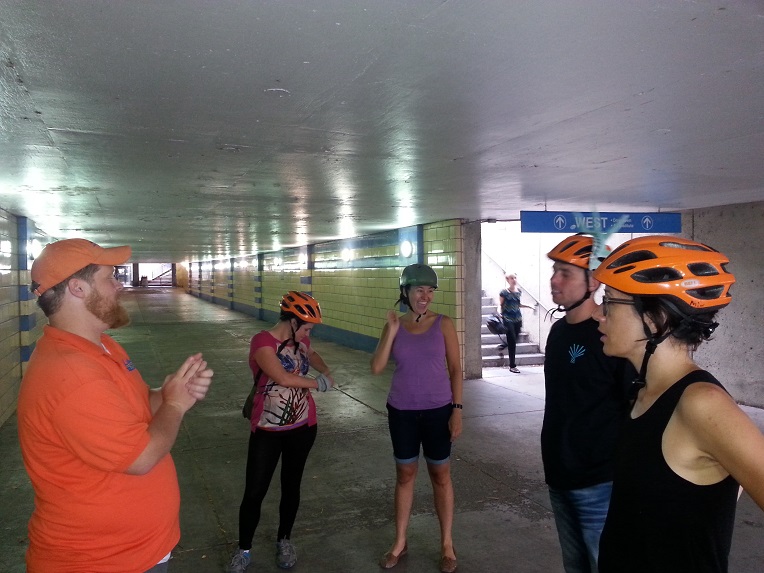 Where Do You Go on a Chicago Segway Tour?
We went on the Lakefront and Museum Campus tour. From Maggie Daley Park we went south through Grant Park, including a break for photos at Buckingham Fountain. With a few other stops along the way, it took us about an hour to get down the lakefront to Museum Campus. We took a break and climbed off our Segways in front of the Shedd Aquarium. At this point we realized that a side effect of riding a Segway is that your feet and legs get a little sore since you're using muscles you might not be used to.
That soreness comes from keeping your feet firmly planted the entire time you're on a Segway. Even when you're not moving, lifting a foot or stretching a leg could send you careening away. Our tour guide, Rusty, told us that it usually takes guides about three months to develop "Segway Feet." The Chicago Detours team is used to being on its feet for hours at a time on our walking tours, but two hours of keeping my feet planted on the Segway was brutal. It made me realize just how much I shift my weight while standing normally.
The break at Museum Campus also presented a great opportunity to take some photos. Our tour was at twilight, so the downtown Chicago skyline was beautifully back-lit by the setting sun throughout the first half of the tour. We're downtown at night all the time for our evening tours, like the Historic Chicago Walking Bar Tour. But since those tours mostly stay indoors, we rarely see the skyline it from a distance. The views alone made the tour worthwhile. Also, only serves to reinforce why we take folks to Museum Campus on our Detour 101: Chicago Highlights tour.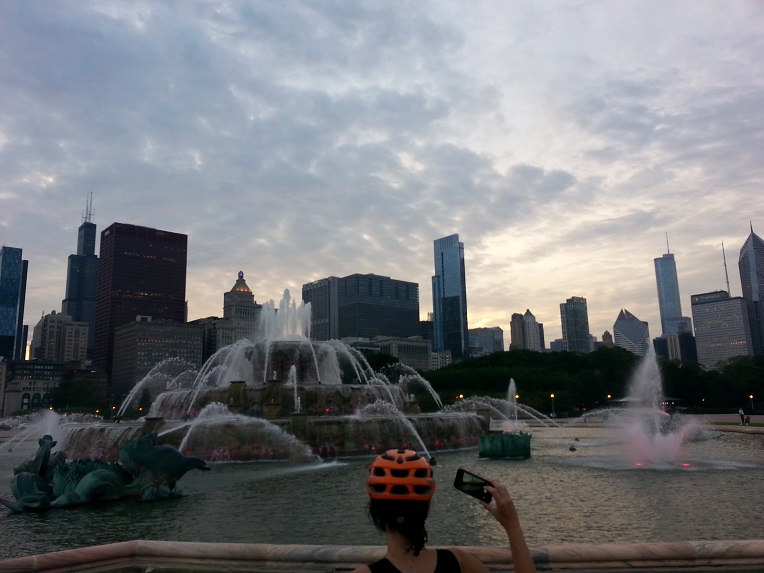 Navigating Traffic on a Chicago Segway Tour
After our little tour break, we made some stops around Museum Campus before turning back to the north. The navigational differences between riding a Segway and walking really became apparent as we careened down the big slope that connects Museum Campus to the tunnels below Lake Shore Drive. Our top speed was only about 10 miles per hour, but it feels like the speed of light when you're zooming downhill past pedestrians and joggers.
In hindsight, I was probably just overthinking, especially since our group attracted plenty of stares from passersby. It's hard not to notice six Segways as they whir past in a group. Several folks shouted or pointed at us while we rolled through the park. Near the skatepark, a young skater couple spotted us and burst out laughing. I joked with Pawel that his Statue of Liberty helmet must have made him look like the coolest person around.
Wrapping it Up
We paused the tour at the haunting Agora sculpture which dominates the park's southwest corner. The work is a forest of 106 pairs of legs made of iron by the Polish artist Magdalena Abakanowicz. It's based on her experience of being a young child in concentration camp during the Holocaust. Her primary visual memory was seeing the legs of the grownups in the camp. Most of them, of course, were walking towards their doom. Hauntingly, the installation is designed to rust and will eventually disintegrate into dust – just like human memory.
By this point, it had been more than two hours since we started learning to ride the Segways, so our time was up. We zipped back up Michigan Avenue to Congress, where my overzealousness at my confidence with the Segway caused me to nearly collide with our Executive Director, Amanda. I avoided it though! Turns out, it's hard to lean back to slow down while you are on an incline.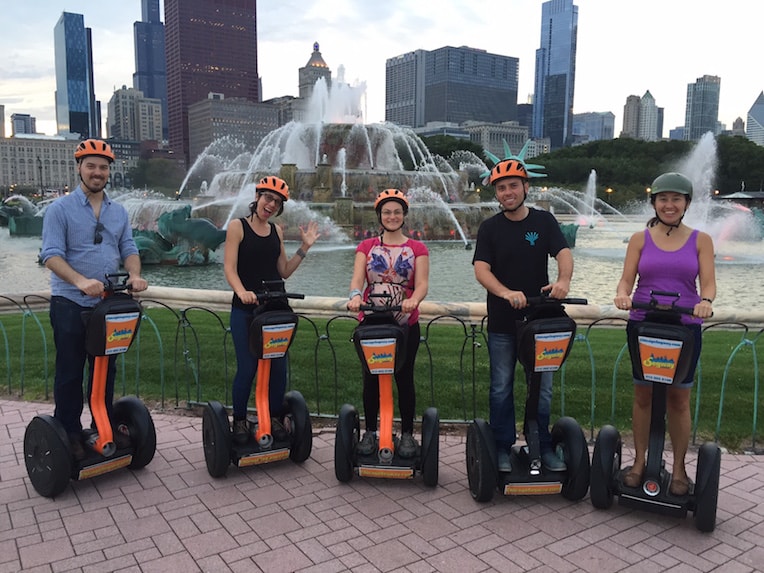 Having luckily avoided a crash, we shortly arrived back at Absolutely Segway and disembarked. After thanking Rusty we headed back up to the street. In a brief discussion, we agreed that our Chicago Segway tour had been a really great time. Before the outing, my biggest association with Segways was laughing at the sight of them because of memories of GOB from Arrested Development. But our Chicago Segway tour proved to be a wonderfully quick way to explore the city and glimpse its beautiful sights. I'd highly recommend it as a compliment to a Chicago walking tour, but of course we are biased!
-Alex Bean, Content Manager and Tour Guide