Chicago has tons of incredible museums. Tourists flood the big ones on a daily basis. But Chicago has so many museums to offer beyond the goliaths at Museum Campus. Last month, with the Chicago Tour-Guide Professionals Association, I got to take a guided tour of a lesser-known Chicago museum, the Pritzker Military Museum and Library. It's located at Michigan and Monroe, only blocks away from where our Loop Interior Architecture and 1893 World's Fair Tours conclude. The experience was a very pleasant surprise.
What's in a Military Museum?
My initial bias was that a military museum and tour would be a stuffy talk of war heroes and pro-military propaganda, so I had prepared to hide my yawns. Instead, the museum tour was filled with fascinating and contemporary history. The displays of art and artifacts can be appreciated by anyone – not just people who geek out about our armed forces. Long time member of the museum staff and our tour guide, Paul Grasmehr, explained that the museum's focus was on the "citizen soldier," otherwise known as an average soldier, which helps make the museum so approachable.
The first stop on the tour was an exhibit entitled, "American Icons of the Great War." Colonel James Pritzker, who founded this Chicago museum and library in 2003, acquired an extensive collection of military artifacts from family generations past that includes original propaganda posters from WWI, some of which are on display in this exhibit. Each poster depicts one of many iconic American commercial symbols, such as the Doughboy, Columbia, or the Christy Girl. The exhibit has clear explanations of the history behind each symbol.
Our guide also shared additional and unexpected stories. My favorite was about Uncle Sam. The image of Uncle Sam has been recreated numerous times and most famously by James Montgomery Flagg for his posters from WWI. What I found so interesting was that Mr. Flagg also used himself as the model for Uncle Sam which immortalized him as this great symbol of American patriotism.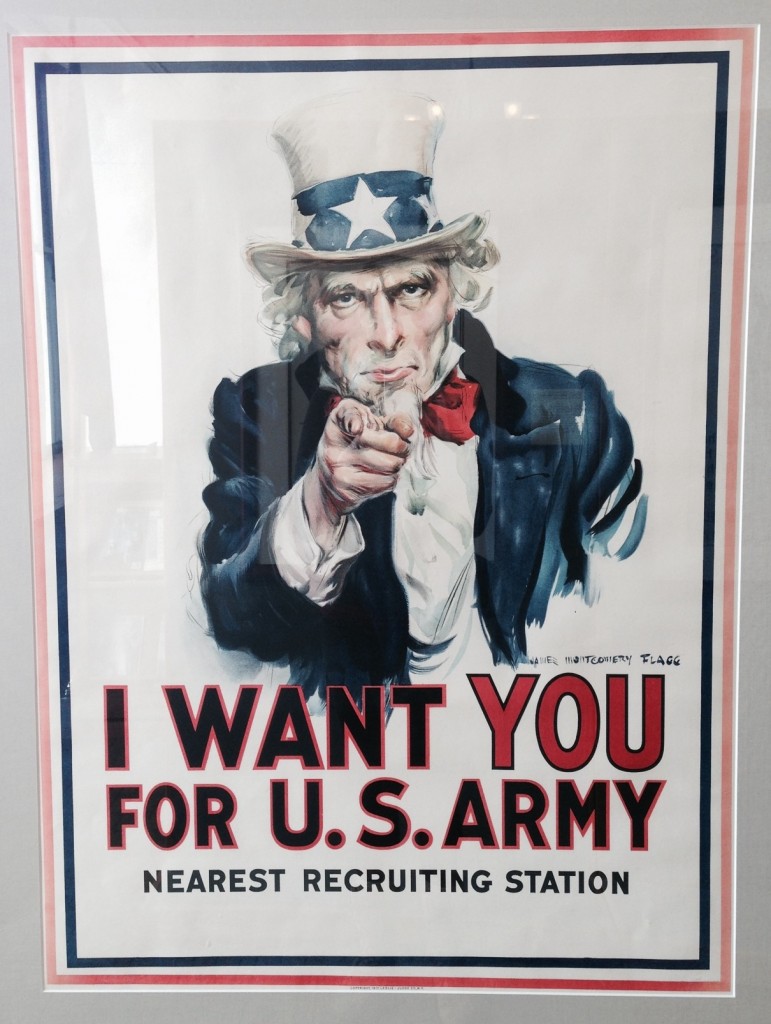 Touring the Pritzker Military Museum and Library
On my guided tour, I also enjoyed listening to our guide, Paul. He shared personal stories of individual soldiers that helped connect you with the lives of these everyday heroes. I'll never forget the story of a soldier who was shot and continued to fight, shoeless, for six hours in below-freezing temperatures! This Chicago museum's collection and exhibition of these military stories is quite impressive. The Pritzker Military Museum and Library also has a state-of-the-art auditorium and sound booth. Here the museum records interviews with veterans as well as medal of honor ceremonies, which are special events open to the public.
Despite the name, this Chicago museum displays far more than just oil paintings and dusty books. I loved the cool, old military-inspired comic books and Walt Disney cartoons. You can even check-out and play military-themed board games right there in the museum. You can also browse the Pritzker's collection of military propaganda posters for sale as a souvenier. My favorite military poster was this one that promotes "Eat More Cottage Cheese."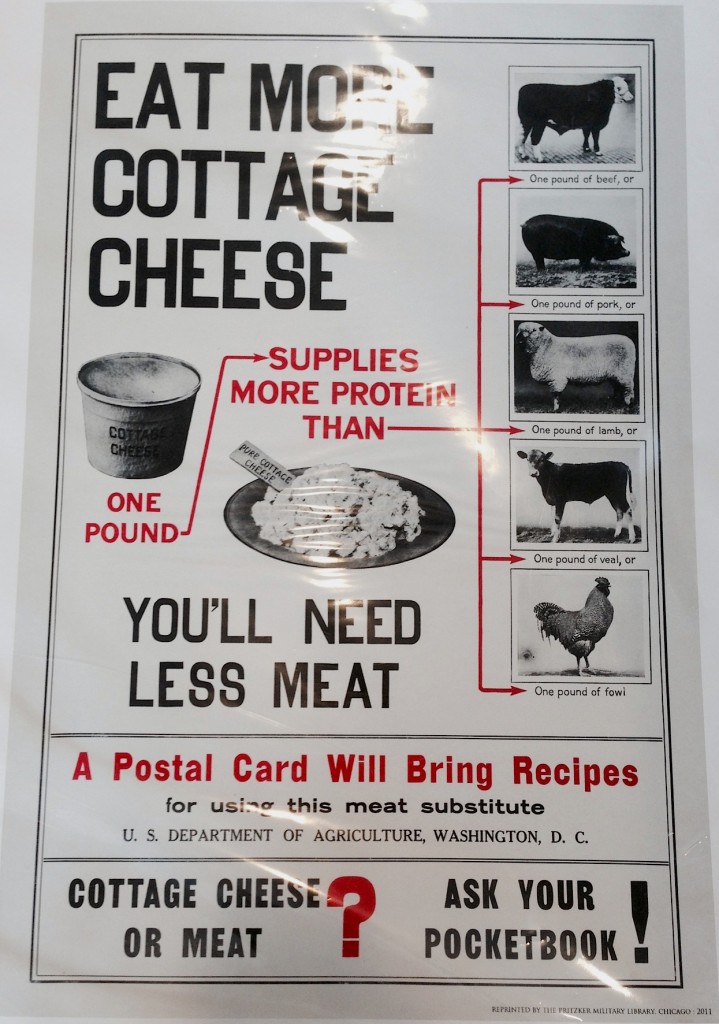 And then to top it off, the building itself has some great Chicago history and architecture. Known as the Monroe Building, it was completed in 1912 by Holabird and Roche. The penthouse was once home to Frank Lloyd Wright's studio. Colonel Pritzker has lovingly restored the entire building, including the opulent lobby. Terra cotta tiles from the first female-owned manufacturing company, Rookwood Pottery, cover the lobby. A free exhibit in the lobby shares the story of the recent architectural restoration and the lobby's terra cotta tiles.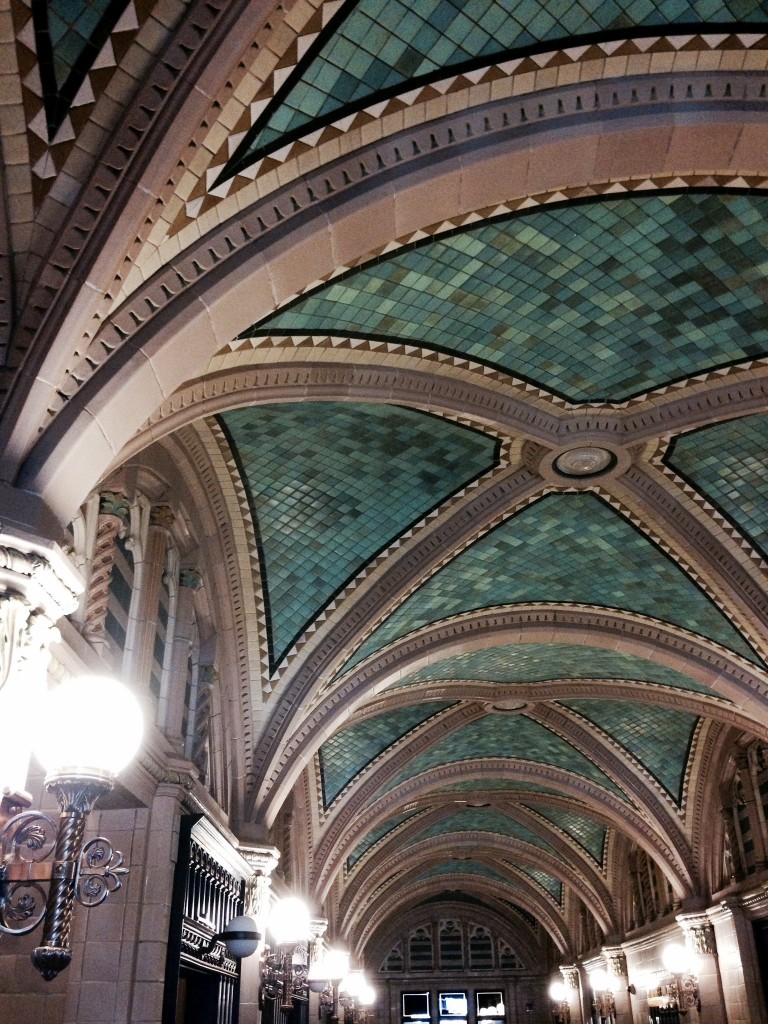 The Pritzker Military museum has so much to see here for only $5.
—Jenn Harrman, Tour Guide