Chicago deep dish pizza is our city's most famous culinary creation, but layers of mystery and uncertainty shroud its origins and early history. It's rather like the myriad layers of a stuffed pizza, now that I think about it! Traditional thin-crust pizza has been around since at least the 1800s, but Chicago's unique spin on the Italian classic arose only in the 1940s.
Who was the culinary genius who first baked a pizza in a deep dish, filling it up with chunky tomato sauce, gooey cheese and loads of toppings? Three different men claim to have invented Chicago deep dish pizza. Even official city historian Tim Samuelson admits we'll probably never know for sure which of these three is the "official" deep dish pizza inventor. Their competing stories are now the stuff of delicious Chicago lore.
We research stories from Chicago history, architecture and culture like this while developing our live virtual tours, in-person private tours, and custom content for corporate events. You can join us to experience Chicago's stories in-person or online. We can also create custom tours and original content about this Chicago topic and countless others.
Ric Riccardo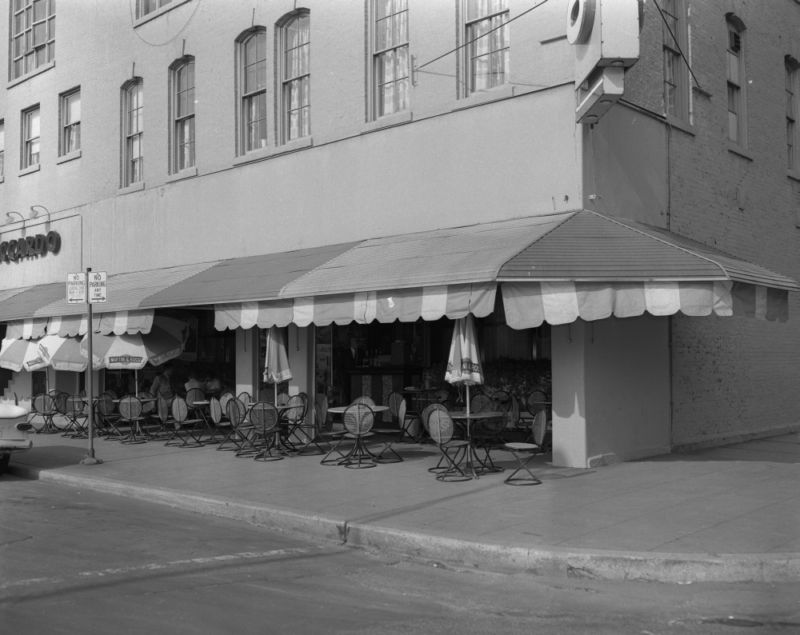 I'll start off with the restauranteur who's most forgotten these days. Ric Riccardo, Sr. opened an Italian steakhouse at 437 North Rush in 1934. That address may ring a bell for guests from our old Historic Chicago Walking Bar Tour. Riccardo's occupied the building which had previously been Bert Kelly's Stables, an early jazz joint and speakeasy we visit during the tour. The steakhouse was apparently much more popular for drinking than dining. News reporters, writers, artists and visitors packed the place and lent it an air of Bohemian revelry. Greg Borzo relates that a visitor once said "I'm shocked, shocked, to find that eating is going on here."
Ric apparently did well enough to branch out beyond steaks. He bought an old Victorian mansion a few blocks away, at 29 East Ohio Street, and opened Riccardo's Pizzeria in it in 1943. Riccardo's served a new spin on the old Italian classic, with pizza baked in a deep dish with a thick crust and loaded with toppings. One theory behind this innovative new style is that flour was easier to come by during World War II shortages. So, Riccardo's thickened up the crust to make their pizza heartier. According to Borzo, Chicago deep dish pizza got mixed reviews at first. The newsmen who got soused at Ric's eventually warmed up to it though. They subsequently and started spreading the word of the new dish. That bit of help went a long way, since the restaurant, now known as Pizzeria Uno, is where Chicago deep dish pizza was invented.
Ike Sewell
View this post on Instagram

Find something you love as much as our founder Ike Sewell loves #DeepDish pizza #TBT
Riccardo's partner in this new pizza joint was a Texan named Ike Sewell. Born and raised in the Lone Star State, he had been a star lineman for the Longhorns before hopping around the country for work. By the early '40s, he had settled in Chicago to work as a sales executive for a local distillery firm. I have to imagine that he met Ric Riccardo on a sales call. The two apparently hit it off and Sewell became a partner in Ric's Pizzeria.
Sewell later claimed it was his idea to bake their pizzas in distinctly deep pans with enormous quantities of toppings. That would make him, definitively, the Creator of Chicago Deep Dish. Unsurprisingly, another employee at Ric's Pizzeria disputed Sewell's account. What's beyond dispute is Sewell's role in the eventual popularization of Chicago deep dish pizza. He managed, and eventually owned (after Ric's death), the pizzeria at Ohio and Wabash. Its continued success led Sewell to open another location a block away. The original became Pizzeria Uno and the latter Pizzeria Due. We must give credit to these venues and Sewell. It was their popularity which made deep dish a cultural phenomenon.
Rudy Malnati, Sr.
The story doesn't end there, however. The third claimant in this game of pies is the father of the famous Lou Malnati. The Malnati's patriarch, Rudy, had been Ric's bartender and worked as the manager of Pizzeria Uno for Sewell. In later years, the Malnati clan said Rudy created the original recipe for the deep dish pizza. Again there is no "smoking gun" piece of evidence – say a hand-written recipe or a photo of Malnati in the moment of creation – to prove this claim. Yet news clippings from the '40s and '50s list Rudy Malnati as the Pizzeria Uno's manager and co-owner. The evidence is circumstantial, but Malnati was clearly part of the process.
The larger Malnati clan can point to their family's continued success in the deep dish business as further proof that Chicago deep dish pizza is in their DNA. Rudy, Jr. founded Pizano's Pizza in 1991 and his brother, Lou, opened his own eponymous restaurant in the 1970s. As late as 2009, Rudy Sr.'s widow was still using her husband's recipe from the 1940s to create the dough at her son's pizza joint.
The Birthplace of Chicago Deep Dish Pizza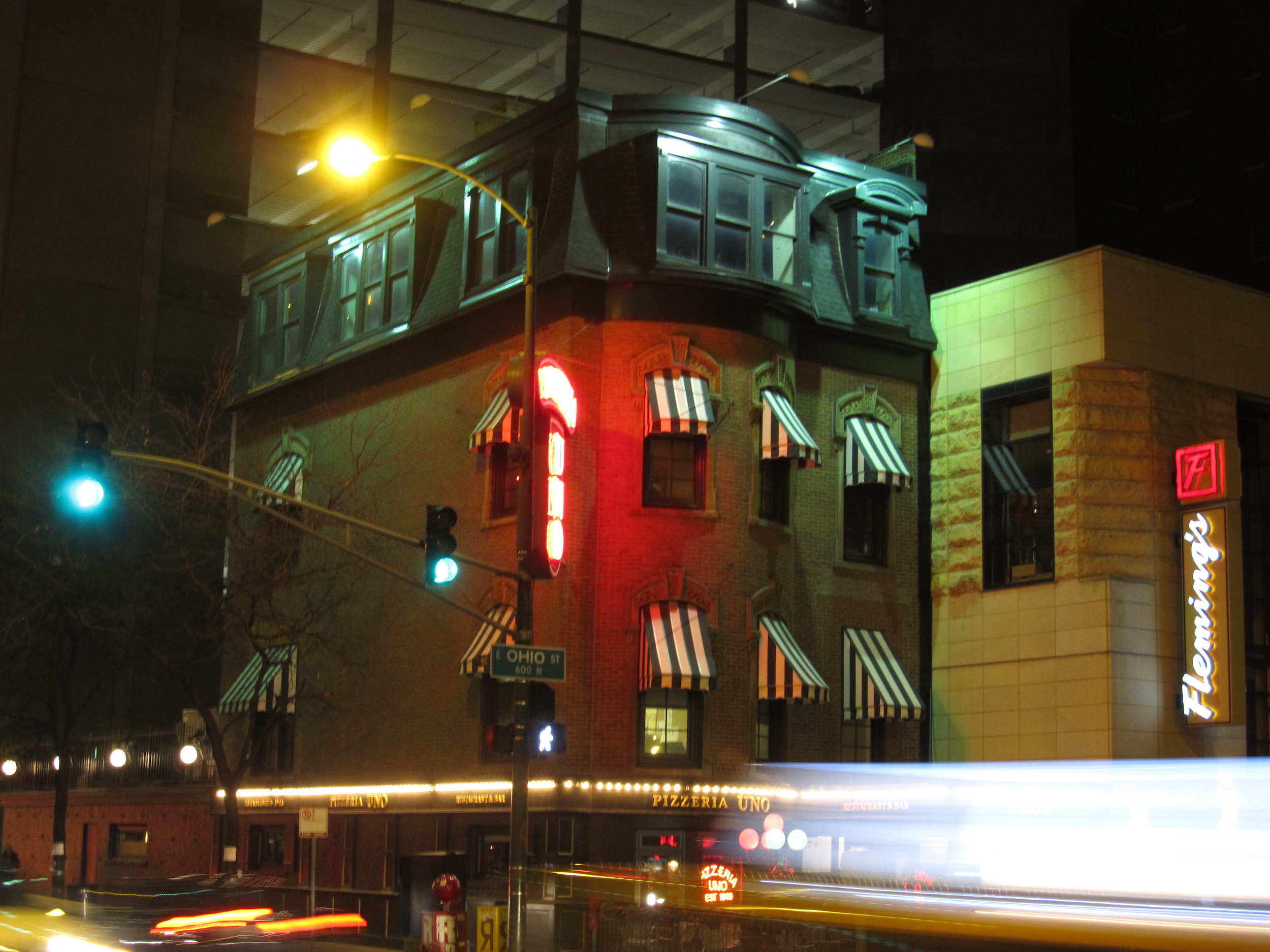 All of these claims eventually circle back to the same spot: 29 East Ohio Street. That stately Italianate house, just a few blocks from the Mag Mile, is a lingering remnant of the vanished McCormickville neighborhood. It is now one of the sacred spots in Chicago's streetscape. Here, three men from wildly different backgrounds, created our most distinguished and distinctive contribution to American dining. Regardless of who exactly invented it, Chicago deep dish is iconic and its birthplace deserves every bit of touristy fame it has received.
– Alex Bean, Content Manager and Tour Guide
ABOUT CHICAGO DETOURS
Chicago Detours is a boutique tour company passionate about connecting people to places and each other through the power of storytelling. We bring curious people to explore, learn and interact with Chicago's history, architecture and culture through in-person private group tours, content production, and virtual tours.