Andersonville is a Chicago neighborhood with a small-town feel. The neighborhood has everything you need–bakeries, theaters, bars, grocery stores, a gym, a church, and even a taxidermy store–all within walking distance! Many of these amenities are located in historic buildings, which just makes things more exciting. Of course, it's that historic architecture which I'd like to share with you.
Hamburger Mary's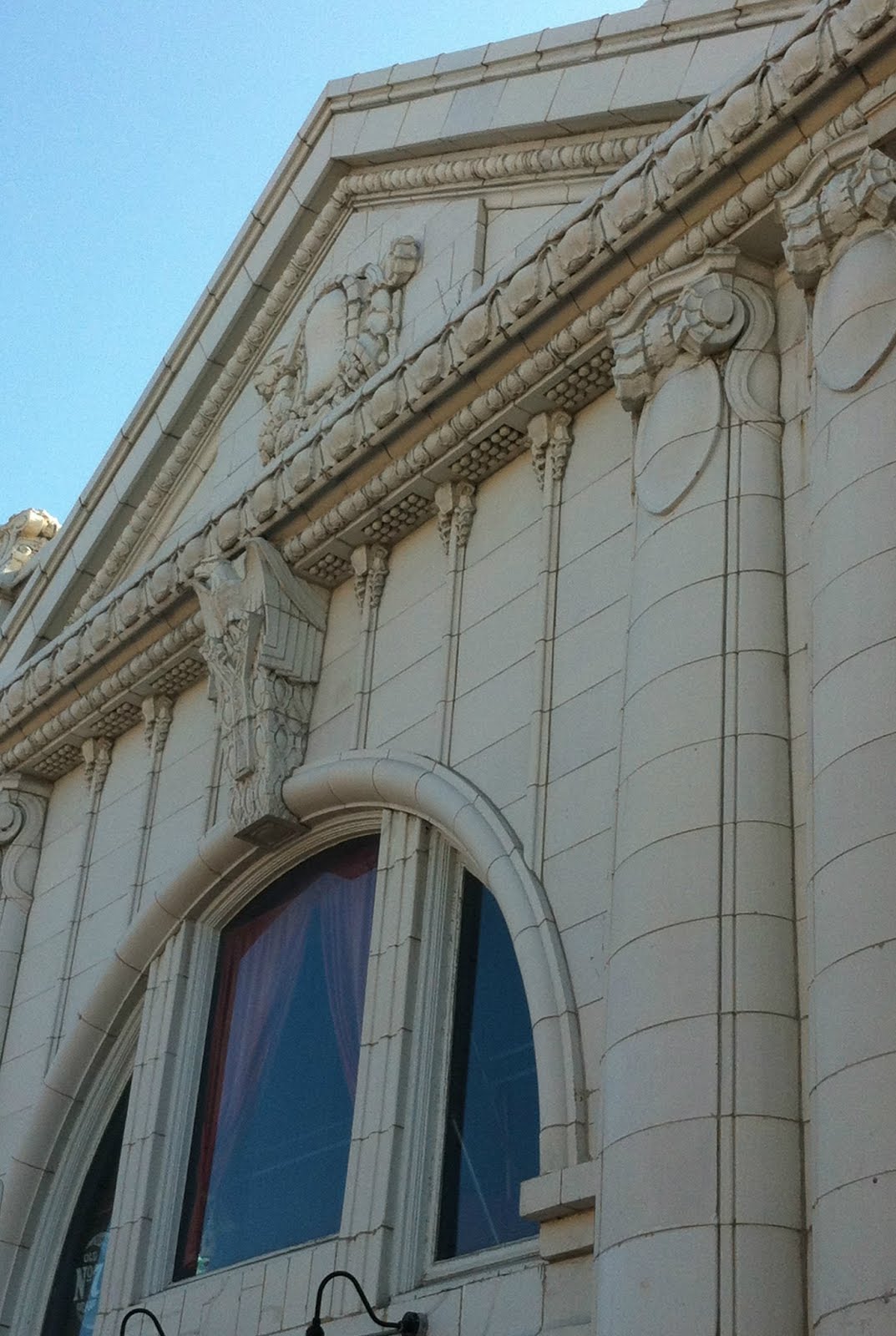 Have you ever seen a cooler home for a hamburger joint than Hamburger Mary's at 5400 N. Clark? This building was once the Swedish American State Bank Building. Its beaux-arts façade includes arched windows, pilasters, ionic columns, and symmetry that seem to say "propriety." Above the arched window in the front you may notice the eagle and the Chicago "Y", which represents the three branches of the Chicago river.
Simon's
After Hamburger Mary's, enter Simon's bar for some afternoon whiskey–I mean coffee! I stepped into Simon's for my, er, very important research. It originally opened in 1929 as the "NN Club," a speakeasy in the basement. Scott Martin, the owner, gave me a personal tour of the of the bar, including its former-speakeasy basement. It was thrilling to be between those underground walls that saw so much more fun than those above ground.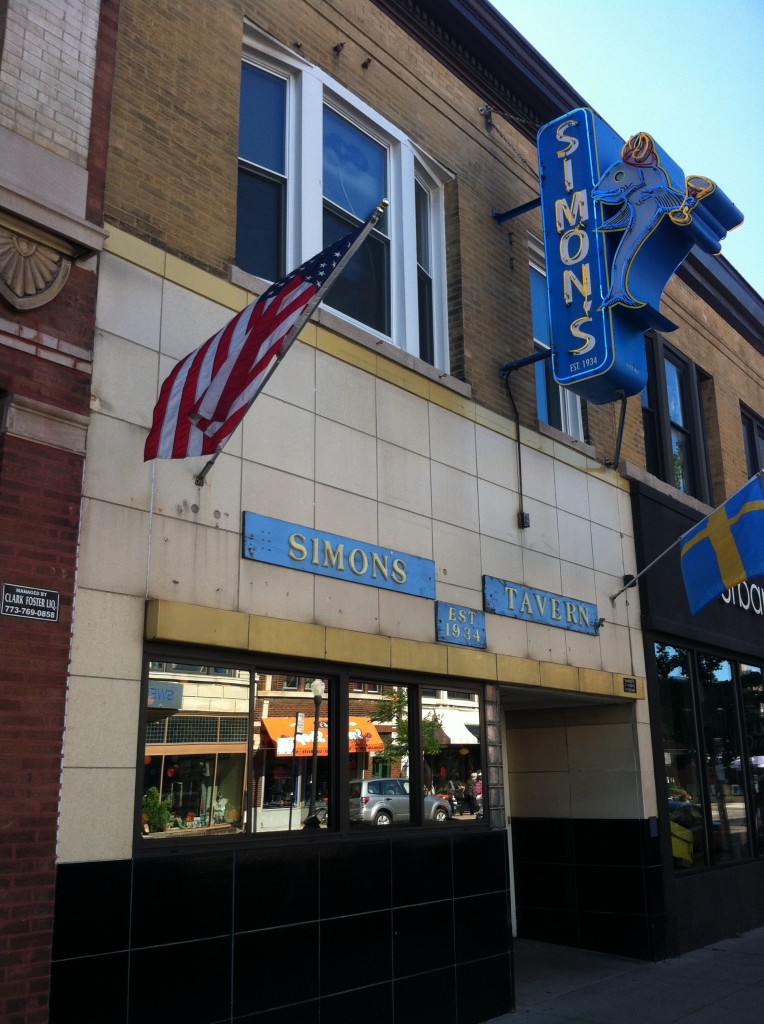 Simon's opened as a bar when Prohibition was repealed in 1933. At that time the SS Normandie was being built in France, and Simon Lundberg, a Swedish immigrant, modeled his new bar after his vision of the bar on the ship. The entire bar is edge-less, rounded wood, like it would be on a ship for safety, in the Streamline Moderne style. Even before I had my whiskey–I mean coffee–I felt like I was sailin' at Simon's.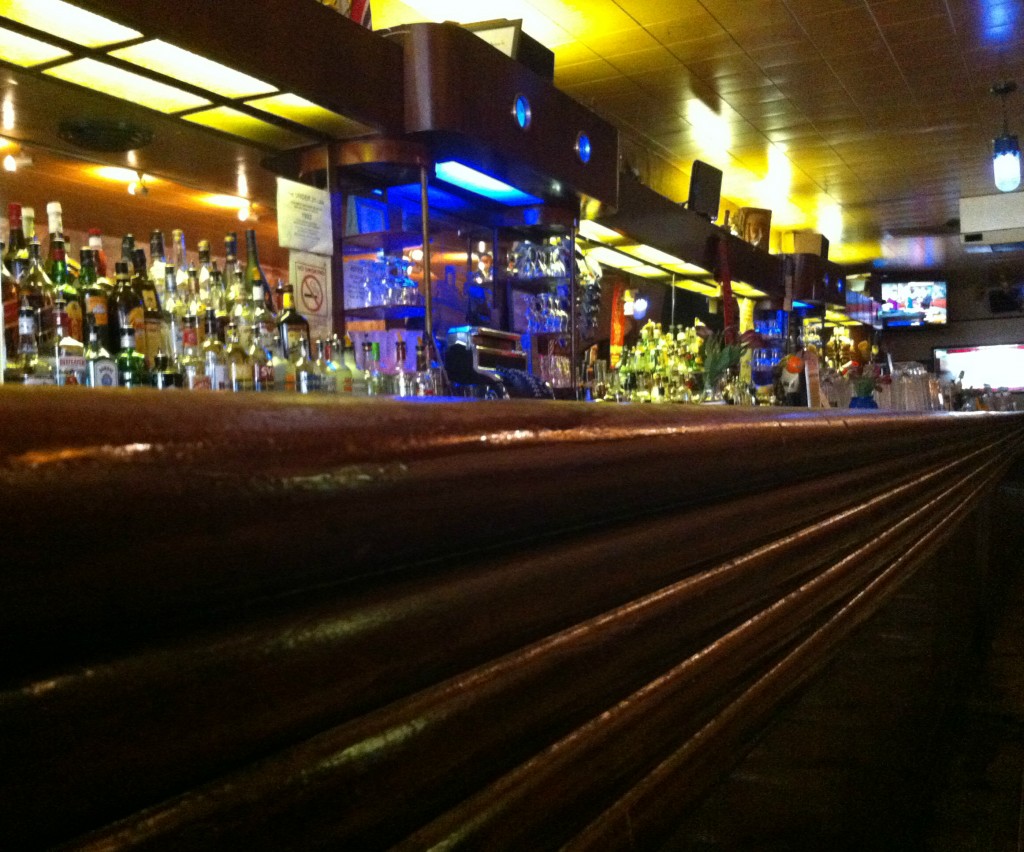 More Fun Stuff in Andersonville
Some Simon's Tavern patrons from the suburbs have called Andersonville "Mayberry," with "the usuals" walking their dogs and "the regulars" sitting at cafes. But wait, how can a city neighborhood feel more small-towny than the suburbs? The proximity of all of one's activities and everyone walking means all kinds of contact with people and unexpected run-ins. On my wanderings for this blog post, I met one of my favorite bloggers (who also happens to be a historic preservationist) along Clark St., and I spotted my high school history teacher while relaxing on a bench eating pastries from Swedish Bakery.
Other cool things to check out in the neighborhood include The Neo-Futurists, Wooly Mammoth Antiques and Oddities, and Kopi Cafe & Jalan-Jalan Boutique. And for out-of-towners, send them to the Andersonville Guesthouse, a boutique hotel.
But me, I'll have another whiskey–er coffee–to toast the preserved historical buildings, sidewalks, and benches that enhance the Andersonville neighborhood!
—Klaudia Siczek, Editorial Intern