This late February heat wave has me itching to go outside and explore the incredible architecture of Chicago and its surrounds. And the Chicago Detours ethos encourages going off the beaten path. So I set myself the challenge of tracking down notable architecture in Oak Park that goes beyond Frank Lloyd Wright.
Obviously, the pioneer of the Prairie School had a huge influence on Chicago's neighbor to the west. His home and studio is located in Oak Park and he designed many other buildings in the city. In the whole scheme of architecture in Oak Park, it's just not right that Wright sucks up all the attention. I've compiled for you a glimpse of non-Wright highlights for your personalized tour of the architecture in Oak Park.
We research stories from Chicago history, architecture and culture like this while developing our live virtual tours, in-person private tours, and custom content for corporate events. You can join us to experience Chicago's stories in-person or online. We can also create custom tours and original content about this Chicago topic and countless others.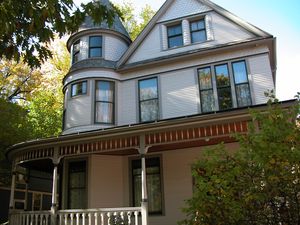 Ernest Hemingway Birthplace and Museum
The Ernest Hemingway Birthplace and Museum is more of a literary attraction than an architectural one, but it belongs in any discussion of architecture in Oak Park. The massive Victorian mansion was built for Hemingway's grandparents in 1890 and it's where he was born in 1899. The famous writer only lived there for a few years and didn't much like Oak Park.
Despite that, it surprised me that the house sat neglected for decades. The Ernest Hemingway Foundation of Oak Park saved the property in 1992. They spent nine years restoring the home to its condition when Hemingway knew it. As such, it's a sterling example of Victorian architecture on the inside and out. I have to imagine that means it's a must-see if you're into either Hemingway or bric-a-brac.
Pleasant Home
Pleasant Home is an extremely early example of the Prairie School of architecture, but it wasn't designed by Frank Lloyd Wright. His one-time co-worker George Washington Maher was the architect of Pleasant Home. Maher's design, much like Wright's homes and buildings in Oak Park, stresses horizontal lines and restrained decoration. It's a stark contrast to the heavy and ornate Victorian architecture of the Hemingway Birthplace.
Pleasant Home was built in 1897, which is four years before Wright's first Prairie School homes. Both architects were evolving towards that new style of architecture throughout the 1890's. I find it fascinating that Maher made a Prairie School house first, yet it's Wright who is forever associated with the style. Regardless, Pleasant Home is a landmark structure. It should be a must-see for anyone looking at the architecture in Oak Park.
Scoville Square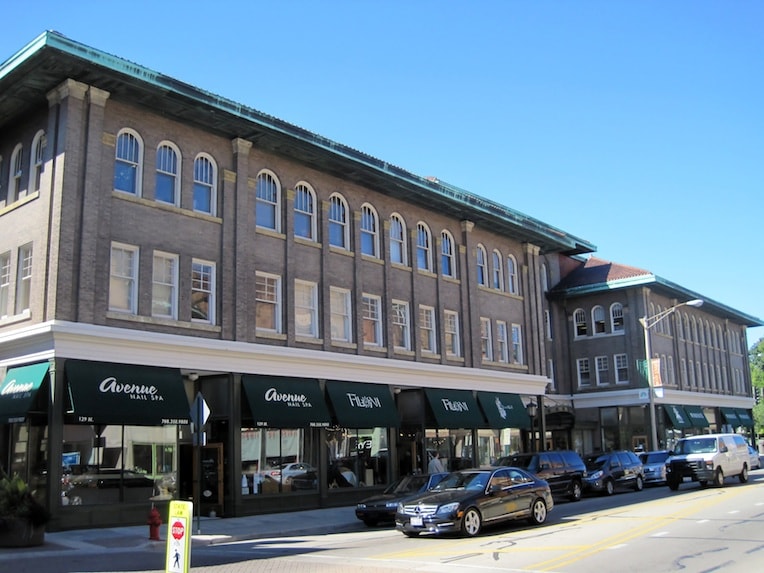 Scoville Square is a rare example of a commercial building in the the Prairie School style of architecture. Located right at the heart of Oak Park's downtown, the 4-story building dates to 1909. Much like the nearby Pleasant Home, its architecture stresses horizontal lines in homage to the Illinois prairie. My favorite part of the building is the metal and glass awning that yawns above the main entrance. This beautiful detail adds an undulating energy to the otherwise restrained facade.
The building was originally home to a Masonic Temple, along with shops and offices. After the Masons left, Gilmore's Department Store occupied the building for forty years. These days, smaller shops, offices, and restaurants have divvied up the building. I recommend finishing your walk around Oak Park at Winberie's, which is located on the corner of Scoville Square. They serve some delicious traditional American fare that will fill you up after a few hours of sightseeing.
Odds are that any tour of architecture in Oak Park will involve plenty of Frank Lloyd Wright. His work in the village is essential, no doubt. But a visit to these alternative sites will leave you with a grasp on the architecture that Wright rebelled against, copied from, and influenced at the height of his career.
-Alex Bean, Content Manager and Tour Guide
ABOUT CHICAGO DETOURS
Chicago Detours is a boutique tour company passionate about connecting people to places and each other through the power of storytelling. We bring curious people to explore, learn and interact with Chicago's history, architecture and culture through in-person private group tours, content production, and virtual tours.