A few weeks ago I signed up for an Instagram account for Chicago Detours. I had already had a personal one, which I decided I would keep to private and just use for sharing with friends pictures of things I thought are funny or curious. I didn't want to bore my friends with my obsession with all things architectural.
Now with the Chicago Detours Instagram, I can geek out about architecture and archival research all I want! We know not everyone is on Instagram, so here and there we will share our photos with our lovely blog readers and subscribers. By no means am I a professional photographer. I just find it to be a fun way to engage with Chicago architecture and play with visual stories.
For this first post, I'm going to share some pictures I took in a very iconic area of the city – the Magnificent Mile, near the historic Chicago Water Tower and the route for our Historic Chicago Walking Bar Tour.
This first one is of Park Tower, which houses condos and the Park Hyatt Hotel. The fun part about this photo is that it ends up looking more like a piece of furniture, or a piano, than a building. This 67-floor concrete skyscraper is one of the tallest non-steel-frame structures in the world. Looking up at it this postmodern monster towering over the tiny historic Water Tower, I realized something. While I often ignore the kind of postmodern-style buildings that have money-grubbing, mass-manufactured, cheesy facades (many are along Michigan Ave), some can indeed be beautiful or interesting from other perspectives. You just have to find that perspective…and put photographic filters on it!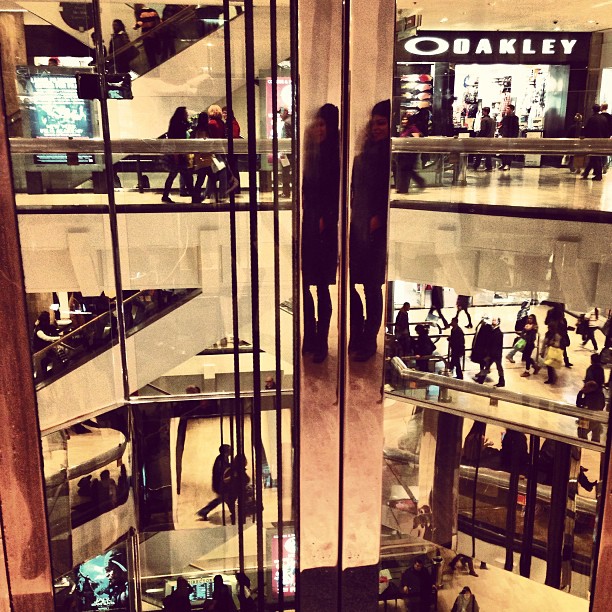 This next one isn't so abstract as the first architectural photo. Here we have the architectural interior the Water Tower Place, the shopping mall that should not be confused with the historic Water Tower in the following photograph. From this vantage point, don't the people milling around on all the different levels seem kinda like hamsters scurrying around in those wacky stacking, modular cages that kids love? Maybe I'm letting on to how I feel about shopping, and malls, especially on a Saturday! On our Loop Interior Architecture Walking Tour, actually, we address how this kind of architecture is standard in malls, and the psychology behind its design. Ok, I'm done with the blatant plugging our tours with Chicago Detours.
Anyway, visually I just found that this view of the various levels, the criss-crossing of the escalators, and so many people would create an interesting photographic image. And then on top of it all, the picture is taken through the glass of the elevators, so the reflections add a slightly ethereal quality.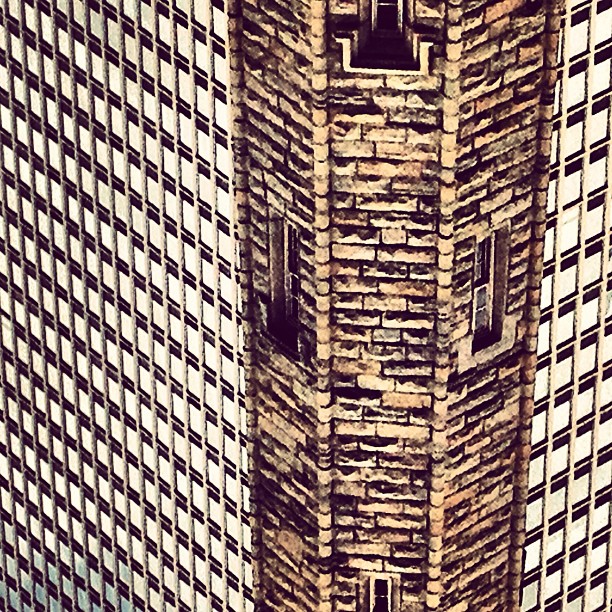 When I posted this architectural photo on Instagram, a lot of people were confused. The high contrast mixed with the matching parallel lines of the modernist skyscraper and the historic Water Tower make them seem like one unified structure. And then to make it even more confusing, I turned it upside down! This is looking northwest at the Water Tower (Walgreens on the corner of Chicago and Michigan Avenues would be behind you). I found this to be a surprising contrast of old and new architecture (okay, the modernist architecture behind it isn't so new anymore, but you get the idea!)
Any requests for a special neighborhood or architectural subject to tackle for the next post of photos?
— Amanda Scotese, Executive Director