Chicago is famous for its different schools of architecture. The First Chicago School created the skyscraper and gave our city its architectural identity. The Second Chicago School, the Modernists of Mies van der Rohe with their austere steel and glass facades, completely redefined how we think of buildings. Today, contemporary architects like Jeanne Gang blaze a path into the future. Amidst all this local innovation one can also find a unique, gorgeous fusion of local, mythic, fantastic, and global styles. Let's explore orientalist architecture in Chicago.
We research stories from Chicago history, architecture and culture like this while developing our live virtual tours, in-person private tours, and custom content for corporate events. You can join us to experience Chicago's stories in-person or online. We can also create custom tours and original content about this Chicago topic and countless others.
What is Orientalism?
The term Orientalist generally describes any European or American work which mimics the styles of Asia. Any visit to a museum or bookstore will lead to encounters with Orientalist paintings and literature. It was all the rage in the Victorian era, where young men prone to flights of fantasy engaged with stuff like The Arabian Nights.
This particular fashion faded away around the middle of the 20th century. Most academics and critics have, rightly so, looked back quite critically ever since Edward Said's landmark book Orientalism was published in the 70's. Said's persuasively argued that Orientalism "essentialized" all Asian cultures as backwards and undeveloped. That justified European and American expropriation of everything from their resources to their cultural heritage.
For our purposes, Orientalist architecture is the style which lifted straight from the historic architecture of, well, anything east or south of Italy. The five buildings we're exploring here come from very different times and were built for hugely divergent purposes. But all can get you closer to grasping the historic presence of Orientalist architecture in Chicago.
Bahá'í House of Worship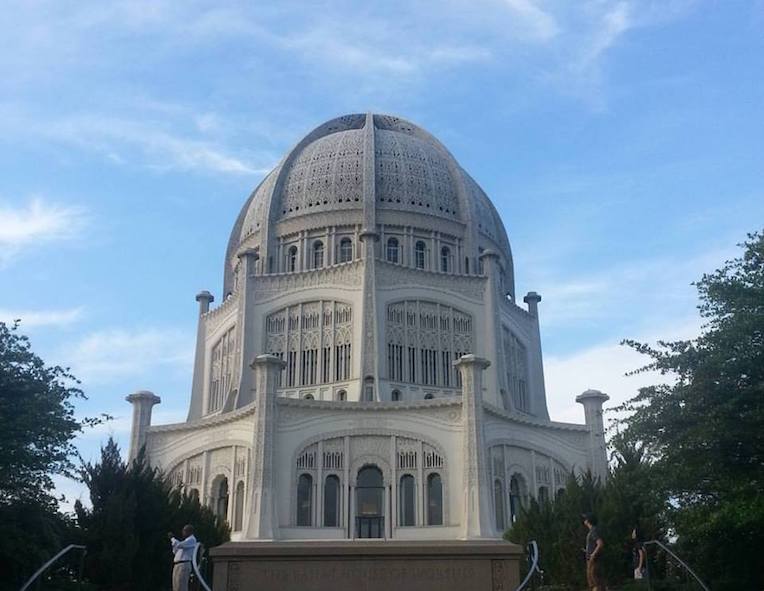 I'll admit that the Bahá'í House of Worship in Wilmette is what got me interested in this topic. I'd long been intrigued by images and descriptions of it. But photos just don't do it justice. This gorgeous pearl of a building, sitting on a grand curve of the North Shore, is astounding. It's one of the most beautiful and entrancing buildings I've ever seen.
The Bahá'í House of Worship is also a perfect example of Orientalist architecture in Chicago. (Yes, I am including suburbs in my definition of Chicago.) The temple was designed by Canadian architect Louis Bourgeois. He was a practicing Bahá'í worshipper who modeled the building on the monumental mosques of Iran and India. If it looks like the Taj Mahal, well, there's a reason for that. This imitation of the domes and delicate tracery associated with Islamic architecture makes it a prime example of Orientalist architecture in Chicago.
Oriental Theater
Theaters were among the most popular venues for Orientalist architecture in Chicago. The Rapp and Rapp architecture firm made several massive movie palaces around Chicago and often based the design on imitation European or Asian architecture. No surprise based on the name that the Oriental Theater, on Randolph in the Loop, is one such example of Orientalist architecture. The horrific Iroquois Theater fire happened on the site in 1903. Apparently the facade to the Oriental Theater looks exactly like the Iroquois, which…creepy.
Rapp and Rapp based the Oriental Theater upon the architectural styles of South Asia. You can't really tell from the exterior, which is a rather plain-looking brick-clad tower from the 20's. But step inside and the influence is immediately apparent. The lobby is an extravaganza of rich oranges, veiny marble, elaborate geometric forms, and mimic Hindu statuettes. It's a stunning space and sort of evokes the enchanting overflowing design of something like the Meenakshi Temple.
It's also a good example of how Orientalism can be so problematic. The architecture of Hindu temples is based on ancient and sacred forms. The Oriental Theater's architecture is based on taking those forms and using them to make the building feel "exotic" to its Midwestern patrons. The building says that this style only exists for your pleasure and the people who made it are, at some level, less developed.
Medinah Temple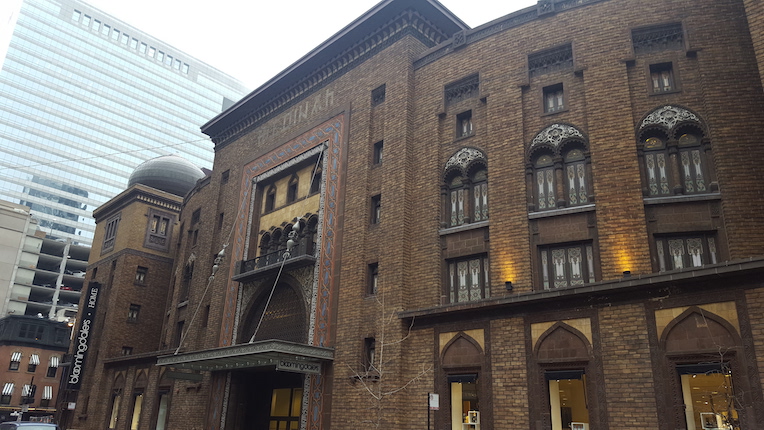 The Medinah Temple, which is a Bloomingdale's Home Store for now, was built in 1912 by the Shriners. This private groups, known officially as the Imperial Council of the Anicient Arabic Order of the Nobles of the Mystic Shrine, were famous for throwing lavish parties. Their parties and their whole aesthetic took inspiration from the One Thousand and One Nights. Generations of Victorian boys grew up on legends like Aladdin, so they naturally embraced it when building an old boys' club. Their soirees would feature men and women dressed in Arabesque costumes, outfitted with fake beards and swords, and using gibberish fake Arabic to speak. It all sounds, um, wildly racist by today's standards.
The Medinah Temple was a mix of auditorium and party center for the Shriners. The twin onion domes, Arabic script, and intricate tile work on the facade are indicative of the Moorish Revival style of architecture. It's a beautiful building, no doubt, and I've always found it an appealing presence in River North's hubub of modernity. We frequently glimpse it and talk all about the Shriners on our Downtown Bucket List private tours.
But it's got the same problems as the Oriental Theater. Both these examples of Orientalist architecture in Chicago are chimeras. They evoke the architecture and culture of other cultures without any engagement beyond the surface. Think of them as the empty calories (or Panda Express) of architecture. Delicious, but ultimately unfulfilling and inauthentic.
How Do We Feel About Orientalist Architecture in Chicago?
I'll be honest in admitting that I'm never fully sure how to approach these buildings. The traditional architectural forms of North Africa, the Middle East, South Asia, Southeast Asia, and East Asia are astounding and beautiful. I've filled my Pinterest boards to the brim with images of the Jama Majid, Taj Mahal, Angkor Wat, and Forbidden City. To see even some of these immortal buildings in person would be the thrill of a lifetime.
That, almost inevitably, leads me to feel drawn to Orientalist architecture in Chicago. They're beautiful, historic, and often (sigh) exotic in a city more famous for sleek skyscrapers. But I also recognize the prejudices and issues baked into this style. Liking these buildings, even as I know they're expressions of prejudice, always feels like I've silently consented to the creators' own prejudices.
ABOUT CHICAGO DETOURS
Chicago Detours is a boutique tour company passionate about connecting people to places and each other through the power of storytelling. We bring curious people to explore, learn and interact with Chicago's history, architecture and culture through in-person private group tours, content production, and virtual tours.