On July 1, 1872, the Chicago Tribune published a story titled "A Man Chains His Wife in a Heavy Weight, and Burns Her Mouth With a Poker to Prevent her Drinking." Woah, right? Discovering that led to me becoming intrigued by the topic of women and drinking in Chicago's early history.
Eliza Martin's husband punished her for "unfavorable activities." She stated to police that her husband "deliberately heated up a poker red-hot and burned her with it…to prevent her from drinking liquor."
Women and Drinking in Early Chicago History
Women generally did not patronize saloons before prohibition. But women could have patronized most drinking establishments if they'd so chosen. Of course, no respectable lady would be found there. These beer-swilling women were of the working class. During the late 19th century and early 20th centuries, saloons were mostly patronized by male wage-earners. Some saloons had a side door known as the ladies entrance. These were inconspicuous and didn't require women to be seen by men. Plus, it gave them quick access to drinks.  Through this door passed many working-class women: alone, in groups, or with a male escort. Most of these women were either wage-earners or the wives and daughter of wage-earners. Despite the public presumption, very few were prostitutes. They were to be found in distinct slum districts.
Similar to the women's societies of the upper class, the saloon provided an outlet for lower class women to socialize outside of the home. Another popular attraction at the saloon was the free lunch. Purchase a five cent drink and the lunch was free. Ladies didn't go to the bar to get sauced – they went to have a good time and step away from doing dishes, mending the kids' clothes, and the like.
Women and Drinking On-the-Go
Women could also get liquor to-go, making drinking a mobile affair. They brought in containers of any size, and the bar keeper would fill it to the brim with beer for five-to-ten cents, the price of a pint. With this "brew on the run," these women could drink beer wherever they wanted: on tenement roof tops, stoops, and court-yards as well as in city parks, alleyways, and waterfront wharves. And of course, remember we are talking about the working class. Women of the higher classes wouldn't be caught dead drinking beer out of a jug in the park.
Things changed during the period of Prohibition. As drinking became exclusive, people wanted to do it even more. This period coincided with all kinds of new freedoms for women of all classes, such as suffrage. And these women also sought the freedom to drink a little moonshine or Planter's Punch.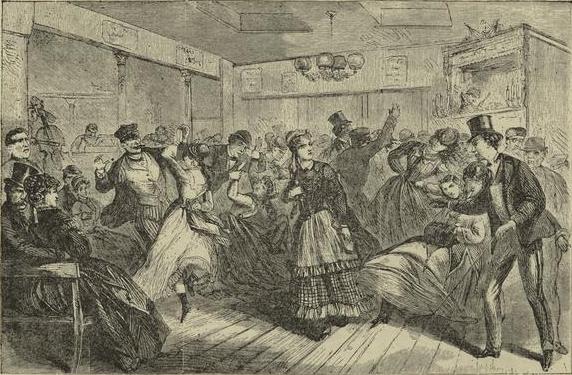 To learn more about women in public spaces of Chicago around the turn of the century,  try our previous post, entitled "Chicago Women in History: Alone at Last." Chicago bars have become places filled with Chicago history, and you can explore tales of drinking, jazz history, and social clubs on our Historic Chicago Walking Bar Tour. It's more then a pub crawl – on this walking tour we get to look at very cool examples of architecture, dig into some untold stories from history, and indulge in tasty appetizers, too.
~Brian Failing: Research and Collections Intern