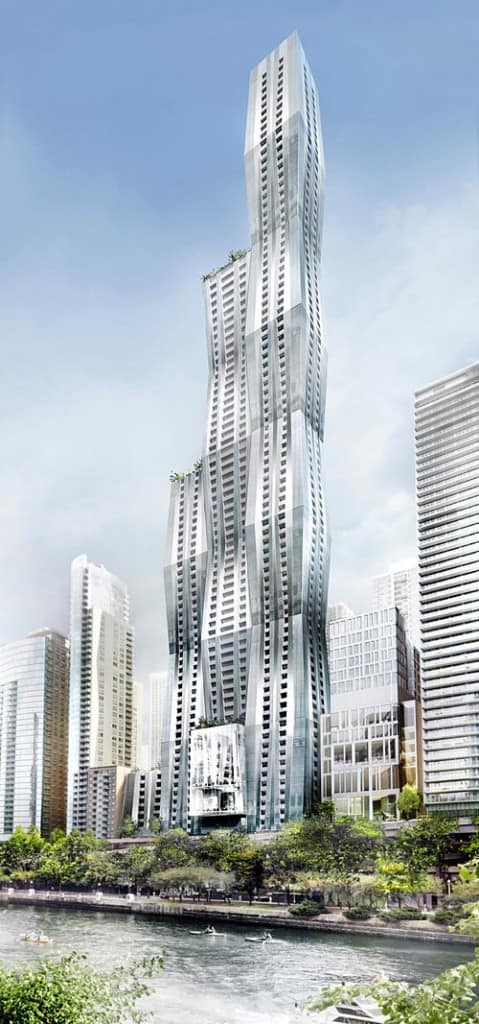 Chicago is still buzzing about the upcoming Vista Tower on the river at Lakeshore East. The news was met by a chorus of praise and some significant doubts. Sure, $900 million is no joke, and 500 new jobs is nice. But certain patterns of risk and success emerge if you look at the history of some other famous Chicago buildings. Let's start from the top.
We research stories from Chicago history, architecture and culture like this while developing our live virtual tours, in-person private tours, and custom content for corporate events. You can join us to experience Chicago's stories in-person or online. We can also create custom tours and original content about this Chicago topic and countless others.
1. It's Super Tall and Visually Connects with its Surroundings
Vista Tower, designed by Jeanne Gang and reaching 1,148 feet, will be the third tallest building in Chicago when complete. At that height, the Vista is just a smidge taller than the Aon and John Hancock Centers.
Sears – I mean "Willis" – Tower, at 1,451 feet still holds pride of being highest. No one wants to see it trumped. Speaking of which, number 2 in the lineup is Trump International Tower. 1,389 feet if we include the "spire" on top, a mere 1,170 without it. At one time, it was planned to be the tallest building in the city. Then September 11th happened, and now it's more humble.
The Vista project looks to the success of the Trump Tower. That recent supertall as it also fronts the river near the proposed Vista location. Visually, it serves as both a focal point along the Chicago River. The stunning effect of carefully planned setbacks visually tie the tower with long-standing icons like the Wrigley building. It just works, though not by chance.
A Grand Setting
The Vista Tower will be right across the river, framing the same entryway to the city center. Everyone arriving on boat or crossing the bridges shares that view. The artist renderings give subtle clues about where visual breaks will occur in Vista's immense height. The undulating series of polyhedra appear to match existing sight lines in much the same way. This stretch of the Chicago River is our Grand Canal – our teeny, tiny Thames – and for years it's been haphazardly populated with a replica of New York's Rockefeller Center here, the rude elbow of Chicago Booth's Gleacher Center there.
Lake Shore East, which we explore on the Architecture Walking Tour for Design Lovers, has grown quickly. As of yet nothing exists to tie the north and south banks together in any meaningful way. All you see beyond the boat slips and RiverWalk are the ramps of Wacker Drive. The sheer height of Vista should visually connect the riverfront to the sentinels of Willis, Trump, Hancock, and Aon when viewed from afar.
The long-standing fame of the Willis Tower, once the world's tallest building, also relates to the planned Vista, as it, too, is made of a bundle of separate towers of differing heights – a method that was revolutionary in 1973 when the former Sears Tower was completed, but has grown and mutated since. Fazlur Rahman Khan's "bundled tube structure" has been re-interpreted in almost every shape imaginable, but now Jeanne Gang has hold of it.
2. Vista is Designed by Jeanne Gang
Which brings us to the star attraction: architect Jeanne Gang. Aqua was shortlisted for just about every design award a building can win. It also did the unthinkable: it legitimized the Lake Shore East development project. The area is now architecturally interesting, relevant, and progressive. It broke down resistance to the cost-effectiveness of sustainability in large construction processes. And it gave everyone in Chicago something to point out to visitors and Rave About again.
That Aqua succeeded while markets crashed and other projects failed was surely not lost on the developers of Chicago's Magellan Group, who are largely responsible for developments in this area. The final grisly death of the plans for the Spire taught a lesson. Any new daring architectural stars are going to have to get along with their surroundings. Rather than isolated towers buffeted by wind, at odds with their neighbors, and offering nothing in terms of benefits to residents already here, any new project in Chicago must step up and multitask. Happily, that's something Jeanne Gang has mastered with a comfortable margin.
3. The Chinese Developer For Vista has Buko Bucks
Enter the Dalian Wanda Group, led by Chinese billionaire Wang Jianlin. He is the richest man in China, he owns AMC Entertainment (the world's largest chain of movie theaters), and he built a tiny mock-Hollywood in Quingdao. He also runs one of the largest real estate development companies in the world. While other developers have crashed and burned here in Chicago, Dalian Wanda has financed entire new cities in China.
All of this feel-good exchange of goods and services was made possible by newly "unclogged" trade relations between the U.S. and China, and oddly, the City of Chicago and China. Thanks to the efforts of a group known as World Business Chicago, and initial friendly overtures by former Mayor Richard M. Daley, business leaders from eight Chinese cities signed on as partners of Chicago back in 2013, and finally came to look the place over this past December. Wang was the leader of the delegation and the first to sign on that magical dotted line.
In Conclusion
We like to think Chicago thinks big. The legacy of Mayor Daley the Second is writ large on the lakefront. Millenium Park, Maggie Daley Park, Northerly Island, and Lake Shore East are all from his efforts. Now this new mixed-use development will connect Aqua, Lake Shore East's most famous address with the riverfront. Vista will straddle a tiny side street connecting the new residential areas of the Loop. That zone features condo space, hotel rooms, and 9,000 square feet of shopping. While no firm plans of the underground space are available yet, it's a good guess that a Jeanne Gang project will always connect to the Pedway if possible – and now that the Pedway connects the Loop to the Lake Shore through Millenium Park, it would be crazy not to expand it farther.
Retail, restaurants, residences, and a hotel will all take full advantage of the views. This is exactly what was supposed to happen at Block 37, if you recall, but this time nothing was torn down until the money was secure. This plan connects a popular, yet respected home-grown architectural talent with what appears to be secure funding. The Vista hearkens back to the heyday of Chicago architectural achievement. It also attempts to visually match the space, while offering more than just height to the people of the city. All in all, it's a pretty hopeful plan.
— Vicki Rector, Tour Guide
ABOUT CHICAGO DETOURS
Chicago Detours is a boutique tour company passionate about connecting people to places and each other through the power of storytelling. We bring curious people to explore, learn and interact with Chicago's history, architecture and culture through in-person private group tours, content production, and virtual tours.