How do you prepare for record-breaking cold amidst a Chicago polar vortex? While we love adventuring in Chicago on walking, bus and boat tours during rain, shine or snow, we currently are not operating our winter walking tours during this Chiberia weather. Our friend and guest blogger Johanna Wawro said "carpe diem" and went out for some hardcore outdoor exploration, and she has some helpful tips for surviving and making the most of the polar vortex.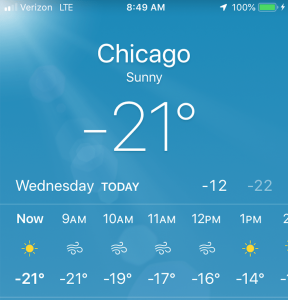 Why Venture Out in a Chicago Polar Vortex?
Once every few years we get blasted with arctic weather which can be a heck-of-a-lot of fun if you're prepared for it. My boyfriend and I ventured out on the second coldest day on record. While most sane people played it safe indoors, we opted to forge into this polar winter wonderland. The lake was warmer than the surrounding air, which created a ton of steam. Seeing the skyline in what looked like a cloud of smoke was magical. The various ice formations were exceptionally cool (no pun intended). The best part was having the city all to ourselves. No traffic, few people on the street, closed businesses…a rarity in this congested city. The London House rooftop bar was empty, and its views were spectacular.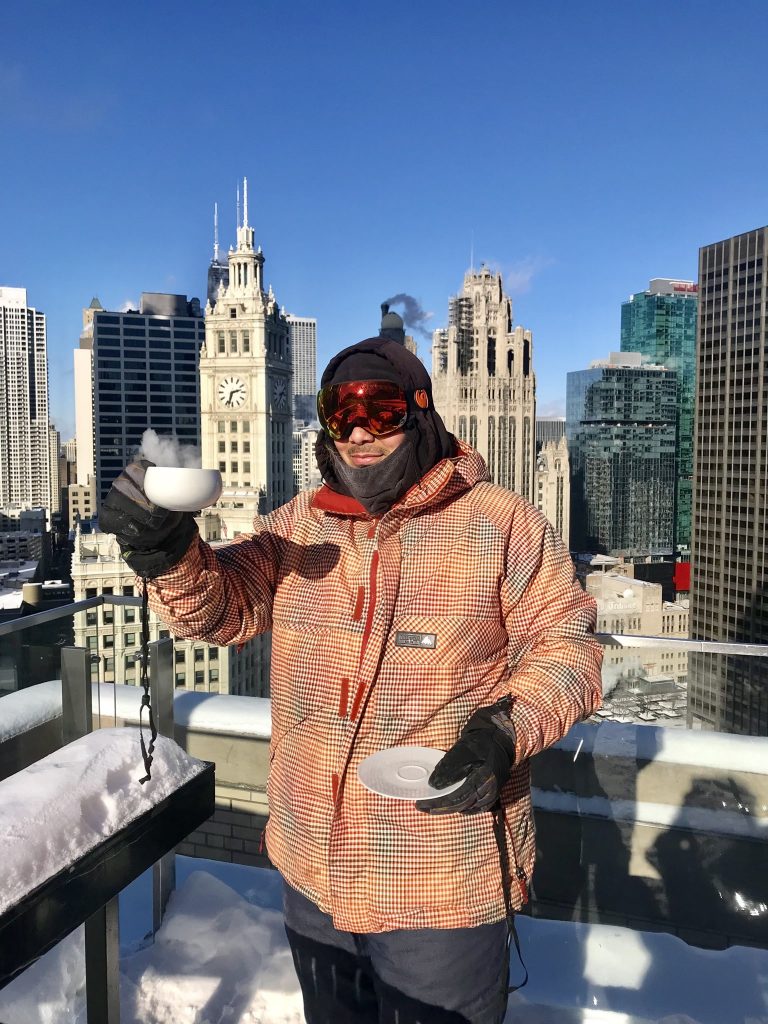 Vortex Gear You Can Get from the Thrift Store
Here are some tips for gearing up during a Chicago Polar Vortex:
Getting warm clothes doesn't have to be expensive if you look for some items at your local thrift store. There are racks of 100% wool sweaters that'll keep you nicely insulated. I found a bunch of mine for no more than $5. The thick goose-down, Canadian-made coat I have on in the pics cost $14, and it has kept me cozy all season. They have a ton of footwear too. I got my duck boots for $3, and an "ugg"ly pair of Uggs for $15. They aren't exactly pretty, but they keep my feet fairly warm. 
Protect your eyes with goggles. Ski goggles work great. Also protect your face with a ski-mask or one of those pullover scarf thingies.
Gloves are important too. Mine suck, and so my fingers hurt while I was out today. Get wind and water resistant gloves.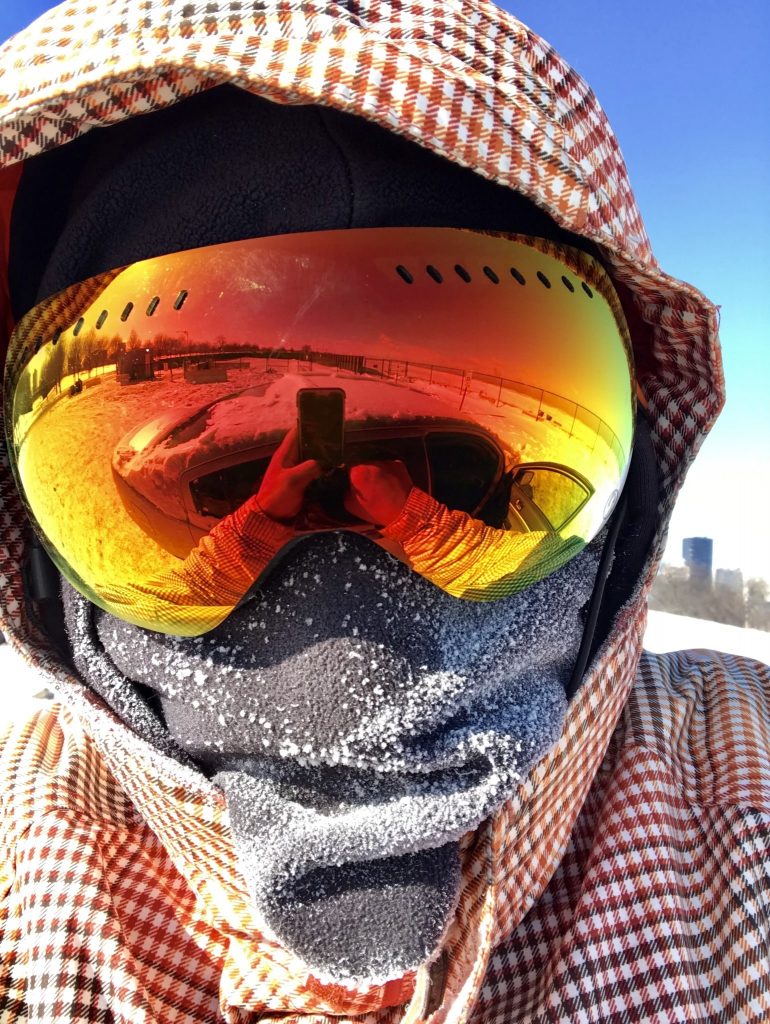 How to Dress for a Chicago Polar Vortex
If you want to stay out longer, however, I suggest investing some serious Vortex gear for Chiberia times. For footwear, I recommend Mukluks. They are expensive, but it's the type of shoe that Inuits wear, and your feet will never get cold in them. Although they are pricey, Mukluks will last you a lifetime. 
Invest in a good pair of thermal underwear. I bought my Patagonia thermal leggings for $75. I used them while hiking in Peru and have worn them daily since the temps have dropped. You can throw any kind of pants over them, as they are thin, yet effective. Good thermals are a worthwhile investment if you intend on staying comfortable during winter months. Take good care of them, air-dry them after washing, and they will last you for years.
Buy wool socks! They are also expensive, but again, wool is essential. DO NOT wear cotton. Cotton absorbs moisture while you sweat. Moisture is enemy #1 for any type of outdoor activity, especially in a Chicago Polar Vortex. It'll make you cold and miserable straight-away. 
Oh, and I almost forgot…get a good hat! Sheepskin is great. I have an alpaca hat that I purchased in Peru. Anything that deflects cold air away from your face is good.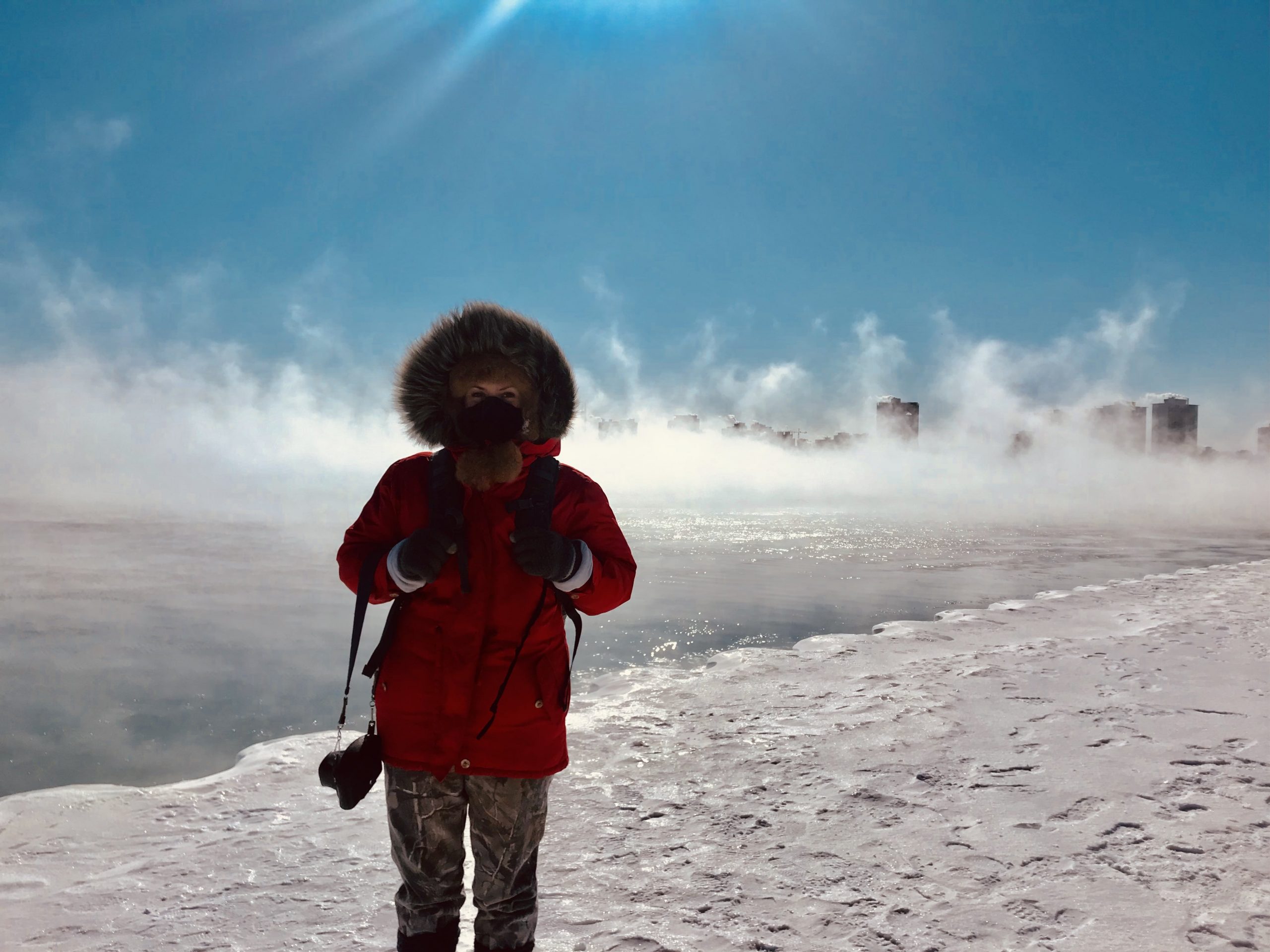 Stay Safe and Warm Out There!
While we were out adventuring, I got a chance to be on our local WTTW channel. They made me sound like bit of a wuss, but hey, I got to be on TV! Check it out!
Hope everyone has fun and stays warm out there!
Guest post by Johanna Wawro
Enjoy More Photos of Chicago's Polar Vortex