Oscar statuettes are such a symbol of Hollywood, but they are actually manufactured right here in Chicago! On Sunday night in Hollywood, dozens of ecstatic filmmakers will slip their hands around a golden statuette. Known officially as the Academy Award of Merit, those Oscar statuettes are pieces of solid Chicago craftsmanship.
The work is done by R.S. Owens, an awards and gifts manufacturer. Owens makes the Oscar statuettes, as well as awards for the Emmys, Grammys, and many others. I don't know when I first learned that the Oscar statuettes were made here in Chicago, but it's always struck me as an oddity. It seems incongruous that these gleaming symbols of Hollywood glamour come from an out-of-the-way corner of Jefferson Park, on the Northwest side of Chicago.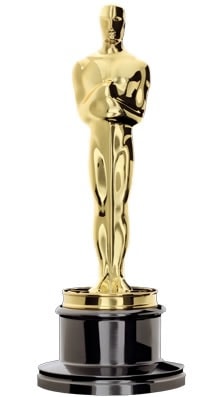 R.S. Owens – History and Practices
R.S. Owens was founded 1938. Its founder and original owner, Owen Siegel, focused the company on the niche market of awards manufacturing. The firm works with existing designs, such as the Oscar statuettes, and can create original designs as well. Once the design is finalized, each award is manufactured through a process that R.S. Owens describes as "old world [in its] artistry and attention to detail."
Every award has a mold and die created based off the agreed-upon design. The design for the Oscars is famously a bald man with a sword and has a very art deco vibe. The Oscar stauettes are made of a metal called Britannia. The base of each statuette is heated until it reaches a liquid state, which you can see here. Workers hand-pour the viscous metal into the molds.
The specific process varies depending on the award, but each award gets some amount of buffing before a shiny gold plating is applied. Each gets a base, usually made to give each statuette their 8.5 pound standard weight, and a customized nameplate.
Oscar Statuettes by R.S. Owens
The Academy Awards are the premier awards show in American popular culture. As such, the Oscar statuettes is R.S. Owen's most prominent work. The firm originally won the contract in 1983 and have manufactured every one of the Oscar statuettes since then. According to that ABC 7 report, each award takes eight hours to manufacture. R.S. Owens ships the 75 Oscar statuettes deemed to be of the best quality from Chicago to Los Angeles for each year's ceremony.
Only the vote tabulators at PricewaterhouseCoopers know who has won before Sunday's ceremony. So R.S. Owens ships name plates for every nominee. The winner's plate is attached after the announcement is made. The Emmy and Grammy Awards, also made by R.S. Owens, use the same ingenious method.
Despite the geographical and cultural distance, Chicago does have a long association with the entertainment industry. Innumerable musicians, actors, and artists honed their craft in our area before striking out to Hollywood or New York, and some of course stick close to home. Yet industry events like movie premieres or world-wide TV events like the Oscars hangs their hat in Los Angeles. So it was fun, and maybe even a little validating, to discover that Leonardo DiCaprio might not be able to lift his Oscar statuette high without some help from good old Chicago.
Update – After we wrote this post, it was announced that the statuettes are now being manufactured by a New York firm. It's a shame to see a Chicago tradition end, but we'll leave this up in commemoration of the decades of work R.S. Owens put in.
– Alex Bean, Office Manager and Tour Guide